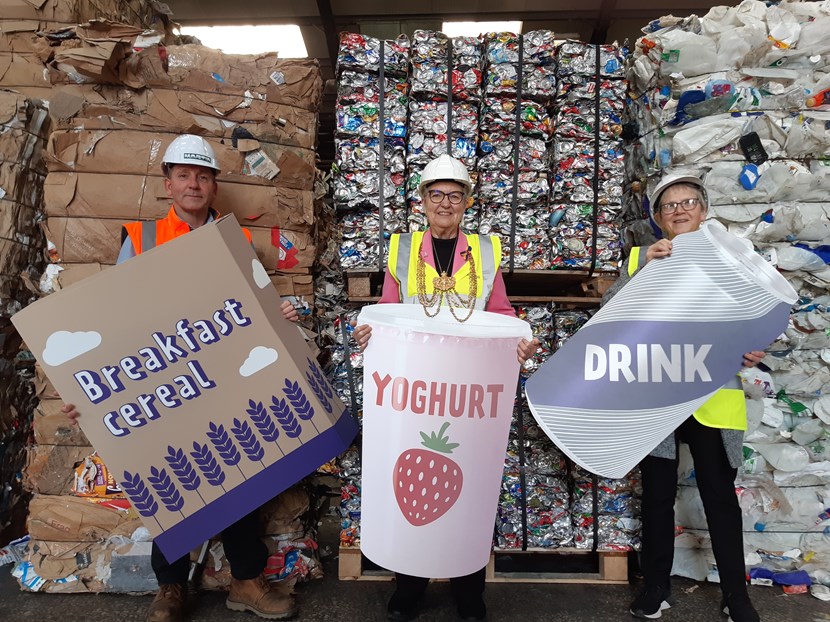 18 Oct 2023
Young people across Leeds urged to get involved with the big recycling hunt, part of Recycle Week 2023
This recycle week, Leeds City Council and Recycle Now are launching a fun mission for primary school children with the arrival of the big recycling hunt.
Recycle week is calling on children aged 5 to 11 in Leeds to take the lead in protecting our planet. With a week of fun activities, the campaign wants to empower young people to become active participants in building a sustainable future.
For example, Richmond Hill Academy pupils will be making items from recyclable materials, performing a poem about recycling and designing recycling-themed posters during recycle week.
To launch the week, The Lord Mayor of Leeds, Councillor Al Garthwaite visited HW Martin's materials recycling facility (MRF) in Beeston on Monday (16 October). The MRF processes the contents from Leeds residents' green bins, using a mix of state-of-the-art sorting technology and people sifting the recyclable materials ready to be turned into new products.
The Lord Mayor found out more about the range of paper, cardboard, plastic and metal items that can be recycled and the importance of getting the right thing in the right bin.
The big recycling hunt, the central theme of this year's campaign, promises to shine a bright spotlight on missed capture. This nationwide hunt aims to engage children and families in the quest to find 'lost recyclables' that too often find their way into the rubbish bin. By focusing on commonly missed items such as empty aerosols, plastic cleaning product bottles, plastic toiletry bottles, plastic pots and tubs, and food tins, Recycle Now wants to foster a deeper understanding of recycling in the younger generation.
In Leeds, recycle week is also being marked across the city, with some of the city's iconic landmarks being lit up in green, if you spot one why not share a picture on social media using #RecycleWeek.
Councillor Mohammed Rafique, Leeds City Council's executive member for climate, energy, environment and green space, said,
"As a city, we can all make a real difference to the environment if we ensure we understand which paper, cardboard, metal and plastic items can be put in our green recycling bins – it could surprise you how much you can actually recycle.
"It is fantastic to hear about all the young people getting involved across Leeds and I am certain that our recycling future is safe in their reliable hands."
Harriet Lamb, Chief Executive of WRAP, said,
"The importance of this initiative extends beyond recycle week. By empowering children with the knowledge and tools to become recycling advocates, we are not only nurturing the future but also ensuring a healthier and more sustainable world for all. Join us in celebrating recycle week and empowering the next generation of environmental champions."
Recycling doesn't have to be confusing. To find out what can be recycled in Leeds, visit www.leeds.gov.uk/recycle
-ENDS-
For media enquiries contact: