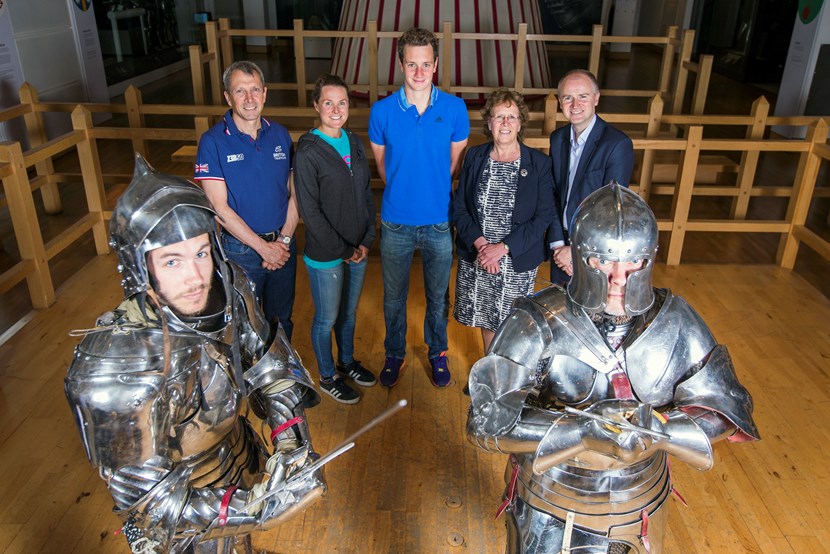 10 Jun 2016
World's best prepare to go into battle at Columbia Threadneedle World Triathlon Leeds
Two of the finest triathletes in the world have prepared to go in to battle at Leeds' Royal Armouries Museum today, ahead of the Columbia Threadneedle World Triathlon Leeds, which takes place on Sunday 12 June.
Bermuda's Flora Duffy and Yorkshire's Olympic champion Alistair Brownlee threw down the gauntlet to the rest of the field, ahead of the race commencing at Roundhay Park.
Home hero Alistair Brownlee will go toe-to-toe with Spain's five-time world champion Javier Gomez, who will also have to fight off stiff competition from Ali's brother, and Olympic bronze medallist, Jonathan Brownlee.
While current 2016 Columbia Threadneedle Rankings Leader Flora Duffy readied herself to face two-time world champion Gwen Jorgensen and Great Britain's current Commonwealth gold medallist, Jodie Stimpson.
Ahead of the Columbia Threadneedle World Triathlon Leeds, the athletes 'drew their swords' in a light hearted photoshoot at the museum, which is home to the national collection of arms and armour from around the world.
Providing the British public with a once in a lifetime opportunity to watch world-class athletes on home soil before Rio, the elite races will consist of 45 elite male entries and 32 female athletes, all jousting for glory to take home the Columbia Threadneedle World Triathlon Leeds trophy.
The event entry list for the race in Leeds is the only one in the ITU World Triathlon Series so far this season to feature both reigning world champions.
Spectators will be able to watch a plethora of international talent, as well as European Games Triathlon Champion Gordon Benson – a key part of Great Britain's artillery.
The unique point-to-point route has been designed to provide the best spectator experience possible, especially in the city centre, where crowds watching the cycle and run elements will see the field pass them multiple times.
The route starts with a 1500-metre swim in Roundhay Park's Waterloo Lake, followed by a 41.5km ride passing through Roundhay, Moortown, Meanwood, Weetwood, Headingley and Woodhouse, completed with seven circuits of a city centre loop, and will finish with a four lap 10km run of the city centre loop, culminating in the thrilling finale to be played out on Millennium Square.
With the women's race starting at 13:00 and the men's at 15:45, spectators can expect well over four hours of live triathlon action with big screens located at Victoria Gardens, Millennium Square, Roundhay Park and on Briggate.
Crowds are encouraged to show their support across these locations, showcasing the city and its residents to a global live television audience. With huge crowds expected, spectators can download the Official Spectator Guide from: www.leeds.triathlon.org/spectators to find the best places to watch the world's best.
As a taster for the main event, the previous day Saturday 11 June features a family fun day in Roundhay Park with a range of beginner-friendly GO TRI events run by British Triathlon along with youth and junior events from 8am to mid-afternoon. There will also be a chance to see the superstars of the sport having a swim practice session in Waterloo Lake from 9am.
The day will feature a Capital FM Fan Fest including a giant armchair, the Brownlee Foundation Duathlon and a sports expo offering the chance to try a range of sports including cycling, rowing and table tennis.
Leader of Leeds City Council Councillor Judith Blake said: "After all the preparation work and planning everything is now ready for the Columbia Threadneedle World Triathlon Leeds and we are counting down the final hours. The route looks great and there is a buzz of excitement with everyone looking forward to seeing something very special unfold.
"I want to say a warm welcome to all our guests from all over the world, and hope they have a fantastic time here in Leeds. I'm sure the spectators all around the course will make for a wonderful atmosphere to inspire everyone taking part, and hopefully we get to see two spectacular elite races to showcase Leeds to the world and end the event in unforgettable style."
Rupert Pybus, Global Head of Brand and Marketing at Columbia Threadneedle Investments said: "Seeing these athletes together shows the exceptional talent that will be taking part in the Columbia Threadneedle World Triathlon Leeds. The public are in a for a great spectacle as these and other world class triathletes battle it out in less than two weeks' time."
Jack Buckner, Chief Executive of British Triathlon, said: "The amount of world class athletes taking part in the Columbia Threadneedle World Triathlon Leeds is truly outstanding. It's not often you get to see the world's best competing in the heart of the city.
"We have a really strong British contingent racing in Leeds on June 12th, and I'm sure that the public will come out and cheer them on along the course, as well as giving the international athletes a rousing Yorkshire welcome. It is definitely one event not to be missed."
The Columbia Threadneedle World Triathlon Leeds is a UK Sport National Lottery-funded #EveryRoadtoRio event being organised by British Triathlon, IRONMAN, Leeds City Council and the ITU.
For the latest information on the Columbia Threadneedle World Triathlon Leeds, please visit http://leeds.triathlon.org and for an up to date list of elite entries, visit http://wts.triathlon.org/start_lists.
-Ends-
For more information please contact Christian Dente or Rebecca Armstrong on 0113 8800 444 or email Christian.dente@aberfield.com or Rebecca.armstrong@aberfield.com
Notes to editors
The Columbia Threadneedle World Triathlon Leeds is a partnership between British Triathlon, Leeds City Council, UK Sport, ITU and Lagardère Sports, with Columbia Threadneedle as the main title sponsors of the event.
About Columbia Threadneedle Investments
Columbia Thread needle Investments is a leading global asset management group that provides a broad range of actively managed investment strategies and solutions for individual, institutional and corporate clients around the world. With more than 2000 people including over 450 investment professionals based in North America, Europe and Asia, we manage £320 billion 1 of assets across developed and emerging market equities, fixed income, asset allocation solutions and alternatives.
Columbia Threadneedle Investments started its successful relationship with the ITU World Series in 2013 and has since become Global Financial Services Partner.www.columbiathreadneedle.com
All figures as at 31 December 2015. Columbia Threadneedle Investments is the global brand name of the Columbia and Threadneedle group of companies.
1 Source: Ameriprise Financial Q4 2015 earnings release.
The Columbia Threadneedle Rankings
As a global asset manager Columbia Threadneedle Investments recognises the importance of being the best in the field, not just at home, but on a global basis. The Columbia Threadneedle Rankings are used to determine the best performing triathletes across the ITU World Triathlon Series.
The Columbia Threadneedle Rankings Leader Trophy is presented to the top male and female elite athlete at each ITU World Triathlon Series event. In 2016 the Columbia Threadneedle Rankings Leader will continue to wear the bespoke race markings and carry the colours of the Columbia Threadneedle Rankings logo on their bike rack in transition.
Launched in 2015, the Columbia Threadneedle Rankings Report identifies the trends and interesting statistics after each event throughout the season.
The official Columbia Threadneedle Rankings can be accessed at www.wts.triathlon.org/ColumbiaThreadneedleRankings. Engage with the conversation on social media using the hashtag #CTrankings, or follow @CTinvest_Tri
British Triathlon is the governing body for the sport in Great Britain. It is responsible for raising the profile and delivering elite performance for Triathlon. Triathlon is a fast growing, dynamic and modern Olympic & Paralympic sport with talented world class athletes, coaches and support staff, focused around delivering world-class events and medal winning performances. www.britishtriathlon.org
Leeds City Council is the second-largest local authority in England with a population of around 776,000. Leeds has a very proud sporting heritage and we are committed to encouraging sport as a way of promoting the city and healthy lifestyles, as well as bringing world-class events, building towards our ambition to become European Capital of Culture 2023. www.leeds.gov.uk
UK Sport is the nation's high performance sports agency responsible for the strategic investment of National Lottery and Exchequer funding into Olympic and Paralympic sports and bringing major sporting events to the UK. www.uksport.gov.uk/events
The ITU is the world governing body for the Olympic sport of Triathlon and all related MultiSport disciplines. ITU is proudly committed to supporting the development of the sport worldwide through strong relationships with continental and national federations, working with its partners to offer a balanced sport development programme from grassroots to a high performance level. www.triathlon.org
For media enquiries contact: