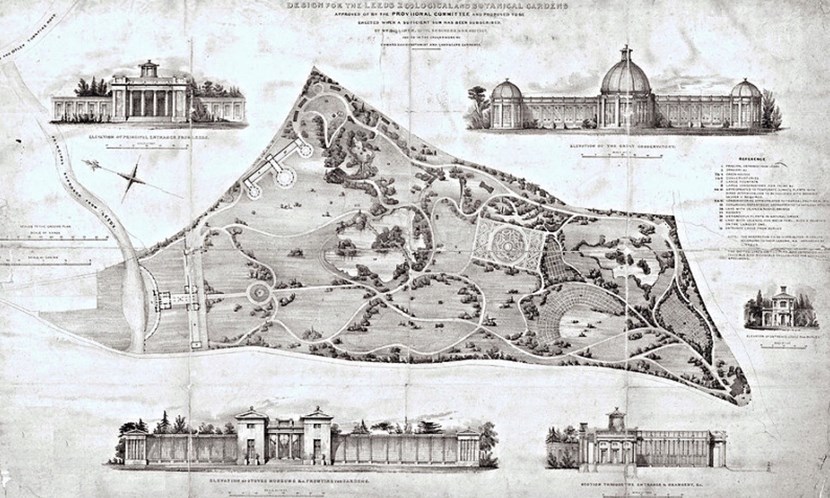 21 Jul 2020
Walking project to reveal Headingley's hidden history
It was a flamboyant and fanciful dream to create a menagerie filled with animals and plants from across the globe at the heart of a Leeds suburb.
And although the grandiose scheme was ultimately doomed to failure, the remnants of the Leeds Zoological and Botanical Gardens can still be seen around Headingley almost two centuries later.
Now an imaginative new arts project will invite local explorers to take a walk back through time as they rediscover an enthralling chapter in the area's hidden history.
Entitled A Garden Through Time, the project is being supported by Leeds Inspired's grants scheme, a part of Leeds City Council which collaborates with local arts and community groups and helps them bring their ideas to life.
Writer and storyteller Matthew Bellwood and audio producer Rosie Parsons will be working with local historians, academics and fellow artists to create a guided audio walk around Headingley, taking in some of the zoo and garden's remaining features.
First opening to the public in 1840 on land off Cardigan Road, the Leeds Zoological and Botanical Garden was meant to rival similar spectacular attractions in London.
Featuring two lakes, winding paths, trees and flower beds, a monkey enclosure, an eagle and an imposing, castle-like bear pit which still stands today, the garden's opening ceremony was attended by thousands of local people and civic dignitaries.
But after years of financial struggles, the ambitious endeavour eventually proved far too expensive and in 1858, it closed forever, replaced by a new road and housing.
Matthew said: ""This is a really fascinating part of our local history. Even though it's largely forgotten about today, the traces of the gardens can still be seen around Headingley - if you know where to look.
The last few months have given people time and incentive to investigate their local areas and we hope that this audio tour will help people to dig a little deeper and look at Headingley in a different way.
Uncovering the story is a great way of exploring the legacy of our Victorian ancestors and the ways our attitudes and ideas have changed in the intervening years. We're really pleased that Leeds Inspired is supporting culture and the arts in the city and giving us the chance to tell this incredible story."
As well as the bear pit, some of the attraction's original fountains and walls will also be part of the walk while several exotic plant and tree specimens still remain visible on the garden's former site.
The audio walk will be one of a number of projects funded through the Leeds Inspired grants scheme, which makes grants of up to £1,200 available to artists and organisations.
Other ideas which have been funded by Leeds Inspired this month include a series of online drama and dance sessions by Fall into Place Theatre and a community art trail made up of silk painted owls by Rosie Dawn Todd.
Councillor Judith Blake, leader of Leeds City Council, said: "Our wonderful arts and cultural organisations have been a true source of entertainment and joy throughout what has been in incredibly difficult few months for everyone in the city.
"Their boundless imagination and creativity is an inspiration and we're immensely proud to be continuing to support them in bringing their creations to life."
Usually based at Leeds Town Hall but currently working remotely, the Leeds Inspired team has funded more than 600 projects across the city and worked with a range of audiences, artists and communities.
For details on A Garden Through Time, visit: www.365LeedsStories.org
For information on how to apply for grants for online activities, please visit: https://www.leedsinspired.co.uk/grants
ENDS
For media enquiries contact: