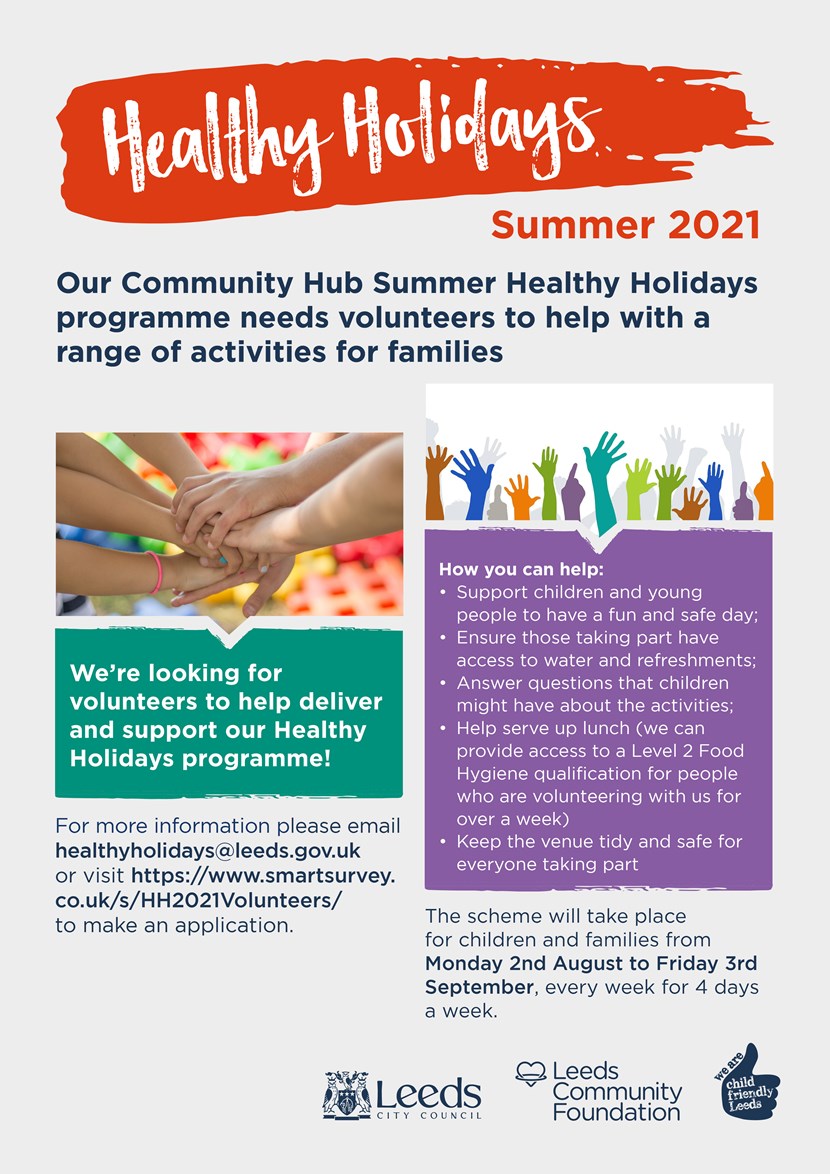 05 Jul 2021
Volunteers needed in Leeds as school holiday food and activity programme returns
Leeds City Council is appealing for volunteers to help run this year's Healthy Holidays programme.
The Healthy Holidays programme has been running since 2018 and provides children living in poverty with nutritious food, fun and engaging activities, and the chance to make friends and develop new skills during the school holidays. The programme also helps to ease the extra pressure some families are under during this time. The council runs the programme in partnership with Leeds Community Foundation and it is supported by the Department for Education's Holiday Activities and Food Programme.
This summer, the scheme will run from Monday 2nd August to Friday 3rd September, every week for four days per week. Volunteers will be involved in a range of activities and can dedicate as much or as little time as they are able to.
Volunteers will be involved in:
Supporting children and young people to have a fun and safe day
Ensuring those taking part have access to water and refreshments
Answering questions that children might have about the activities
Helping serve up lunch (we can provide access to a Level 2 Food Hygiene qualification for people who are volunteering with us for over a week)
Keeping the venue tidy and safe for everyone taking part
Councillor Jonathan Pryor, Leeds City Council's executive board member for economy, culture and education, said:
"We are very pleased the scheme is continuing to grow so that more vulnerable children than ever before have access to nutritious meals and a range of engaging and educational activities during the holidays. The scheme relies on its incredible volunteers and I would really encourage you to dedicate some of your free time to helping children make amazing memories in the school holidays"
Councillor Mary Harland, Leeds City Council's executive board member for communities, said:
"Healthy Holidays plays a vital role in supporting some of the city's most vulnerable families during the school holidays and the programme's volunteers are instrumental in its success. Volunteering is a fantastic way to give back to your community and, in this case, make a positive difference to the lives of children and young people in Leeds. If you are able to, I'd really encourage you to apply online or contact the team for more information."
To apply to be a volunteer, please click here
For more information, please email healthyholidays@leeds.gov.uk
For media enquiries contact: