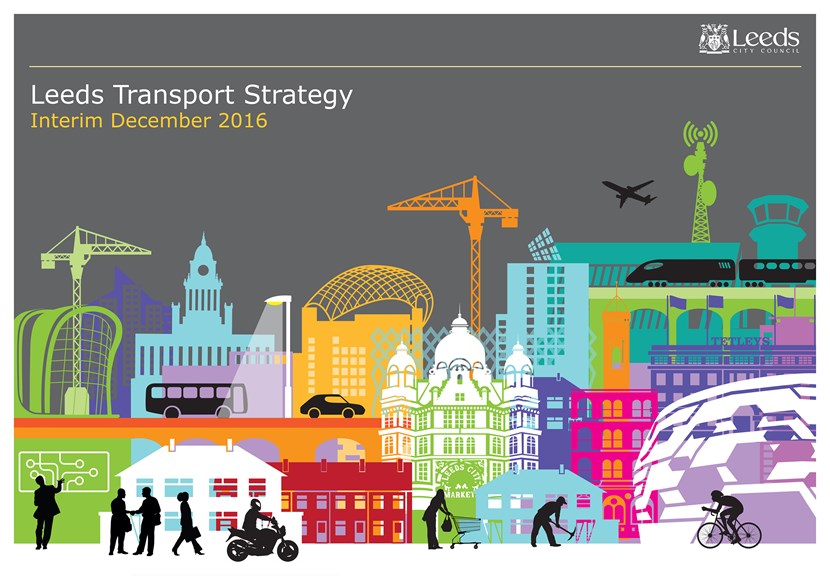 13 Jun 2017
Transport improvements for Leeds set to make first move forward
The first step in bringing about transformational improvements to public transport in Leeds is set to be approved by senior councillors next week.
Leeds City Council's executive board will be asked to formally approve the outline schedule and give the go-ahead for feasibility design work to be carried out for the Leeds Public Transport Investment Programme at its meeting at Civic Hall next week (Wednesday 21 June).
The programme was given the go-ahead in April when the Department for Transport (DfT) gave its support for £173.5million of funding to be invested in a range of improvements in transport in Leeds featuring new and improved rail stations including an airport parkway station, new and enhanced park and ride services, bus priority measures along key corridors and modernised transport hubs across the city.
The plans were initially unveiled in December following the results of the largest transport conversation held in the city, with the proposed improvements forming the start of a new long-term transport strategy for Leeds.
The executive board approval will allow funding to be invested in feasibility design work on the various elements of the programme, which is being managed by Leeds City Council and the West Yorkshire Combined Authority (WYCA).
It will also endorse an outline schedule for the programme, which would see a development partner appointed to progress the various schemes in the plan before an outline business case is prepared. A delivery partner would also be appointed to oversee construction of the schemes.
The government funding was secured for Leeds last year, with the funds needing to be committed to public transport schemes before the end of 2021. Work is already underway on improving the exit of Leeds Bus Station and pedestrian facilities on St. Peter's Street.
Together with the £173.5m, additional support from WYCA and private sector stakeholders including £71m investment from First West Yorkshire to provide at least 284 new low-emissions buses for Leeds by the end of 2020, the total funding package available is in excess of £270m.
Leader of Leeds City Council Councillor Judith Blake said:
"This is an important first step in bringing about the massive improvements in public transport we all want to see and which are vital for the future of the city and beyond.
"All of the key elements of the programme reflect what people told us they want to see – more and better public transport choices integrated to make a big difference, which are able to be delivered as quickly as possible. As a city and region we continue to be ambitious and alongside this programme we will also keep working on the longer-term aim of providing the rapid mass-transit system we need."
West Yorkshire Combined Authority Transport Chair Councillor Keith Wakefield said:
"West Yorkshire Combined Authority has supported this ambitious programme, which aligns with our commitment to developing a modern integrated transport network for the whole of the City Region, and will be considering it at our Investment Committee meeting on Friday."
The key elements of the programme include:
Easing congestion, improving bus journey times and reliability through bus priority measures on key corridors in the city including the A61/A639 South, A61 North, A660, A58 north east and A647
New park and ride services at Stourton and north Leeds joining the new service at Temple Green and the success of Elland Road
Improved district transport hubs making use of the latest technologies and better connectivity between local communities and neighbourhoods
New rail stations to support job creation and housing growth at Thorpe Park and White Rose/Millshaw Business Park
A new parkway station on the Leeds to Harrogate line to serve Leeds Bradford Airport and also act as a park and ride in both directions
Enhanced access at Cross Gates, Morley and Horsforth rail stations and car park expansion at New Pudsey to increase its park and ride capacity
Connecting with city centre plans to create modern transport interchanges, enhanced public spaces and maximising the benefits from the remodelled Leeds Station and the arrival of high-speed HS2 and Northern Powerhouse Rail (formerly HS3).
The measures outlined aim to double the number of bus passengers in the next 10 years from the current 250,000 bus journeys made every day in Leeds.
The strategy also looks to encourage more walking and cycling on people-friendly streets, promoting a healthy Leeds through better air quality and reduced carbon emissions due to more use of public transport.
The plans have been supported and guided by the West Yorkshire Combined Authority and the Leeds transport advisory panel. The panel is chaired by Director of Strategy for Transport for the North Nigel Foster, and includes leading transport experts and senior figures from transport bodies and organisations, along with representatives from the worlds of business, education, planning, accessibility, equalities and campaign groups.
Notes to editors:
The new strategy is in response to the findings of the biggest-ever transport conversation held with residents, businesses, stakeholders and visitors in the city which included more than 8,000 people taking part in a survey last year. The feedback was for deliverable improvements through better rail and bus services, a clear demand for additional park and ride services, congestion issues to be addressed along with improved accessibility to bring communities, businesses and jobs closer together to boost connectivity and the overall economy and productivity of Leeds.
The new Leeds Transport Strategy and the full list of members of the Leeds transport advisory panel can be seen at www.leeds.gov.uk/transportconversation
Additional improvements to rail services in Leeds through Rail North franchise negotiations will see increases in capacity through longer trains and more frequent services, especially at peak times. The outdated pacer units will also be withdrawn by 2020.
The Department for Transport forecasts usage of Leeds Bradford Airport could more than double to 7.1m passengers a year by 2030 rising to over nine million by 2050. Along with improved access by rail, Leeds City Council is also currently considering three options for enhanced road access to the airport.
The transport improvements form part of the wider Leeds City Region economic plan which aims to deliver up to 35,000 new jobs and an additional £3.7billion of economic output by 2036.
ENDS
For media enquiries please contact:
Roger Boyde
Leeds City Council communications,
Tel: 0113 378 9164
Email: roger.boyde@leeds.gov.uk
For media enquiries contact: