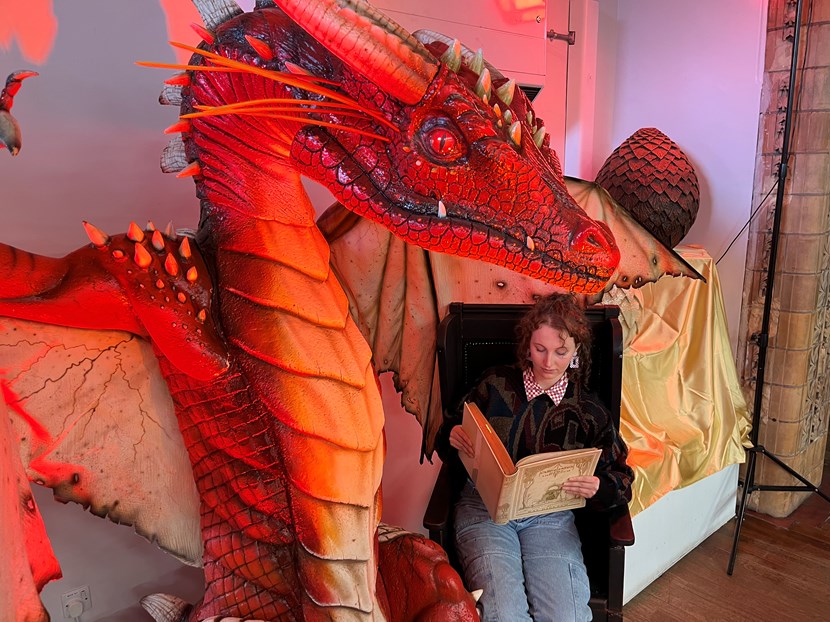 09 Nov 2023
Timeless tales and mythical dragons take library visitors on a storybook adventure
Classic storybooks filled with centuries of captivating fairy tales are being opened up this week as dragons land in Leeds for a spellbinding new exhibition.
Visitors to Leeds Central Library are being invited to step inside the pages of antique works by iconic storytellers such as The Brothers Grimm and Hans Christian Andersen as the library explores the remarkable realm of fantasy.
And a jaw-dropping pair of mythical dragons are also carefully watching over their eggs in the library in an installation created by fantasy artist Anne Stokes.
Among the elaborately illustrated tomes on display in Fantasy: Realms of Imagination, will be vintage copies of Grimms Fairy Tales, Alice's Adventures in Wonderland, Gulliver's Travels and Shakespeare's A Midsummer Night's Dream, complete with stunning illustrations by the renowned Arthur Rackham.
Noted for his striking drawing and watercolour style, developed as a journalistic illustrator, Rackham is widely regarded as the leading light during the golden age of British book illustration between the late 19th and early 20th centuries.
His imaginative artworks featured in a number of prestigious exhibitions, including one at the Louvre in Paris.
Other works on display will include an 1894 edition of The Story of the Glittering Plain by famed poet, artist and fantasy writer William Morris, illustrated with black and white woodcut designs by Walter Crane.
As well as exploring the golden age of fairy tales, the exhibition will take library-goers on a quest through the historic building, with different spaces exploring the origins of fantasy stories in ancient cultures across the world as well as looking at how the genre has influenced pop culture today.
Other objects on display, on loan from Leeds Museums and Galleries, include ancient Greek coins dating from more than 2,000 years ago featuring the monstrous Gorgon and the fabled winged horse Pegasus, fantastical creatures which were key characters in Greek mythology.
Also on display will be nostalgic memorabilia from popular fantasy TV shows including Xena: Warrior Princess, which starred Lucy Lawless as the titular ancient Greek heroine, and Buffy the Vampire Slayer, the hugely popular show about a teenage monster hunter.
A colourful, specially-commissioned pop-up style installation by artist Laura Slater will also be on display in the library's entrance.
Rhian Isaac, Leeds Central Library's special collections librarian, said: "As a genre, fantasy really encapsulates the power which books and stories have to transport us to a completely different world, where we can encounter astonishing creatures, people and places.
"For thousands of years, fantasy has influenced everything from the way ancient cultures made sense of the world around them, to important lessons we have taught young children, right up to today, when knights, wizards, witches and dragons have played central roles in some of the most popular television programmes and films ever made.
"The objects we have on display throughout the library illustrate the many ways fantasy has been an endlessly varied common thread throughout human history, and how it has inspired, thrilled and captured the imaginations of so many generations."
Fantasy: Realms of Imagination is inspired by a current exhibition also being held at the British Library and will feature a programme of events and activities through the exhibition.
Leeds Central Library is one of over 30 libraries across the UK highlighting how local folklore and fairy tales have inspired fantasy writers, and the role of local libraries in introducing readers to the genre, as part of the Living Knowledge Network, a UK-wide partnership of national and public libraries.
Councillor Mary Harland, Leeds City Council's executive member for communities, said: "The library is a magical place, where visitors of all ages can explore an endless array of incredible stories.
"This exhibition will really bring those stories to life in the beautiful and historic surroundings of Leeds Central Library and I'm sure it will be a fantastic and inspiring adventure."
Fantasy: Realms of Imagination is at Leeds Central Library from Friday (Nov 10) until January 17, 2024.
For more details or to see the events programme in full, please visit: Fantasy: Realms of Imagination (leeds.gov.uk)
ENDS
For media enquiries contact: