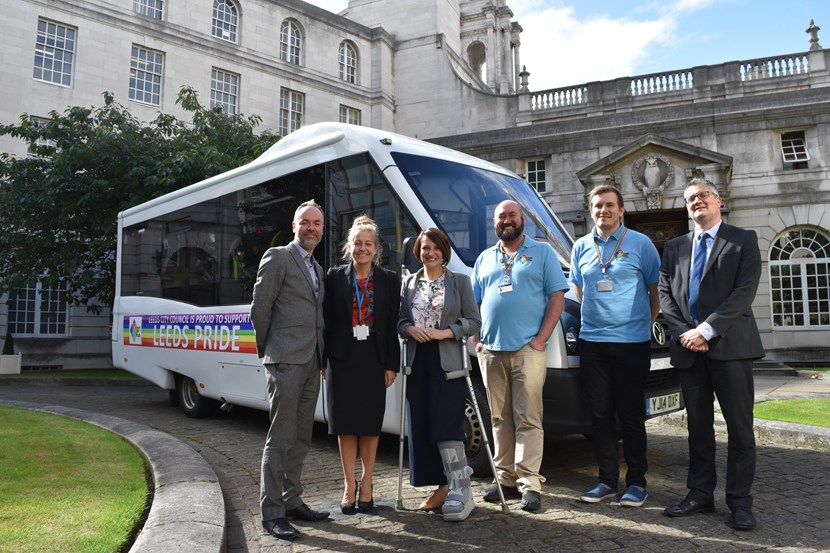 28 Jul 2017
Ticket to ride to Pride in Leeds
Leeds City Council is offering a ticket to ride to Pride on its two accessible buses which will help people less able to get a VIP view of next weekend's colourful extravaganza.
The two buses will add to the space that will be available on the accessible platform in Millennium Square to enable great views of the stage for people with access difficulties.
It will be a weekend to remember as one of the few remaining free city centre-based Pride festivals is bigger and better than ever.
Cllr James Lewis, deputy leader of Leeds City Council and LGBT+ Champion said:
"Leeds Pride is a fantastic event and the council is committed to making it open to everyone, which is why I'm delighted that we've been able to provide accessible buses again this year. Last year was the first time an accessible bus was featured in the parade and it was touching to hear that people could join in who had never been able to before. Our thanks and appreciation goes to the council's fleet services for providing the buses."
Cllr Lucinda Yeadon deputy leader of Leeds City Council and disabled people's champion said:
"As a council we have a clear ambition for Leeds to be an inclusive and welcoming city for everyone so it is great that we are helping disabled people to take part in Leeds Pride. We are also putting on numerous other events to make Pride more inclusive, including spaces for older people and children and families, which were very popular last year."
Sarah Martin, chief officer for Civic Enterprise Leeds, said:
"I'm really pleased that we have again been able to provide the buses for the council's parade entry in Pride this year. With over 70 organisations taking part, and 40,000 people attending, it is only right that the council is involved as well to demonstrate that we are an LGBT+ inclusive city and employer."
Anyone interested in a place on the platform or buses should email LeedsLGBT@leeds.gov.uk giving their name, contact details and detailing any specific requirements before 3 August 2017 as places are limited.
For more information about Pride and how to join in visit http://www.leedspride.com/
ends
For media enquiries contact: