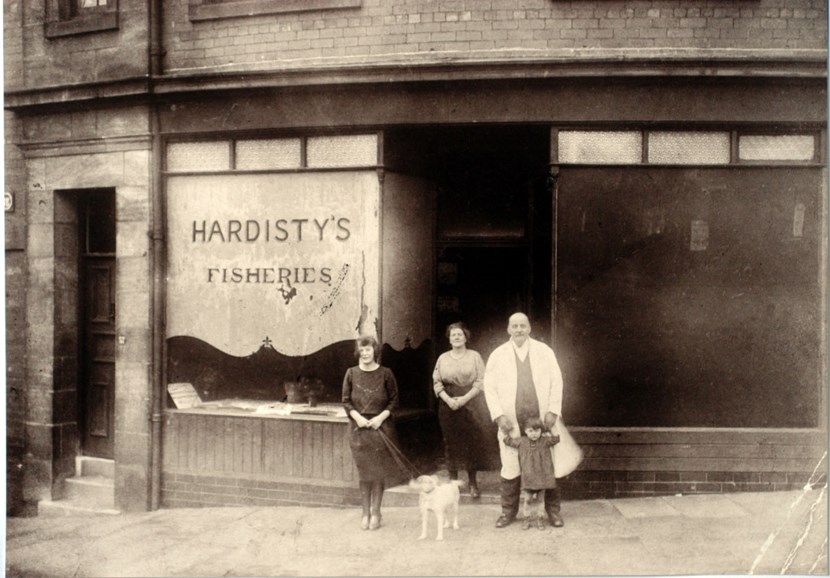 06 Jun 2022
Things can only get batter as vintage Leeds chippy stars in new exhibition
One of the city's very first chippies is among the fascinating tales featured in a new exhibition exploring the people and places that helped forge a Leeds community.
Hardisty's Fisheries became one of the earliest places for locals to grab a tasty chippy tea when it opened its doors on Kirkstall Lane in the early 1900s.
A fabulous family photo capturing the team behind the venture features in Kirkstall Lives, a new exhibition at Abbey House Museum which looks at how the Kirkstall community has been shaped over the centuries.
The fascinating image, taken in the early 1920s, shows couple Ada and John Hardisty alongside their children Ivy and Cyril, accompanied by their faithful dog, whose name is sadly unknown.
The family business is just one of the enthralling local stories visitors can discover in the exhibition, which focuses on people who played their own unique part in the story of Kirkstall and some of the key moments and events in the area's long history.
The people of Kirkstall have also got involved by sharing their own stories and loaning objects and museum staff have worked alongside a group of enthusiastic volunteers to research and develop the exhibition.
Other stories include an image dating from around 1970, believed to feature a group of workers at Kirkstall Forge, which has been part of the Kirkstall community for centuries. The forge was established in the early 12th century and is the country's oldest of its kind. It remained a working forge until 1995 and today has been extensively redeveloped.
Also featuring is a souvenir brochure from the old Kirkstall power station, produced to mark 50 years of municipal ownership. The huge coal-powered station opened in the 1930s but closed in the 1970s before being demolished in 1979.
Patrick Bourne, assistant community curator at Abbey House Museum, said: "Kirkstall is of course well known for its beautiful abbey, but over many centuries it has also been a major centre of industry and played a huge part in establishing Leeds as an industrial and economic hub.
"Generations of families have called Kirkstall home and each of them has contributed to making it a thriving community filled with fascinating stories and characters. We hope this exhibition will help bring some of those stories to life and celebrate the unique story of Kirkstall."
Among the other local institutions past and present which feature in Kirkstall Lives are the well-known Kirkstall Brewery and the Abbey Picture House, which first welcomed film-lovers in September 1913 with screenings of The Web and The Ne'er to Return Road.
Also included are the still popular Kirkstall Festival along with memorabilia from a number of local sports clubs and societies.
Councillor Jonathan Pryor, Leeds City Council's executive member for economy, culture and education, said: "Leeds is home to so many thriving communities, businesses and organisations but it's definitely the people who live here that make the city such a unique and incredible place to be.
"It's always fascinating to find out more about those who have laid the foundations of the city we know today and to celebrate the contribution they have made to the Leeds we love."
Kirkstall Lives is at Abbey House Museum until December. For more information, please visit: https://museumsandgalleries.leeds.gov.uk/events/abbey-house-museum/kirkstall-lives
ENDS
For media enquiries contact: