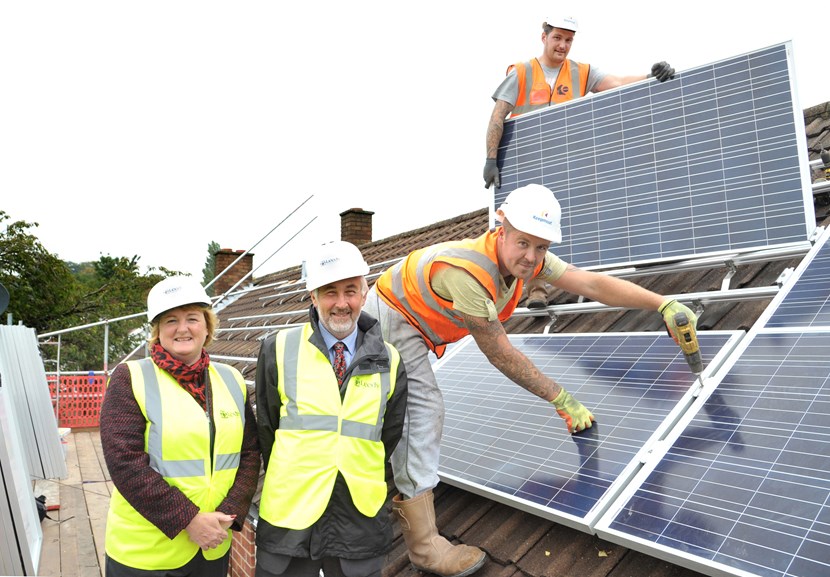 06 Oct 2015
Tenants benefit from free solar electricity
Over 162 tenants are now benefitting from free electricity thanks to solar panels installed by Leeds City Council.
The council is two months into a project to install 1,000 solar photovoltaic systems on council homes.
Tenants are able to use the electricity the panels make for free, cutting their fuel bills and reducing their environmental impact.
Having checked that the properties are suitable for the panels, the Better Homes Yorkshire team – Keepmoat and Wilmott Dixon Energy Services – have been working with tenants to ensure the installation process is as painless as possible.
It's estimated that overall tenants could save around £4 million in electricity costs over 20 years. Initially tenants could save approximately £129 a year with savings potentially rising.
Councillors were on hand to oversee the installation of the 76th solar panel system in Leeds.
Councillor Richard Lewis, executive member for regeneration, transport and planning, said:
"As a council we're exploring different ways we can provide fuel and heat that are more sustainable. The solar panel project is tangible proof that where the investment stacks up financially and environmentally, then we will deliver.
"The government is consulting on reducing the feed in tariffs rates significantly and I have been advised that, if this goes ahead, future schemes will not be financially viable. However, it's great to celebrate these panels being installed, improving council homes and making energy bills cheaper for the tenants."
Councillor Debra Coupar, executive member for communities, said:
"We know that some tenants really struggle with their fuel bills so we can ease those worries and make a significant difference to people's lives by providing free electricity."
Councillor Alex Sobel, chair of the Leeds climate change action group, said:
"The solar panel project isn't about being green for the sake of it. By generating clean energy for our tenants, we can help them, and the city, cut carbon emissions."
Stephen Batty, framework director at Better Homes Yorkshire, said:
"The installation programme is going very well, on time and on budget, with positive feedback from many tenants already."
After an initial outlay of £3.8 million, the solar panels will make the council around £5.4 million over 20 years. Any electricity tenants don't use will be sold back to the national grid as part of the Government feed-in tariffs.
Generating clean energy from the solar panels is the equivalent of taking around 450 cars off the road.
Installation on all 1,000 properties is expected to be completed by mid-November.
For media enquiries contact: