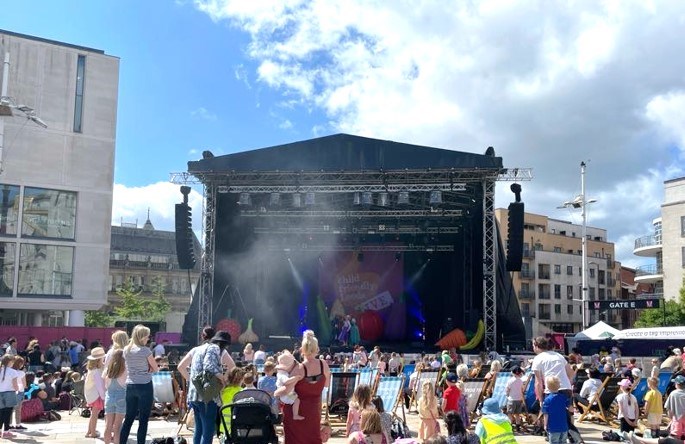 31 Jul 2023
Summer of fun for Leeds's children
With the start of the school holidays, Leeds City Council is coming to the rescue of parents across the city with an exciting line up of summer activities for families.
Child Friendly Leeds Live
Kicking off the summer, Child Friendly Leeds Live returns on August 2 for the biggest children's festival in Yorkshire.
The event will be presented by incredible Faye from BoomChikkaBoom and Jez, previously a CITV and CBBC presenter and will feature popular children's characters, performers, music and entertainment.
Want to celebrate with thousands of other families on national play day? Make sure to get your ticket now.
The fun doesn't stop there on national play day with more events taking place across Leeds.
A teddy bear picnic with arts, crafts and outdoor games for the whole family is taking place in Merrion Gardens between 11:00am and 15:00pm on August 2. Find out more information about the free event, here.
Breeze In The Park
The annual Breeze In The Park entertainment programme is well underway, putting smiles on the faces of young people across the city once again this summer.
With over 29 interactive play events for children and teenagers taking place in parks and green spaces over the course of the next five weeks, the fun doesn't stop all summer.
Each event has a packed schedule of sports, games, art, music and other fun activities, all designed to add some memorable extra sparkle and shine to the school holidays.
Sessions cost 50p per child and must be booked in advance, you can find the full list of events can be found here.
Healthy Holidays
There is still time for eligible families to sign up to this summer's Health Holiday programme.
Aimed at school children who are eligible for free school meals, the programme provides a fantastic range of clubs, activities and events run by schools, community hubs and voluntary groups.
Health Holidays is free and has been running in Leeds since 2018, funded by Leeds Community Foundation, Leeds City Council and the Government's Holiday Activity Food Fund.
Taking place in over a hundred locations across the city this summer, activities include sports and swimming, dance, arts and crafts, as well as visits to Leeds City Council's incredible attractions like Temple Newsam and Lotherton Hall.
Specialist provision is also available for children with SEND or additional needs.
Parents who are claiming free school meals for their child can find out more about the Healthy Holidays clubs in their area at https://www.leeds.gov.uk/children-and-families/healthy-holidays
Families that are not claiming free school meals and want to find out if they are eligible can visit: https://www.leeds.gov.uk/schools-and-education/apply-for-free-school-meals
Keep up to date with everything happening across the city this summer with this handy Child Friendly Leeds blog, here. You can also visit www.leedsinspired.co.uk for more ideas and inspiration.
Councillor Fiona Venner, executive member for children's social care and health partnerships, said: "Child Friendly Leeds was established with the ambition to make Leeds the best city to grow up in a large part of accomplishing this is through hosting great events such as Child Friendly Leeds.
"There is a fantastic range of activities available for families over the summer holiday and I would really encourage everyone to get involved. I look forward to seeing all the families enjoying themselves across Leeds this summer."
For media enquiries contact: