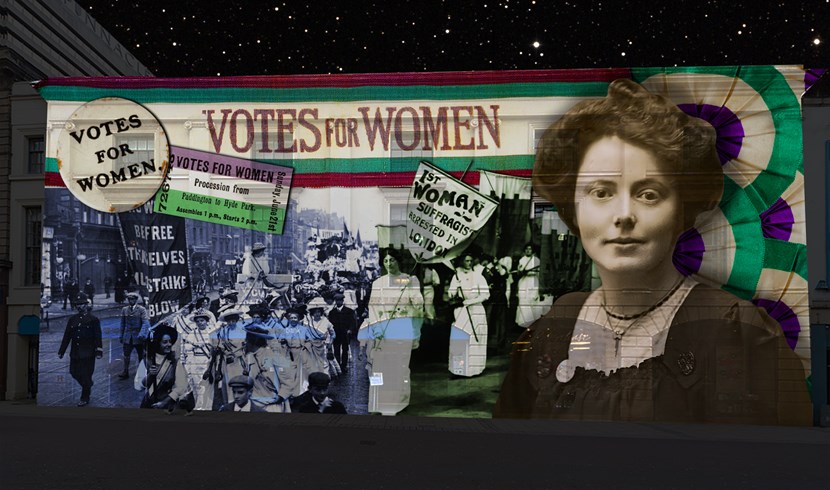 27 Sep 2018
Suffragettes' time to shine in powerful new display
Their fearlessness, devotion and indomitable spirit saw them become leading lights in the historic struggle for women's rights.
Now an illuminating new artwork will bring local Suffragette's Leonora Cohen and Mary Gawthorpe back to life in modern day Leeds and reveal more about the real women behind their extraordinary stories.
At next week's hugely-anticipated Light Night Leeds, the exterior of the 250 year-old Leeds Library will be the setting for a poignant, specially-commissioned projection entitled A Certain Amount of Courage.
Using archive material and images gathered from collections including those at Leeds City Museum, Abbey House Museum and Leeds Central Library, artist Karen Monid of The Projection Studio has created an intimate digital portrait of two very different women, united by their unshakable belief in a common purpose.
Karen, who has spent months researching both Leonora and Mary, said: "Through this piece, we'll see Suffrage history through the eyes and experiences of two women from Leeds. Through their lives and actions we get to know what that period looked like but we also get to know more about them as women, which was really important to me as I want people to connect with them.
"Both Leonora and Mary would have seen themselves as quite ordinary women who became part of something extraordinary and through that, they were able to find strengths and talents they never realised they had. I think we can all take something from that- the things that are sent to challenge us are very often what helps us grow."
Part of Karen's research included visiting Leeds City Museum, which hosts an extensive collection of material related to Leonora Cohen's life.
A fiercely militant campaigner, in 1911 Leonora Cohen famously threw a rock at the window of a government building and was arrested and jailed before again being imprisoned in 1913, this time for hurling an iron bar through a showcase at the Tower of London.
Her fellow Suffragette Mary Gawthorpe, who features in Abbey House Museum's current A Woman's Place? exhibition, was a regular speaker at huge national events, including a rally in London's Hyde Park in 1908 in front of more than 200,000 people.
Their exploits have particular relevance with this year's Light Night, which takes place on October 4 and 5 and has the theme of progress and innovation, with installations exploring important moments in history which have been a catalyst for social change.
This year also marks 100 years since the first women in the UK won the right to vote, and Karen said she believed both the event theme and her piece would resonate with Leonora and Mary.
She said: "Recordings of Leonora paint a clear picture of a very committed and focussed woman who was very determined and if she set her mind to something, you can tell nothing was going to distract her.
"What we know about Mary Gawthorpe reveals a very different personality and I don't think people realise she was quite the celebrity and a lively, witty orator who had an excellent way with audiences.
"Their stories are still so relevant today- they both saw Suffrage as a means to and end and as a way of improving the lot of women and the people they were connected to. I think they would have recognised that what's happening today is part of a continuing fight for equality."
A Certain Amount of Courage also features newly commissioned pictures of both Suffragettes by artists Suman Kaur, who won last year's BBC Big Painting Challenge.
It will be one of more than 60 stunning installations at locations around the city centre during the two-night festival, with other venues including Victoria Leeds, Kirkgate Market, Leeds Town Hall and Leeds Civic Hall.
This year's event will take place in a series of zones supported by local businesses, with A Certain Amount of Courage taking place in the Briggate zone, supported by Headrow House.
Alice Hyam, Headrow House's project and relationships manager, said: "Light Night has always played such an integral role within city's cultural calendar, so we're thrilled to be getting more involved in this year's programme.
"What's really great about the event is the opportunity it presents Leeds's residents and visitors to explore parts of the city they normally wouldn't think to visit, and offers the city's historical structures and venues the chance to be reimagined as the centrepieces and backdrops of some incredible pieces of art and installations. "
Councillor Judith Blake, leader of Leeds City Council said: "Over the past 14 years, Light Night Leeds has continued to evolve, growing into an event of such impressive ambition and creativity that it has become one of the benchmarks for culture and innovation in Leeds and beyond.
"As Light Night once again brings thousands of people together, we hope that the event is not only a celebration of culture and artistic endeavour, but also of the unity, diversity and collective civic pride which are part of the foundation of Leeds."
Light Night Leeds takes place on October 4 and 5 from 6pm until 11pm. The event's headline partner is Leeds 2023.
For more details, visit: lightnightleeds.co.uk or follow @LightNightLeeds on Twitter
ENDS
For media enquiries, please contact:
Stuart Robinson
Communications Officer
Leeds City Council
Tel: 0113 378 9182 (please note my new number)
Email: stuart.robinson@leeds.gov.uk
www.leeds.gov.uk
For media enquiries contact: