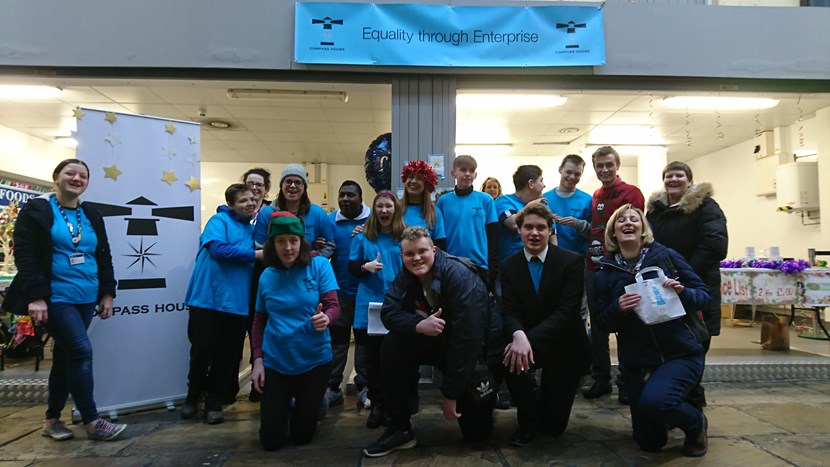 12 Dec 2018
Students spread Christmas cheer with 'Compass House' pop up shop in Kirkgate Market
Students from West SILC, East SILC, North West SILC, Broomfield SILC and the Lighthouse School have been spreading Christmas cheer this week with their Christmas pop up shop in Kirkgate Market.
Working in partnership with Leeds City Council's Voice, Influence and Change Team, students from the above schools have been working hard to set up and run the shop.
Entitled 'Compass House', the pop up shop opened on Monday 10 December and will be open until Friday 14 December (10am – 2pm, units 280/282).
Students will be selling beautifully handcrafted gifts such as bath bombs, Christmas plates, decorations and much more, with all items being priced at £5 or less.
The students have been meeting on a regular basis to make all the key decisions about the shop. They have named it, designed the logo, created flyers and handcrafted all the items.
The project has been a great opportunity for students with special educational needs and disabilities (SEND) to gain valuable work experience.
It is also a fantastic example of how Kirkgate Market as a Child Friendly Leeds Ambassador is working with partners to improve opportunities and outcomes for the children and young people of Leeds.
Councillor Lisa Mulherin, Leeds City Council's executive member for children and families said:
"Compass House is a wonderful example of different organisations working together to deliver on our ambition to make Leeds a Child Friendly City. A lot of hard work and effort has gone into setting up the shop which is full of beautiful handmade gifts that would make the perfect Christmas surprise.
"This project has been a great opportunity for students with special educational needs and disabilities to gain valuable work experience and make a positive contribution to the wider community. I would like to say a huge well done to all of those involved in setting up this fantastic shop, and encourage everyone to pop in and show their support before it closes on Friday."
ENDS
Notes to editors:
SILC – Specialist Inclusive Learning Centre
For media enquiries please contact:
Leeds City Council communications and marketing
Tel: 0113 378 6007
Email: communicationsteam@leeds.gov.uk
For media enquiries contact: