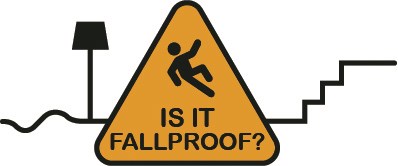 21 Jun 2016
Stand up for making it fallproof
A new campaign to reduce the number of injuries caused by preventable falls could improve the quality of life for thousands of older people living in Leeds, preventing them from needing to visit a hospital and reducing health and care costs.
Almost 4,000 people were admitted to hospital in Leeds as a result of a fall in 2014/15 and predictions suggest 33,000 people over 65 in the city will suffer a fall. Costs of helping deal with the results of these falls are significant and injuries can range from bumps and bruises to breaks and other serious injury.
Councillor Rebecca Charlwood, Leeds City Council Executive Member for Health, Wellbeing and Adults, said:
"We know falls are common, and there's evidence that around one in three people over 65 will fall each year. However falls don't have to be an inevitable part of ageing. With a few simple changes, and an increased level of physical activity people can prevent joining the fall statistics so that it doesn't mean cutting back on normal activities or not going out of your front door.
Lucy Jackson, Leeds City Council Public Health consultant, said:
"This new campaign gives us a chance to get messages and advice to those who are both more at risk and more likely to suffer as a consequence of trips and falls. So the new campaign will target over 50s, people with a long-term health condition such as Parkinsons, heart disease or stroke, arthritis, COPD, diabetes and dementia and people with previous history of falls.
"We know people living on their own can be more at risk and so we want to let them, their family, carers and friends know what to do if you fall. We've got a range of helpful advice about things such as how to get up after a tumble, what to do if you can't, how to prevent further falls and how to 'fall proof' your home."
Ray Hinde, 80, from Aberford had a series of falls last year. After this he had a period of intense physiotherapy at home and went on a physio-led exercise class at Garforth Neighbourhood network. After completing this course, Ray was contacted by Age UK who referred him to the 20 week postural stability class, run by Leeds City Council at Garforth Net. Ray said:
"I've suffered from poor health over the years and had a few falls. This made me lose confidence in doing the daily tasks I used to take for granted, like going out by myself. The postural stability classes have certainly helped me get about better. I'm halfway through the course and I've noticed the best improvement is in my balance. When I started the course, I did most of the exercises sitting down, but now I am doing some of them standing.
"I can feel myself getting stronger week by week. The girls put us through our paces, and the exercises can be tiring, but you only do what you feel up to, and you get a cup of tea and a biscuit at the end to reward all the hard work!"
If you want to find out more about help with avoiding falls, trips and tumbles on the web at: www.leeds.gov.uk/fallproof
For media enquiries contact: