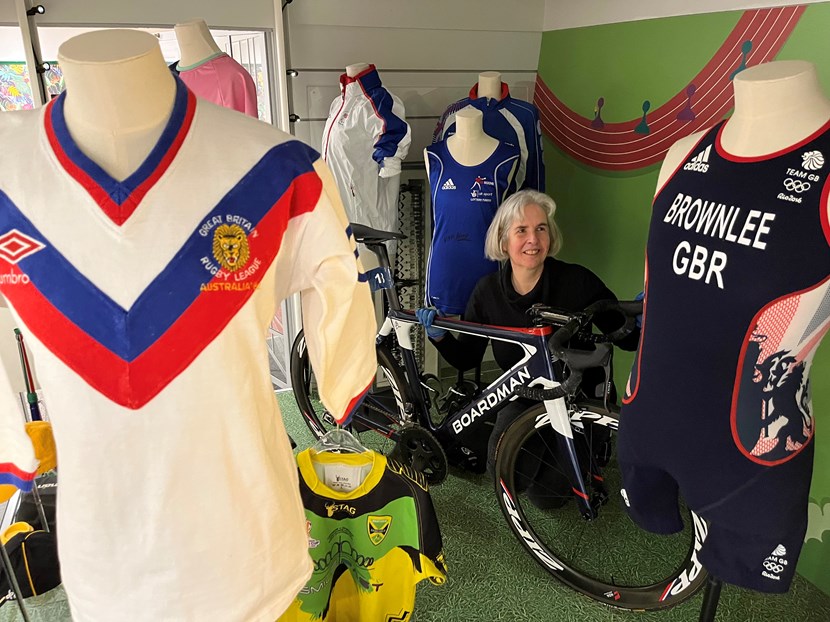 18 Jan 2023
Sporting chance to relive city's Olympic glory days
Generations of the city's sporting heroes are being celebrated in a new exhibition looking at the unique history of competition, games and play in Leeds.
Boxing gloves worn by the city's own double Olympic champion Nicola Adams and a bike and kit belonging to Horsforth's Alistair Brownlee, the only athlete to hold two Olympic triathlon titles, are among a glittering array of memorabilia on display in Abbey House Museum's All to Play For.
Their impressive triumphs are heralded alongside the likes of Saima Hussain, England's first female Asian rugby league player and former University of Leeds student Claire Cashmore, who represented Team GB at the 2008 Paralympic Games in Beijing.
Tributes to legendary sports stars of the past, including Leeds cycling icon Beryl Burton, who won more than 90 domestic championships and seven world titles, and Leeds and Great Britain Rugby League star John Holmes, from Kirkstall, who lifted a World Cup at the age of just 20, are also part of the exhibition.
As well as acclaimed professional and international athletes, All to Play For also celebrates the accomplishments of those who have tested their skills in amateur games and sports at all levels, with a dazzling cabinet stuffed with accolades awarded for everything from darts and billiards to hairdressing and rose-growing on show.
Kitty Ross, Leeds Museums and Galleries' curator of social history, said: "The sheer scope and scale of objects we have been able to gather for this exhibition illustrates the enduring love of sport, play and competition that has existed for different generations and communities in Leeds through the ages.
"Across so many different levels and disciplines, people in Leeds have clearly had a desire to come together and participate in competition in the pursuit of glory, medals, trophies or just the pure love of playing the game.
"Seeing so much sporting history gathered together not only demonstrates the city's timeless competitive spirit, it also gives us a chance to reflect on the power of sport and play to bring people together and create unique memories, experiences and friendships."
Parts of a vast collection of Leeds United memorabilia, including programmes and pennants from the 1960s up until today, which were donated by the family of a lifelong fan of the Whites, also features in the exhibition.
They are displayed alongside scarves and shirts worn by players and fans at the club's famous Elland Road home.
Councillor Jonathan Pryor, Leeds City Council's executive member for economy, culture and education, said: "Leeds has an incredibly rich sporting history and sport has played such an integral role in our culture and heritage over the centuries.
"It's fitting that we celebrate the accomplishments of those history-makers who put Leeds on the sporting map but it's also amazing to see how the sheer joy of playing and competing has clearly meant so much to the city and its communities."
All to Play For has been brought together with the help of local clubs and a team of volunteers.
The exhibition opens at Abbey House Museum on January 21. For more information including opening times and admission, please visit: https://museumsandgalleries.leeds.gov.uk/events/abbey-house-museum/all-to-play-for-a-sprint-through-the-history-of-sport-play-and-competition-in-leeds/?occurrence=2023-01-21
ENDS
For media enquiries contact: