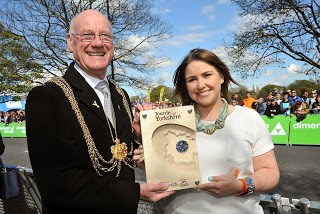 05 May 2015
Specially-designed Tour de Yorkshire stage 3 trophy on the podium
Lord Mayor of Leeds, Councillor David Congreve, presented a specially commissioned trophy to the winning rider of the third and final stage of the Tour de Yorkshire on Sunday, on behalf of Leeds City Council.
The Stage 3 winner's trophy was designed and made by Duke Studios in Leeds using a mixture of wood and acrylic, with bicycle parts incorporated into its design.
The Lord Mayor of Leeds made a £200 contribution towards the cost of the trophy, with the remaining cost being provided by Duke Studios' sponsorship.
Lord Mayor of Leeds, Councillor David Congreve, said:
"When a world-class sporting event like this comes to Leeds it's not just good for spectators, it's also good for businesses. It's fantastic that Duke Studios were so supportive and designed and made this wonderful Tour de Yorkshire Stage 3 winner's trophy."
Laura Wellington, director of Duke Studios, said:
"As a Leeds-based business it was an honour to design and make the Tour de Yorkshire Stage 3 winner's trophy. We designed it to offer something a bit different, taking the outline of the race route as our starting point and expanding the layered construction from there.
"It's really great to have been able to play a part in this high calibre event by sponsoring the trophy, and we hope that it is a proud addition to the stage winner's trophy cabinet!"
The first ever Tour de Yorkshire has ridden itself into the history books after a momentous three days of racing. One and a half million fans at the roadside and TV audiences in more than 150 countries witnessed some of Yorkshire's finest scenery, with crowds at key points in the race comparable with the Tour de France.
The race was a joint venture between Welcome to Yorkshire and ASO, with the backing of British Cycling – supported and delivered in partnership in 2015 with North Yorkshire County Council, East Riding Council, Selby District Council, Scarborough Borough Council, City of York Council, Wakefield Council and Leeds City Council.
Ends
Leeds City Council press office
For media enquiries contact: