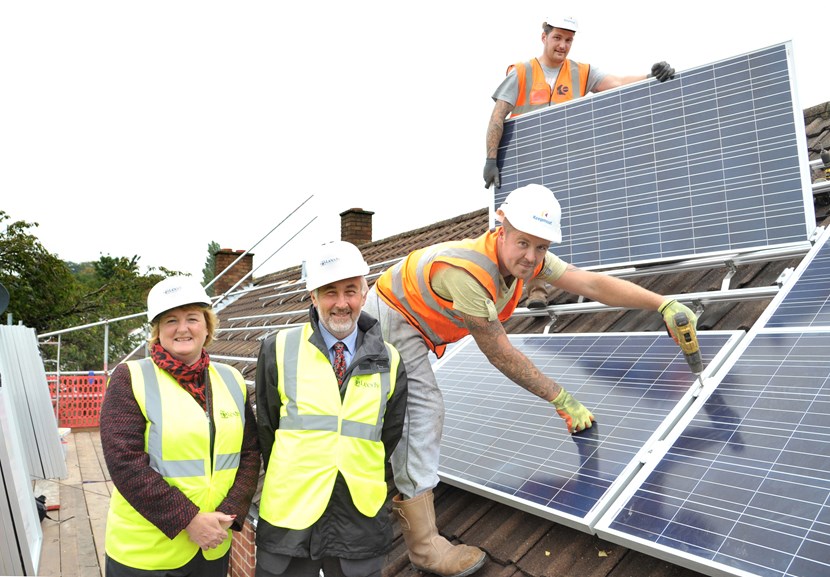 23 Dec 2015
Solar panel project wraps up in time for Christmas
Over 1,000 council tenants will be getting free electricity in time for Christmas.
Solar panels have now been installed on 1,003 council homes across Leeds, marking the completion of the project.
The solar photovoltaic systems, installed by the Better Homes Yorkshire team, generate electricity from sunlight. Tenants are able to use any electricity the panels make for free during the day.
Using the clean energy means tenants are helping to reduce carbon emissions from their home and cut their electricity bills.
Since installations began in September, the solar panels have generated 90,762 kwh of energy –enough to power 22 houses for a year.
Based on average electricity costs, and if all that electricity was used, that represents a total £11,800 saving for tenants so far.
To date, the panels have also cut tenant's carbon emissions by over 49 tonnes.
Councillor Richard Lewis, executive member for regeneration, transport and planning, said:
"Carbon emissions from domestic properties account for a large chunk of our environmental impact in Leeds. We need to reduce this and in the process help people save money and improve air quality.
"While we're delighted to have been able to help over 1,000 council households, the cuts to feed-in-tariffs are preventing us from doing more to support other residents.
"Despite this, it's particularly pleasing to see a project come in on time, on budget and improving so many council homes."
Councillor Debra Coupar, executive member for communities, said:
"With some tenants really struggling with fuel bills, the free electricity from the solar panels will genuinely make a difference to people's purses and pockets.
"It's really good to see the project wrapping up in time for Christmas; it's a nice way to round off the year knowing we've been able to make a genuine difference to tenant's lives."
Stephen Batty, framework director at Better Homes Yorkshire, said:
"The team have pulled out all the stops to ensure that panels were installed on people's homes as smoothly and quickly as possible.
"We're delighted that another 1,000 tenants are benefitting thanks to Better Homes Yorkshire and Leeds City Council."
It's estimated that overall tenants could save around £4 million in electricity costs over 20 years.
After an initial outlay of £3.8 million, the solar panels will make the council around £5.4 million over 20 years. Any electricity tenants don't use will be sold back to the national grid as part of the Government feed-in tariffs.
Generating clean energy from the solar panels is the equivalent of taking around 450 cars off the road.
For media enquiries contact: