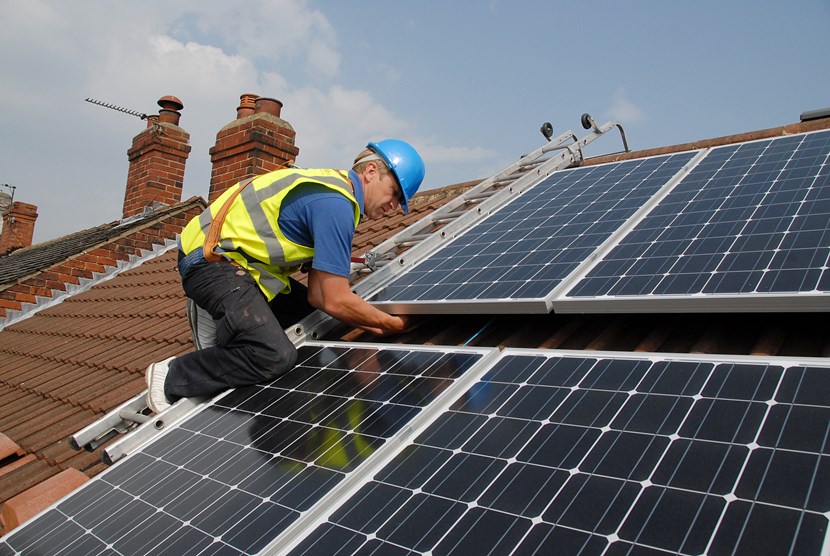 03 Sep 2015
Solar panel project powers up
Tenants are now benefitting from free electricity as the first of 1,000 solar panel systems are installed on council homes.
The Better Homes Yorkshire team have been busy putting up scaffolding on houses suitable for the energy generating kit across the city.
Typically a system is made up of between eight and twelve solar photovoltaic panels. It takes the Better Homes Yorkshire team – Keepmoat and Wilmott Dixon Energy Services – three days to complete the installation and, once up and running, tenants are able to use the electricity generated from the solar panels in their home for free.
It's estimated that overall tenants could save around £4.4 million in electricity costs over 20 years, working out at around £136 a year for each tenant.
As well as cutting fuel bills, the panels also help tenants and the council reduce their impact on the environment by cutting carbon emissions.
Councillor Richard Lewis, executive member for regeneration, transport and planning, said:
"This really is a 'win-win' and it's great that we can provide this for existing tenants as well as when we build new council homes. With a significant investment we're fitting clean energy technology to existing council houses so tenants and the environment benefits. Residents benefit from electricity during the day whilst we all benefit from more clean energy in the grid."
Councillor Debra Coupar, executive member for communities, said:
"A lot of work has already and continues to go into making council homes as energy efficient as possible so they are healthy, warm and cheap to heat. The next logical step is to generate electricity for tenants to use to help those fuel bills come down even further."
Stephen Batty, framework director at Better Homes Yorkshire, said:
"These first installations are kick-starting a three month process that will see over 12,000 panels installed on 1,000 homes.
"The teams on the ground are raring to go so tenants can start to benefit from the free electricity as soon as possible."
After an initial outlay of £3.8 million, the solar panels will make the council around £6.4 million over 20 years. Any electricity tenants don't use will be sold back to the national grid as part of the Government feed-in tariffs.
Generating clean energy from the solar panels is the equivalent of taking around 450 cars off the road.
Installation on all 1,000 properties is expected to be completed by mid-November.
For media enquiries contact: