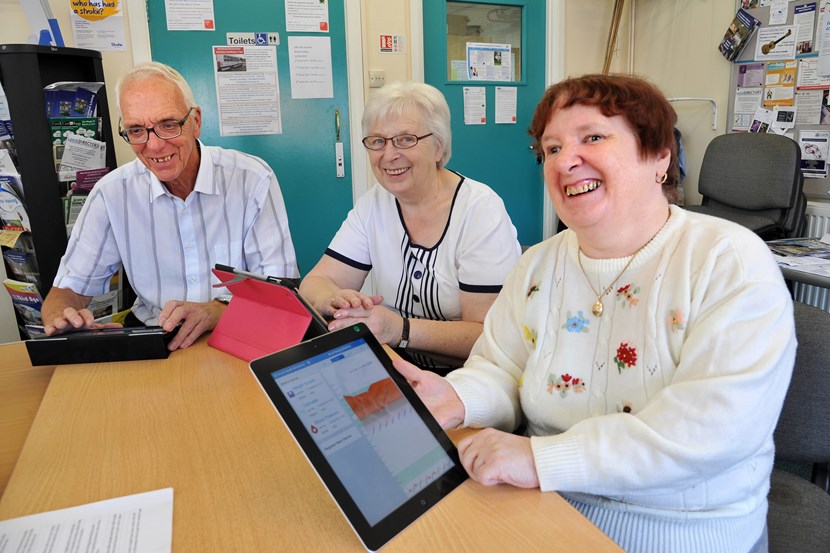 11 Jun 2015
Social network helping older people bridge the digital divide
An innovative new social network is helping a group of older people in Leeds to bridge the digital divide and reconnect with family and friends.
Cross Gates and District Good Neighbours Scheme, one of Leeds's council-supported neighbourhood networks, is one of the first places in the country to trial the new Yecco application.
Using iPads funded by Leeds City Council, a small group of regulars meets once a week, working together to learn how to use the app then take it away and chat to each other from home.
The new technology is specifically designed with older people in mind and allows users to stay in touch with friends and family through messaging as well as monitoring their health and wellbeing.
The app is the brainchild of London-based entrepreneur and founder of Yecco Janet Jadavji.
A former social care professional, Janet developed the app as a way of making social media more accessible to older people by helping them stay in touch with friends while also monitoring their health.
She said: "I know from my experience that older people can be at risk of becoming socially isolated and losing touch with their friends, families and communities. I also know they like to feel a sense of control over their health and to be able to choose who they discuss information with.
"The idea of Yecco is to be a tool to connect older people with others who have had similar experiences, help them engage socially and also a way to help them feel involved in and on top of their own health and wellbeing."
Combining a group chat and instant messaging function with applications for monitoring things like heart rate, blood pressure and blood sugar, Yecco is already proving a big hit with users at Cross Gates, with plans in progress to trial it in other parts of the country.
Janet said: "I'd heard that Leeds was doing some innovative things preventing social isolation and loneliness so I approached the council about getting involved in what they were doing and they suggested working with Cross Gates.
"I think we underestimated how quickly some of these older people have been able to pick up and embrace this technology and how capable they have become in such a short space of time.
"I think it's given them a sense of empowerment and control to socialise in a new way and bridge the digital divide using a new platform. Older people have been shut away for long enough and it's time we gave them a new voice."
Former teacher Hazel Watson, 73, is one of the group trialling the iPads and Yecco app at Cross Gates and has been involved with her neighbourhood network for eight years, regularly volunteering there.
She said: "I think it's wonderful and has made a real difference in helping us connect with each other. I'd never used an iPad before, some of us are better with technology than others but we all support each other, come in for a cup of tea and learn together.
"I have family living abroad and it's hard to always keep in touch but it feels like we've got a bit of a family here now."
The new digital sessions are just one of the many activities run by Cross Gates and District Good Neighbours, which also include minibus trips, arts and crafts, drop-in sessions and regular talks.
Jane Robinson, Cross Gates and District Good Neighbours Scheme project worker said:
"The pilot six month project started in February and will be formerly evaluated by the University of Leeds to see what difference it has made to people's lives.
"We hope that participants will feel less isolated and be more in control of their own health. Some participants are using the app on a regular basis, but some still find the technology difficult to get to grips with."
Cross Gates and District Good Neighbours is one of 37 neighbourhood networks that work with more than 21,900 older people across the city.
Supported by the council's adult social care team, the community based organisations are aimed at enabling older people to live independently and get involved within their own communities.
Councillor Lisa Mulherin, Leeds City Council's executive member for health, wellbeing and adults said:
"The group at Cross Gates is wonderful example of how, far from being technophobes, older people can embrace and enjoy new technology and use it to enrich their lives.
"The ability to maintain an active social life plays a crucial role in anyone's health and wellbeing but that can be very difficult for some, who in turn can become vulnerable to the blight of loneliness and social isolation.
"Digital technology and the internet can be the key to unlocking an incredible range of social opportunities for people, helping them to avoid sitting on the side lines while the world continues to advance so rapidly.
"We need to take every chance we can to help equip them with the knowledge and skills they need to take full advantage of the digital age and the wealth of knowledge and experiences it has to offer."
For more details on Cross Gates, visit www.crossgatesgns.org.uk or follow @CrossGatesGNS on Twitter.
For more details about your local neighbourhood network, visit: http://www.leeds.gov.uk/docs/Neighbourhood%20network%20scheme.pdf
For more information about Yecco, visit: www.yecco.co.uk/
ENDS
For media enquiries, please contact:
Stuart Robinson
Communications Officer
Leeds City Council
Tel: 0113 224 3937
Email: stuart.robinson@leeds.gov.uk
For media enquiries contact: