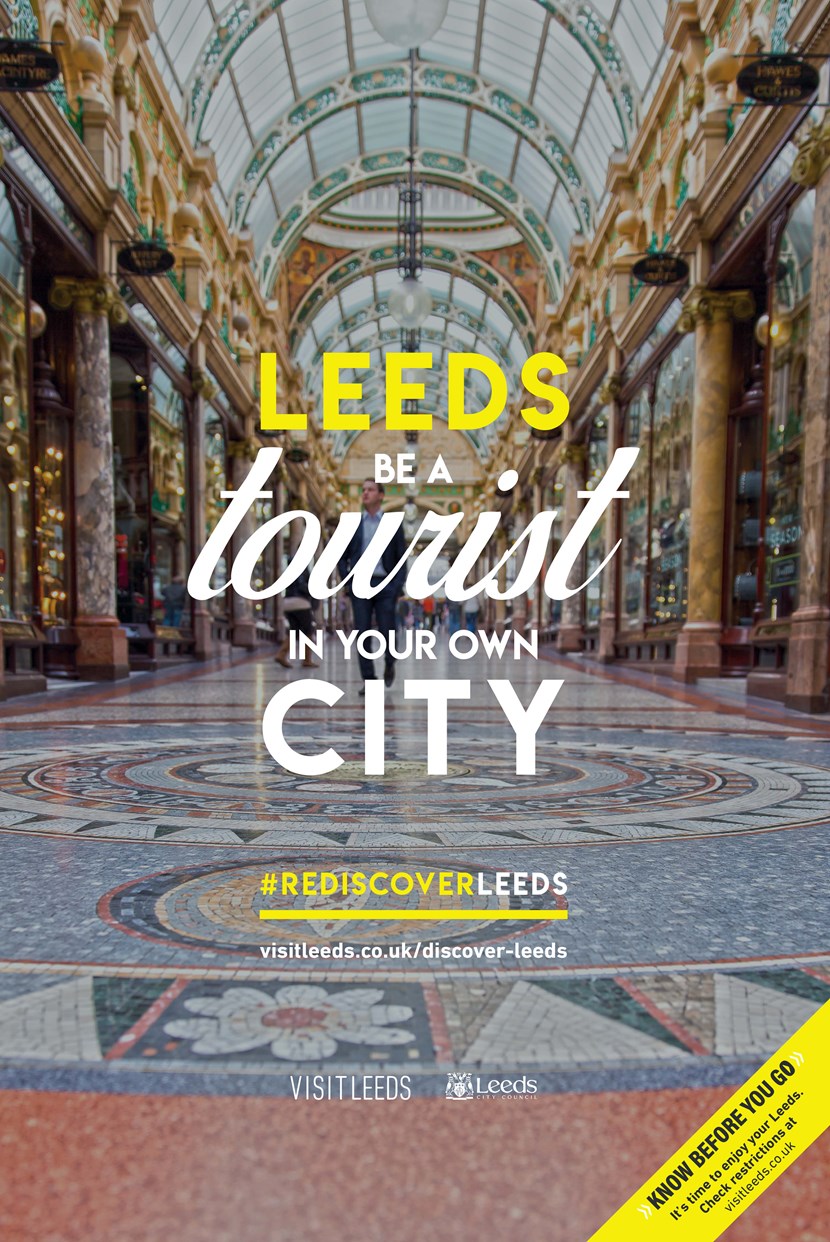 27 Jul 2020
Rediscover Leeds launched in bid to help city's key industries recover
Residents in and around Leeds are being encouraged to rediscover the city as it begins to safely reopen to visitors.
Visit Leeds has today launched Rediscover Leeds, a campaign designed to encourage people to get back out exploring the diverse experiences the city has to offer.
The campaign aims to help revive the city's rich tourism, hospitality, leisure, business and cultural industries that have been hit hard by COVID-19.
In 2019, Leeds welcomed an incredible 30.42 million day and night visitors worth £1.89 billion to the local economy. However, according to predictions from STEAM, as a result of the pandemic, 2020 visitor numbers are expected to drop to levels not seen since 2012. Despite this, Visit Leeds is determined to help the city recover from this unprecedented blow, and the launch of Rediscover Leeds will contribute significantly to that.
The carefully considered campaign will encourage visitors to rediscover the city in a way that they feel comfortable with, whether that is shopping in the spectacular Victorian Arcades, Kirkgate Market and the Corn Exchange, eating out in one of the many independent restaurants and cafes or staying closer to home in our vibrant neighbourhoods. There are also plenty of rich, cultural experiences on offer at our historic houses and estates, such as Lotherton, Temple Newsam or Harewood House, as well as a number of exciting trails to explore.
Rediscover Leeds has been developed by gathering intelligence from Visit Britain to understand how people are feeling about returning to leisure activities and who the most likely people to return are. The first phase of Rediscover Leeds will focus on getting Leeds residents back out spending time in their city, as well as encouraging visitors from towns close by such as Skipton, Harrogate, Halifax, Huddersfield and Selby.
Later in the year, when the time is right and it is safe to do so, the campaign will begin encouraging a wider audience to the city, including those who live further afield both in the UK and overseas. Leeds is the perfect base for exploring and is popular not only for what it offers itself, but also for its close proximity to the amazing Yorkshire countryside and a number of other diverse cities and towns. Rediscover Leeds will encourage visitors to make the most of this by encouraging short breaks and holidays to the city when it is appropriate.
There will also be a focus on helping the city recover as a conference and events destination. Last year, Leeds was the 5th most popular conference destination in the UK, with business tourism worth £559.5 million to the local economy. Conference Leeds will be launching a recovery campaign to help kickstart the city's business tourism sector too.
Councillor Judith Blake, Leader of Leeds City Council, said:
"Leeds is a world-class city that is well known for its impressive culture, tourism and hospitality industries, all of which have suffered immensely due to coronavirus. Rediscover Leeds is a welcome first step in getting people back into our city and supporting our industries while ensuring public health and safety remains a top priority.
Belinda Eldridge, Head of Visitor Economy for Visit Leeds said:
"The tourism, leisure and hospitality industries are vital to our economy and they face incredibly tough times ahead as people navigate the new normal. Visit Leeds is determined to support them by encouraging people back into the city in a safe way, one step at a time. Our city has so much on offer and I am confident that it will recover beyond expectations. We will soon be back showing the world what a fantastic destination Leeds is."
For more information and inspiration for your trip to Leeds visit www.visitleeds.co.uk.
Ends
Notes to editors:
Visit Leeds is an organisation run by Leeds City Council that aims to promote and showcase the variety of attractions on offer in Leeds and the surrounding area. Their vision is for Leeds to be a world-class, modern and historic European destination with a reputation for a vibrant and creative cultural scene set against the backdrop of rich heritage and outstanding architecture.
Leeds is the third largest and one of the fastest growing cities in the UK, attracting over 30.42 million visitors in 2019 from both the UK and abroad.
One of the greenest cities in Europe, Leeds is the third best shopping destination in the UK outside of London.
Leeds boasts four major theatres, over 16 museums and galleries. A thriving economy boasts strengths in digital, financial and professional services, manufacturing and health innovation, and with excellent road, rail and air links, it is a perfect gateway for tourist and business visitors to the Yorkshire region.
Leeds is also a world class sporting destination having hosted the World Triathlon Series, games in The Cricket World Cup and The Ashes and will be hosting games in the Rugby League World Cup and the World Transplant Games in 2021. Leeds is home to Yorkshire County Cricket Club, Leeds United and Leeds Rhinos.
STEAM is a tourism economic impact modelling process, commissioned by core cities which quantifies the local economic impact of tourism, from both staying and day visitors, through analysis and use of a variety of inputs including visitor attraction numbers, tourist accommodation bed stock, events attendance, occupancy levels, accommodation tariffs, macro-economic factors, visitor expenditure levels, transport use levels and tourism-specific economic multipliers.
For media enquiries contact: