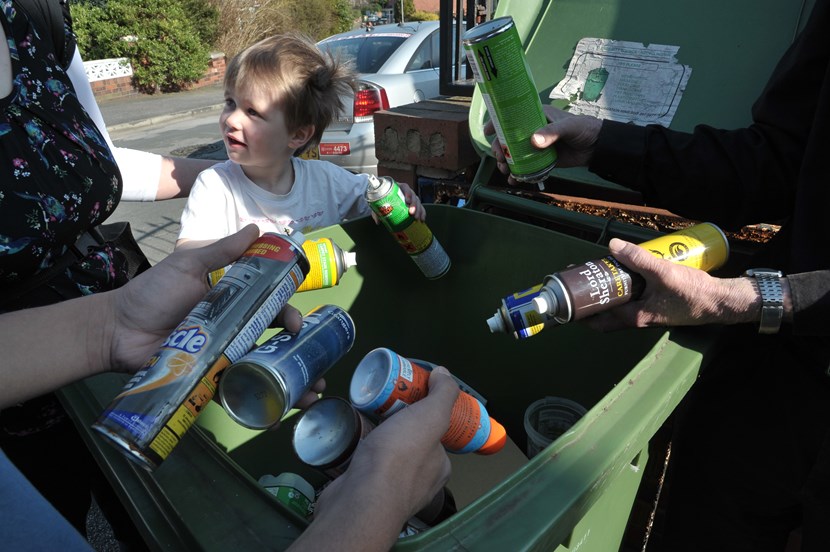 24 Jun 2015
Recycling around the home during Recycle Week
Leeds residents are being asked to take a fresh look at what can be recycled around the home as part of this year's Recycle Week.
The annual event reminds people how simple and beneficial recycling is and helps to ensure that we are all keeping up with basic and good habits.
This year's theme is to get everyone thinking about everyday items we can recycle around the house that we may not know about or have forgotten, for example, air freshener aerosols.
Everything from toothpaste boxes, shampoo bottles and toilet paper tubes in the bathroom, deodorant aerosols from the bedroom to magazines and mail in the living room or drink cans in the kitchen, can be put directly into the green bin.
A new short film, which can be viewed at http://goo.gl/z7dait shows how easy recycling can be and how families and the whole community can get involved squashing, flattening and sorting recycling.
Councillor Mark Dobson, executive member for environmental protection and community safety, said:
"We want people to recycle throughout the year, but Recycle Week is a great way to focus on what we can recycle properly around the home. By doing so we're saving the council a lot of money that can be spent on improvements and valued services.
"However this can't be achieved without the continued commitment and input from residents which goes a long way towards our successful recycling performance."
To encourage people to get recycling, you can share your top tips for better recycling around the home to @leedswastedocs, or leave a comment on our Leeds Waste Docs Facebook page or email your suggestions to E&N.CommsTeam@leeds.gov.uk. For more information, visit www.leeds.gov.uk/recycleweek.
More information about recycling including what to put in your green bin, what to do with items that are too good to throw away and to download printable bin calendars visit www.leeds.gov.uk/waste.
Other organisations around the city are getting into the Recycle Week spirit with offers. Seagulls Paint on Kirkstall Road are having a great paint giveaway (www.seagullsreuse.org.uk).
Anyone making a donation to Emmaus Leeds (www.emmaus.org.uk/leeds) during Recycle Week will receive a 10% discount voucher, valid until the end of July 2015.
If you make a donation to Revive Leeds – The Reuse Shop during Recycle Week you can choose five free books or magazines.
For media enquiries please contact:
Rebecca Ness, Leeds City Council press office (0113) 395 1577
email: rebecca.ness@leeds.gov.uk
ENDS
For media enquiries contact: