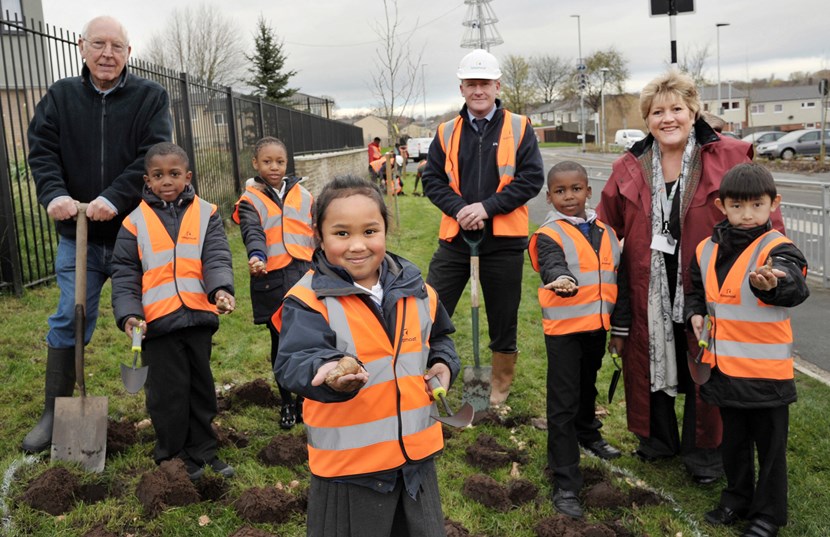 04 Dec 2015
Pupils add grand splash of colour to housing regeneration project
People arriving in Little London will be greeted by a splash of colour next spring thanks to the efforts of council's housing regeneration project and a local primary school.
Pupils from Little London community primary school have teamed up with volunteers from the council's partners, sc4L and Keepmoat, to plant 1,000 bulbs on the grass verge along Oatland Lane.
Overall, the housing regeneration project will see 388 new homes being built and refurbish another 1,245 across Little London, Beeston Hill and Holbeck. Of these, 113 new homes will be built in Little London while another 848 are being refurbished.
As well as the new council homes to rent and upgraded properties, a key part of the housing regeneration project is making environmental improvements to each area.
Councillor Jack Dunn, lead member for communities, said:
"The bulb planting is another way of showing that the housing regeneration project is about more than just bricks and mortar; it's about improving the area generally and helping people feel proud to live in Little London.
"It's been a great team effort from the school, council, sc4L and Keepmoat that will result in a very welcome, colourful addition to local area."
Jill Wood, headteacher at Little London community primary school, said:
"The pupils have been keen to get stuck in and get the bulbs planted. It has been an ideal opportunity for us to highlight to the whole school the role that we play in the local community, and what we can achieve together when we work with others."
Jon Hinchliff, sc4L general manager, said:
"As well as getting on with building and refurbishing homes, we're delighted to work with local schools and groups and help to build the relationships that will help sustain these communities."
Sean Corcoran, Keepmoat regional director, said:
"The environmental improvements we're making in the wider community are just as important as the building and refurbishment works as we know that they have a really positive impact."
The housing regeneration project is a key part of the council's ambitious plans to provide 1,000 new council homes by 2018/19.
The bulbs have been donated by Keepmoat and J Palmer (Landscapes) Ltd who supply and plant up the communal areas in Little London.
For media enquiries contact: