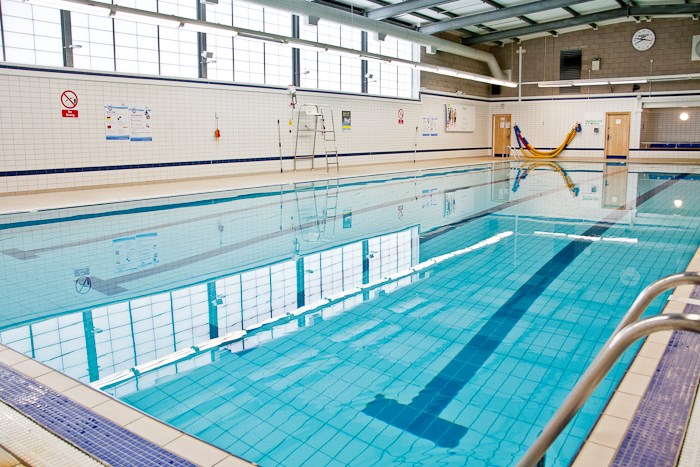 07 Dec 2016
Proposals for two new leisure and wellbeing centres and potential new swimming pool in Kippax to be tabled at executive board
A proposal seeking to develop plans for two new leisure and wellbeing centres in Leeds are set to be discussed by senior councillors next week.
Featuring in a report setting out the council's future vision for leisure and wellbeing centres to Leeds City Council's executive board on 14 December 2016, members have the opportunity to support a feasibility study being undertaken regarding the building of two brand new facilities - one in inner east Leeds and the other in Rothwell. For more information on each proposed project, please see the Notes to Editors section.
Also included is a recommendation that a feasibility plan and proposed public consultation be undertaken to investigate the creation of a new modern, up-to-date-swimming pool facility being built in the area served by Kippax Leisure Centre. While this work is underway, the operational hours of the current centre will be reduced from April 2017 to help meet the financial shortfall that the facility faces. In reducing the hours, facilities can still be provided for residents living in local communities with minimal impact on many customers at Kippax Leisure Centre. All efforts will be made to offer alternative opportunities where possible to anyone affected.
Once the feasibility studies are completed, a further report is expected to be brought back to the executive board with options to consider in 2017.
These proposals form part of a wider report to the executive board which provides an overview of the strategy to ensure that the council's centres are run on a stronger commercial footing with usage increased so income growth covers running costs in times of a severe budget shortfall. This aims to achieve the council's lasting commitment to offer residents of all ages and backgrounds access to leisure services and facilities and to provide services that the commercial fitness sector doesn't.
Previous significant investment by the council in new leisure centres at Armley and Morley, and Holt Park, which was supported by funding from the Department of Health and in existing facilities, has proved to be a key success in keeping and attracting users and also increasing revenue for the authority. Since 2008/09, the council has reduced its net service deficit by 45% while at the same time increasing its income generation, excluding grant income, by £1.8m.
Given these types of positive results, the council has reiterated its ambition to again move forward with a 'invest to grow' focused commercial strategy. As part of this work, this includes a £1.2m revamp of Aireborough Leisure Centre which was agreed by the executive board last month, a new gym at Middleton Leisure Centre and enhanced swimming provision at John Smeaton Leisure Centre.
For a full copy of the executive report, please see: http://democracy.leeds.gov.uk/documents/s152703/Vision%20for%20Leisure%20Centres%20Cover%20Report%20Appendices%20021216.pdf
Councillor James Lewis, Leeds City Council's executive member with responsibility for sport, said:
"Our leisure centres play an extremely vital role in ensuring that residents' right across the city can take part in sport and exercise and access facilities and classes that are both affordable and of a high quality. To ensure that our leisure centres continue to be well used and are in a solid position to meet the wide range of challenges that exist, we have therefore submitted to the executive board our proposed vision and strategy for the future.
"Despite our budget continuing to be under real pressure, we have taken the decision therefore to continue to invest in order to grow our leisure centres. The benefits of this approach have already provided the residents of Leeds with modern, high class facilities, whilst also providing an important source of increased revenue to the council and playing its part in cutting significantly the net deficit of the service. As part of this plan, this includes a proposal to move forward with a feasibility study to assess the potential of two new leisure and wellbeing centres opening in inner east Leeds and Rothwell, which is a very exciting move.
"In the report, we have also set out a number of recommendations regarding the leisure centre in Kippax, which does include a reduction in its opening hours. While the centre is operating at a significant budgetary deficit per year compared to other similar leisure centres, we have worked extremely hard to find a way forward that can ensure that in the short, medium and long-term this cost can be reduced whilst services can still be provided to residents. To make it clear, we remain absolutely committed to providing a wide range of leisure facilities to people living in those communities served by Kippax Leisure Centre. This is underlined by a recommendation that the council also move forward with a feasibility study to assess the possibility of a new modern swimming pool facility opening in the area, which is a welcome step forward."
Notes to Editors:
Proposed inner east Leeds leisure and wellbeing centre:
If agreed by the executive board, the council will investigate the possibility of a yet unidentified site in inner east Leeds being the home for a modern integrated leisure and wellbeing centre that could for example, feature new adventure family activities and a cafe and multi-use space, whilst still maintaining pool and gym facilities. The creation of this facility would assist the authority and partners in its wider work to tackle high health inequalities that currently exist in this area whilst also being a location for adult social care and school services. If a site is found and a new leisure and wellbeing facility is subsequently built in inner east Leeds, the council will move forward with proposals to close Fearnville Leisure Centre.
Proposed Rothwell leisure and wellbeing centre:
In setting out its initial plans for Rothwell, the council would also seek to develop an integrated leisure and wellbeing facility in the area. An evaluation to possibly refurbish the existing leisure centre at Rothwell has already been explored, but having taken into account a number of factors such as loss of income through its closure whilst work was to take place and limitations of the existing building, the council has identified the development of a new facility on land adjacent to the current site. Any new scheme would maintain the swimming pool and gym facilities, whilst also proving space for initiatives not currently provided under the traditional leisure centre model.
It is estimated, pending a detailed feasibility study that the cost of each centre would be in the region of £10-14m. To meet the costs of each centre, the council will through its evaluation work put together a detailed business case explaining how it proposes to meet this indicated investment figure.
Kippax Leisure Centre:
Currently the centre runs at a deficit of £177k per year, which equating to a subsidy per visit of £1.72, is significantly more than similar leisure centres with swimming pools where the level of subsidy currently totals £0.50.
For media enquiries, please contact;
Colin Dickinson, Leeds City Council press office (0113) 39 51578
Email: colin.dickinson@leeds.gov.uk
For media enquiries contact: