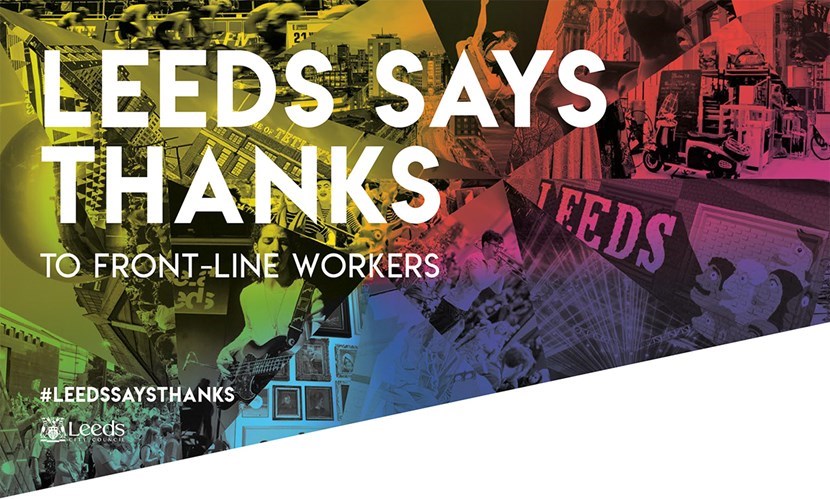 24 May 2021
Popular scheme thanking efforts of NHS and frontline workers in Leeds set to return
An innovative scheme offering a very big thank you to NHS and frontline workers for their tremendous dedication and efforts during the COVID-19 pandemic is set to return.
This follows the huge success of the #LeedsSaysThanks initiative, which co-ordinated by Leeds City Council and launched initially in the summer of 2020, saw 63 organisations based in the city provide a range of fantastic discounts and savings to frontline workers. On offer included free tickets, and access to special activities and events at a free or discounted price. Just some of the organisations and businesses to sign up to the scheme in 2020 and now 2021, includes; Leeds Rhinos; Leeds Playhouse; Slung Low theatre company and Active Leeds.
With coronavirus lockdown restrictions now continuing to be relaxed, preparations are now firmly underway for the launch of the 2021 #LeedsSaysThanks scheme. Any local businesses or organisation interested in finding out more on how to take part in the scheme are asked to please contact: CreativeCity@leeds.gov.uk
Any business or organisation already registered to take part in 2021, are asked to please highlight their support and involvement using the #LeedsSaysThanks hashtag.
Leeds City Council leader Councillor James Lewis, said:
"I am delighted to announce that with lockdown restrictions continuing to ease and with more shops, businesses, organisations, facilities and attractions being able to reopen or being close to reopening, that we are now in a position to relaunch the #LeedsSaysThanks innovative.
"We received a phenomenal response to the 2020 scheme, and would be delighted to hear from any business or organisation in the city interested in taking part this year."
For media enquiries contact: