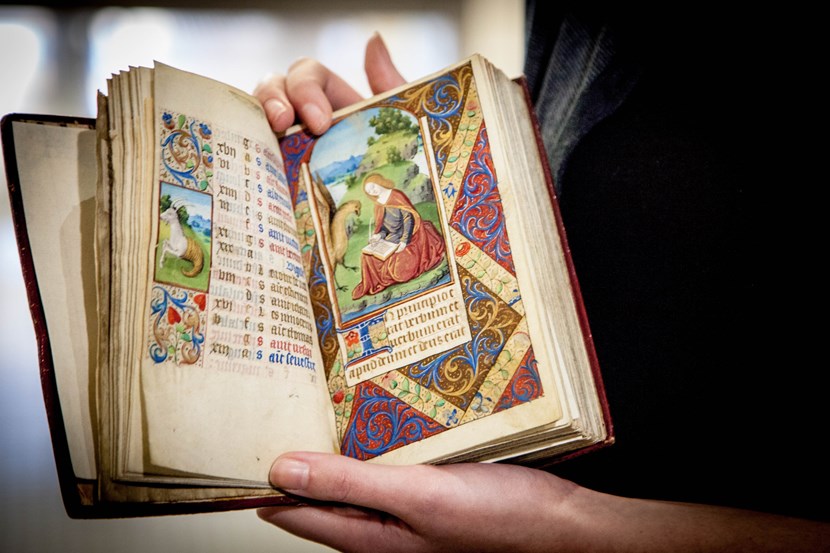 31 Jan 2018
Popular library festival returns for fourth year
A popular library festival with a huge array of activities and events across the city is due to return later this week.
The fourth edition of 'Library Fest' is set to return from Saturday 3rd February – Saturday 17th February. Featuring in the programme will be: performances, story times, crafts, coding, workshops, author events and chances to see treasures from special collections.
Just some of the highlights include on Monday 12 February at Hyde Park Book Club, our annual Speed Date a Library Treasure event is back from 7.30-9pm, with librarians sharing interesting items from our collections in three minute slots. Tickets £3, booking required through TicketSource.
Doctor Who author Daniel Blythe who will be hosting a Ghost Story Creative Writing Workshop on Monday 12 February at Moor Allerton Community Hub from 1.30-3.30pm for young people aged 10 and over. Find out how to turn your ideas into spine-tingling prose to chill the blood! Tickets are £3 and booking is required through TicketSource.
Any over 60s with an interest in music, are invited to come along to Hunslet Library on Tuesday 6 February from 10-11.30am. As part of the event create your own music using a wide range of digital instruments! This is a free event, and no booking is required. Refreshments are also provided.
There will also be a special range of events at Central Library as part of Library Fest to celebrate LGBT History Month. One of these is Bona! A History of Polari: a talk by Ian Nipper about the origins of this secret gay language and how it has fed into popular culture. Free event, booking required through TicketSource.
To find out more about more of the events on offer, please see the notes to editors section, or for a full programme, www.leeds.gov.uk/libraryfest
To book tickets via TicketSource for a selected event, please see: www.ticketsource.co.uk/leedslibraryevents
Councillor Debra Coupar, Leeds City Council's executive member for communities said:
"The past four years of Library Fest have been truly fantastic, and I am delighted to say that this year's programme once again has something to offer everyone. I am also very pleased to say that this year we will be celebrating LGBT History Month with a range of excellent events at Central Library.
"While many of the events do not require pre-booking there are some listings that do, and with that in mind we would ask people to book as soon as possible to avoid disappointment."
Notes to editors:
Highlighted events include:-
Families can enjoy a magical storytelling experience on Saturday 3 February for Opera North's "The Kingdom Under The Sea" at Leeds Central Library; start times 11:30am, 12:45pm, 2:30pm. Tickets are £4 per person, or £3 with a library card and can be booked via www.operanorth.co.uk/productions/the-kingdom-under-the-sea
On Monday 5 February, children under five can join Pyjama Drama for imaginative fun and games at Bramley Community Hub from 2-2.30pm; free session, please book by phoning 0113 3781851. Pyjama Dramas are taking place at other libraries too:-
Tuesday 6 February at Halton Library; 2.00-2.30pm, to book phone 0113 3781865
Wednesday 7 February at the Reginald Centre; 2.00-2.30pm, to book phone 0113 3367683
Thursday 8 February at Dewsbury Road Community Hub; 11.00-11.30am, to book phone 0113 3785747
Crime fans will love these two events with published authors Neil White and Paul Finch at Central Library on Wednesday 7 February – a crime writing workshop from 2.30-3.30pm (tickets £4, book via www.ticketsource.co.uk/leedslibraryevents) followed by a "Crime Writers, Lawyers and Coppers" talk in the evening in Room 700 from 6-7.30pm (tickets £2, bookable as above)
On Saturday 10 February from 2-4pm at Central Library, young people can join authors Patrice Lawrence, Rachael Lucas and Tamsyn Murray for Keep it in the Family, an afternoon of laughter, lies and family ties as they explore the role of parents, grandparents and stress-you-out-siblings in their latest Young Adult books. Free event, booking required – www.ticketsource.co.uk/leedslibraryevents
Also on Monday 12 February, Beeston Library is hosting a Family Quiz Night from 5.30-6.30pm with questions for children and adults, bonus rounds and prizes! Free event, booking required - www.ticketsource.co.uk/leedslibraryevents
Children aged between 2 and 8 will enjoy Oskar's Amazing Adventure on Tuesday 13 February, a heart-warming family play full of humour, music and song. It's taking place at Crossgates Library from 10.30-11.30am and Garforth Library from 2-3pm. Free event, booking required - www.ticketsource.co.uk/leedslibraryevents
Want to try your hand at juggling, plate spinning and other circus skills? Leeds Children's Circus are holding a workshop at Otley Library on Wednesday 14 February from 10.30-12.30pm and on Thursday 15 February at Horsforth Community Hub from 2-4pm for children and families. These events are pay as you feel and booking is required - www.ticketsource.co.uk/leedslibraryevents
On Thursday 15 February at Central Library, former aerial circus performer Becky Truman is hosting a hand casting workshop for adults at 10.30-12.30am (tickets £5) followed by a free talk about Life in the Circus from 1-1.45pm. Booking required for both - www.ticketsource.co.uk/leedslibraryevents
To close the festival, we have a full day of geek and cosplay fun with a Maid Café and retro games arcade from Retro Events at Central Library on Saturday 17 February from 10.30-4pm at "Tosho Con". Costumed cosplayers get in FREE. £3 per person, booking required – www.ticketsource.co.uk/leedslibraryevents. Our second event celebrating LGBT History Month will take place in the Children's Library from 11.00-12.00pm. There'll be a fabulous Drag Queen Storytime for children and families brimming with stories, singalong songs and sparkling crafts. No booking required, just turn up!
For media enquiries contact: