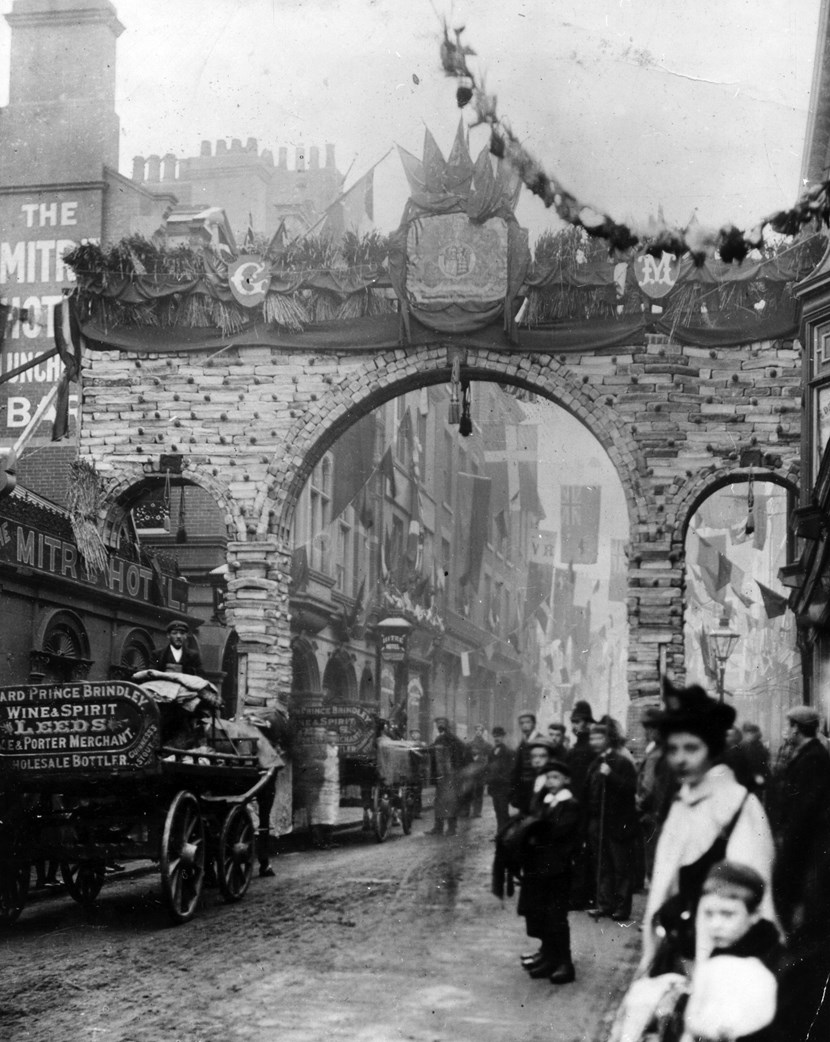 31 Mar 2021
Photo flashback reveals day Leeds folk used their loaf to welcome upper crust visitor
A remarkable image captured more than 120 years ago has revealed the bizarre day Leeds residents constructed a huge archway from bread to welcome an aristocrat.
The half-baked idea is just one of thousands of the city's unique stories ready to be discovered in the newly-relaunched Leodis photo archive managed by the Leeds Libraries service.
Taken in 1894, the photo shows the enormous arch built from a staggering 1,500 loaves of bread along Commercial Street.
Residents built the arch to welcome George V, then Duke of York, to the city and a day later the stale loaves were distributed to the poor.
The picture has been pulled from Leeds Libraries' popular online photographic archive leodis.net. Visitors can access the new improved website from 31 March.
They can browse over 62,000 images dating from 1866, including many donated by the public, which have been preserved by Leeds Libraries and other local organisations.
Since Louis Le Prince filmed the first ever moving pictures on Leeds Bridge in 1888, local people have been capturing unique images of their daily lives, and many survive today on Leodis. Searching by keyword or date, users can research their family history or learn more about the city's past through a huge range of photographs showing everything from historic streets to local communities.
Thousands of pictures include faces from the past, from WW1 female factory workers at the Barnbow No 1 National Filling Factory, to rare snapshots of the gypsy and traveller community, and residents captured in photographs of 'slum' clearances taken by the City Engineers from the 1890s to 1960s.
Leodis has also become a unique repository for social history since launching in 1999. Over 40,000 comments added by the public build a tapestry of Leeds memories.
Leodis brings together local collections originally held by local libraries, as well as hosting collections from other organisations, including Leeds Civic Trust, the Thoresby Society, Leeds Museums and Galleries and West Yorkshire Archive Service.
Once filed away by card index, the images are now available to people across the world, and prints can be ordered from £11.67.
Councillor Debra Coupar, Leeds City Council's Executive Member for Communities, said: "Leodis is far more than an archive, it's a powerful living record of day to day life in Leeds. As we emerge from Covid-19, this is a fantastic opportunity to learn more about the city we live in, and if you're not already online please take up the extensive digital skills training offered by Leeds Libraries. We hope residents will continue to be inspired by the website and share images or memories."
Visit leodis.net to find out more about the website and browse the image collection.
ENDS
For media enquiries contact: