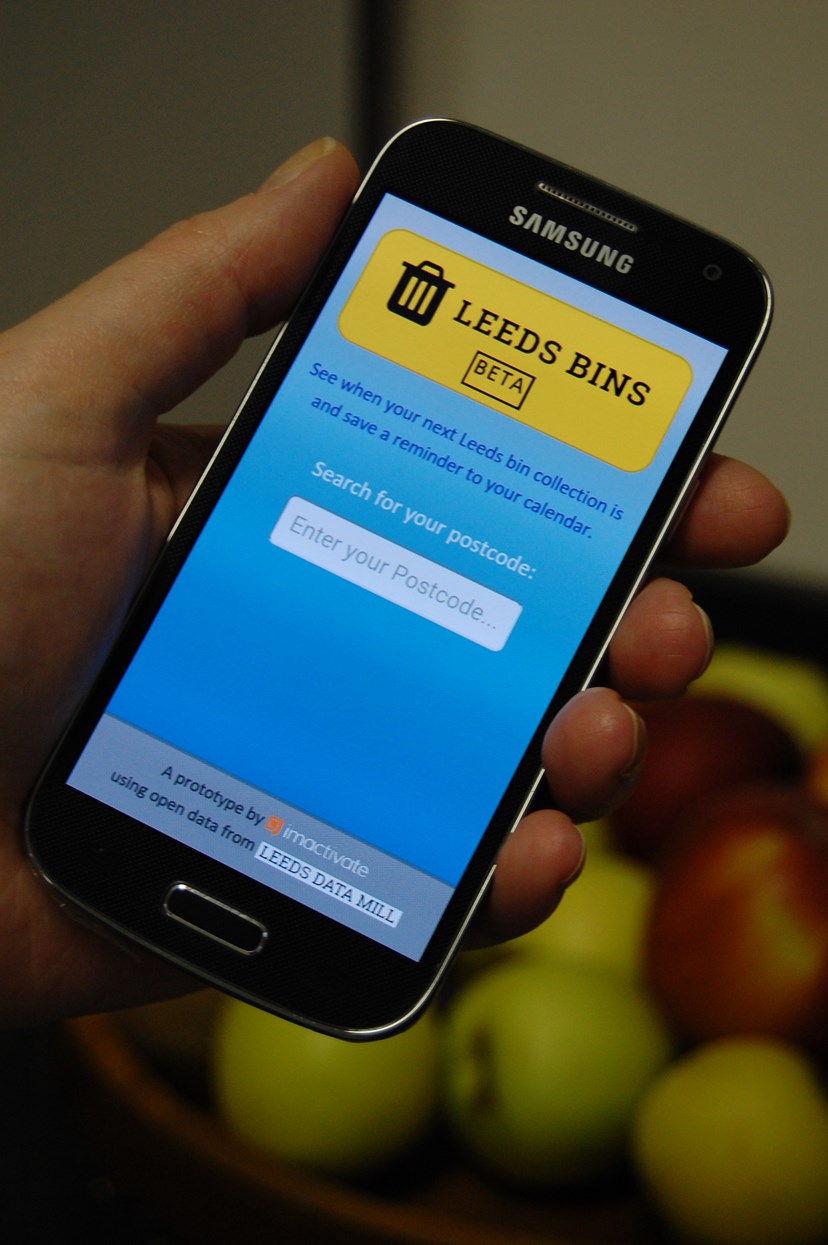 04 Jul 2016
Open data helps recycling go digital
Open Data on Leeds' bin collections has been transformed into a handy app and people are now needed to test it.
The pilot version of the Leeds bin app allows people to check their bin day, save the dates to their smart phone or tablet with a reminder to put bins out the night before and morning of their scheduled collection.
The app also has an interactive map showing local bring sites for recycling and the top four most used customer web links on bin collections.
The Leeds bin app was created by local developer Imactivate following a Sustainable Development Lab session in the city. Developers and entrepreneurs were given waste management data sets and invited to pitch solutions based on the information to help the council encourage recycling.
The prototype app will be officially launched at a breakfast briefing tomorrow and Imactivate are now looking for people to test it over a six week period.
The app development forms part of the Smart Cities programme aiming to provide public services more efficiently through collaboration with local business, information and technology firms.
The app is an example of how Leeds' is championing new ways of offering public services digitally conveniently, 24 hours a day and in ways that suit them.
Tom Forth, Imactivate, said:
"Leeds' commitment to open data has made developing this service a real pleasure.
"Instead of asking for timetables and permission, we've spent our time building a service that we think people will value.
"We're now keen to hear what Leeds thinks so we can fix problems and make the improvements the city wants."
Councillor James Lewis, executive member for resources and strategy, said:
"The concept for the bin app is simple but the best ideas usually are.
"This is another example of what can be achieved when we make our data open on the data mill to be used by the digital talent in our city. We're firmly behind the Leeds Data Mill as we know we can improve the services we provide when people help us make these digital public services.
"We're happy to support digital innovations that help make our services even more accessible to residents, who are increasingly used to online transactions and want to be able to find what they need quickly and easily at times that suit them."
Councillor Lucinda Yeadon, executive member for environment and sustainability said:
"Bin collections are one of the most visible services we provide and are most effective when people put their bins out on time.
"We hope that we can make our data meaningful and the initial test of the Leeds bin app will allow us to assess the potential benefits for residents.
"We don't usually describe bin collections as exciting, but this development really does have exciting prospects for how we work, educate and engage with people so they can help us to help them achieve the city's recycling targets."
Anyone interested in testing the app should download Leeds Bins by Imactivate from Google Play or Apple App Store.
Depending on the outcome of the prototype app testing, the app may be developed for wider release and use.
Leeds City Council is part of the UK's Smart Cities network that aims to open up council datasets to third parties and entrepreneurs to find new ways of offering out services digitally at low, or no cost
The Leeds Data Mill was set up by Leeds City Council as a civic enterprise partnership and hosts the open data on a single website.
Sustainable Development Lab supports businesses and entrepreneurs working on the Smart Cities programme. To find out more visit www.sustainabledevelopmentlab.com
For media enquiries contact: