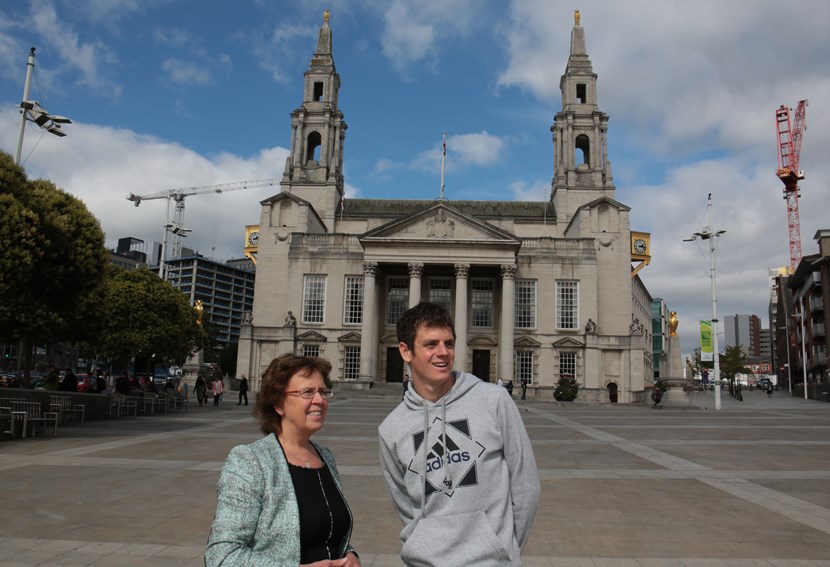 17 Sep 2015
Olympic distance race sold out at Columbia Threadneedle World Triathlon Leeds
PRESS RELEASE ISSUED BY BRITISH TRIATHLON, LEEDS CITY COUNCIL, LAGARDERE AND UK SPORT
Places in the amateur races at the Columbia Threadneedle World Triathlon Leeds are almost all sold out after a month of being on general sale. The Olympic distance race is now full, and just a few spaces remain in the shorter events, which are set for 11-12 June next summer. Spectators can enjoy the races for free.
Nearly 4,000 entries into the amateur races have been sold, demonstrating the excitement and anticipation around Leeds hosting a round of the ITU World Triathlon Series for the first time.
Olympic distance general entries are now completely sold out, however a small number of Sprint and Beginner distance entries are still available via http://leeds.triathlon.org.
The event, which features amateur and elite races, is part of UK Sport's National Lottery funded #EveryRoadtoRio series. Thousands of spectators are being encouraged to support Britain's best triathletes as part of their final preparations for the Rio 2016 Olympic Games.
It's been confirmed that the elite race will include as many as six city centre bike laps and four run laps, making it highly spectator friendly to a large audience.
Olympic bronze medallist, Jonathan Brownlee, has been involved in designing the course, and is keen to encourage competitors and spectators.
He said: "I want this event to be really special, and the way to achieve that is by lots of people coming out to watch.
"Anyone can enter and do the race on the same course. You will literally be running down the same finishing straight."
The course is set to feature multiple city-centre laps passing key parts of the city including Millennium Square, the Town Hall and Headrow, which will all be focal points for spectators.
British Triathlon CEO, Jack Buckner commented: "We're delighted with the response to date, with almost 4,000 entries sold already. It feels like the event is getting closer and the level of excitement is building. I am looking forward to working with all partners to ensure the event delivers an unforgettable experience for fans and participants alike."
Rupert Pybus, Global Head of Brand and Marketing at Columbia Threadneedle Investments, said: "We are delighted that Columbia Threadneedle World Triathlon Leeds has attracted this much interest at such an early stage. The 2016 event is set to be a notable one, particularly as it's during an Olympic year. We are excited to give our clients, especially those based in Yorkshire and the north, unique access to participate in front of thousands of enthusiastic triathlon fans."
Leader of Leeds City Council Councillor Judith Blake said: "It is fantastic news that the event is almost sold out already with juniors and men and women of all ages signing up both locally and from much further afield.
"It clearly demonstrates that the Columbia Threadneedle World Triathlon Leeds is going to be something very special to be part of next year. From speaking to Jonny Brownlee recently, it was immediately obvious just how much he is looking forward to competing in his home city in front of a home crowd too, so we cannot wait for next June to come around."
To enter the Columbia Threadneedle World Triathlon Leeds, taking place on 11-12 June 2016, visit the official event website: leeds.triathlon.org. You can also find out more by following the Columbia Threadneedle World Triathlon Leeds on social media: Facebook & Twitter.
The Columbia Threadneedle World Triathlon Leeds is organised by Lagardère Unlimited Events and British Triathlon in partnership with Leeds City Council and UK Sport.
FOR FURTHER INFORMATION CONTACT: Helen Gorman on 07739 456644 or helengorman@britishtriathlon.org or Tom Goldspink on 07795415452 tomgoldspink@britishtriathlon.org
NOTES TO EDITORS:
About Columbia Threadneedle Investments
Columbia Threadneedle Investments is a leading global asset management group that provides a broad range of actively managed investment strategies and solutions for individual, institutional and corporate clients around the world. With more than 2000 people including over 450 investment professionals based in North America, Europe and Asia, we manage £323 billion1 of assets across developed and emerging market equities, fixed income, asset allocation solutions and alternatives.
Our priority is the investment success of our clients. We aim to deliver the investment outcomes our clients expect through an investment approach that is team-based, performance-driven and risk-aware.
Columbia Threadneedle Investments started its successful relationship with the ITU World Series in 2013 and has since become global financial services sponsor.
The Columbia Threadneedle Rankings
As a global asset manager Columbia Threadneedle Investments recognises the importance of being the best in the field, not just at home, but on a global basis. The Columbia Threadneedle Rankings are used to determine the best performing triathletes across the ITU World Triathlon Series.
The Columbia Threadneedle Rankings Leader Trophy is presented to the top male and female elite athlete at each ITU World Triathlon Series event. In 2015 the Columbia Threadneedle Rankings Leader will continue to wear the bespoke race markings and carry the colours of the new Rankings logo on their bike rack in transition.
Launched in 2015, the Columbia Threadneedle Rankings Report identifies the trends and interesting statistics after each event throughout the season.
The official Columbia Threadneedle Rankings can be accessed at www.wts.triathlon.org/ColumbiaThreadneedleRankings. Engage with the conversation on social media using the hashtag #CT_Rankings, or follow @CTinvest_Tri
For media enquiries please contact:
Laura Cook, 020 7464 5650, laura.cook@columbiathreadneedle.com
Ella Tekdag, 020 7464 5082, ella.tekdag@columbiathreadneedle.com
All figures as at 30 June 2015. 1 Source: Ameriprise Financial Q2 2015 earnings release. Past performance is not a guide to future performance. The value of investments and any income is not guaranteed and can go down as well as up and may be affected by exchange rate fluctuations. This means that an investor may not get back the amount invested. This material is for information only and does not constitute an offer or solicitation of an order to buy or sell any securities or other financial instruments, or to provide investment advice or services. Columbia Threadneedle Investments is the global brand name of the Columbia and Threadneedle group of companies.
About British Triathlon
British Triathlon is the Governing Body for the sport in Great Britain. It is responsible for raising the profile and delivering elite performance for Triathlon, Paratriathlon, Duathlon and Aquathlon in Great Britain. Triathlon is a fast growing, dynamic and modern Olympic sport with talented world class athletes, coaches and support staff, focused around delivering world-class events and medal winning performances. Visit www.britishtriathlon.org for more information.
Visit www.britishtriathlonmedia.org for downloadable image galleries, detailed athlete profiles, results, stats and information.
About Leeds City Council
Leeds City Council is the second-largest local authority in England with a population of around 776,000. Leeds has a very proud sporting heritage and we are committed to encouraging sport as a way of promoting the city and healthy lifestyles, as well as bringing world-class events. This can be seen in the success of the 2014 Tour de France Grand Départ and the forthcoming Rugby World Cup 2015, building towards our ambition to become European Capital of Culture 2023. The council works in partnership with the city's three universities, national governing bodies and key stakeholders to develop sport from grassroots to elite level. Visit www.leeds.gov.uk for more information.
About Lagardere Unlimited Events
Lagardère Unlimited is one of the world's leading sports and entertainment agencies and forms part of the Lagardère Group. The events division of Lagardère Unlimited specialises in the promotion, marketing, organisation and delivery of televised events. Its business in the UK focusses on the delivery of mass participation endurance sports (triathlon and cycling) for elite and lifestyle participants. Events in the Lagardere Unlimited Events UK portfolio include the Columbia Threadneedle World Triathlon Leeds and Velothon Wales.
About the International Triathlon Union (ITU)
The International Triathlon Union is the world governing body for the Olympic sport of Triathlon and all related MultiSport disciplines including Duathlon, Aquathlon, CrossTriathlon and Winter Triathlon.
ITU was founded in 1989 at the first ITU Congress in Avignon, France. It has maintained its headquarters in Vancouver, Canada since then and also has offices in Lausanne, Switzerland and Madrid,Spain. It now has over 167 affiliated National Federations on five continents and is the youngest International Federation in the Olympic Games. Triathlon was awarded Olympic Games status in 1994 and made its Olympic debut in Sydney 2000.
Triathlon is also featured in the Asian Games, Pan American Games and Commonwealth Games. Paratriathlon was accepted into the Paralympic Games in2010 and will make its Paralympic debut in Rio 2016. ITU is proudly committed to supporting the development of the sport worldwide through strong relationships with continental and national federations, working with its partners to offer a balanced sport development programme from grassroots to a high-performance level.
For more information, visit:
www.triathlon.org
About UK Sport
UK Sport is the nation's high performance sports agency responsible for the strategic investment of National Lottery and Exchequer funding into Olympic and Paralympic sports and bringing major sporting events to the UK.
Columbia Threadneedle World Triathlon Leeds is part of UK Sport's #EveryRoadtoRio events series, which will feature over 30 world class sports events the length and breadth of the UK, with over 900,000 tickets available to the British public to support their athletes.
This ambitious National Lottery funded programme will support British athletes' preparation and qualification for Rio 2016, with up to 95 direct and over 300 indirect qualification spots available, while generating economic impact for host cities and regions of over £37 million. Upcoming events include the BT World Wheelchair Rugby Challenge in London and the Taekwondo Grand Prix in Manchester in October.
Throughout the #EveryRoadtoRio series UK Sport will be promoting exclusive ticket offers, opportunities to meet the athletes and get privileged behind the scenes access to events. Sign up now at www.uksport.gov.uk/events
For media enquiries contact: