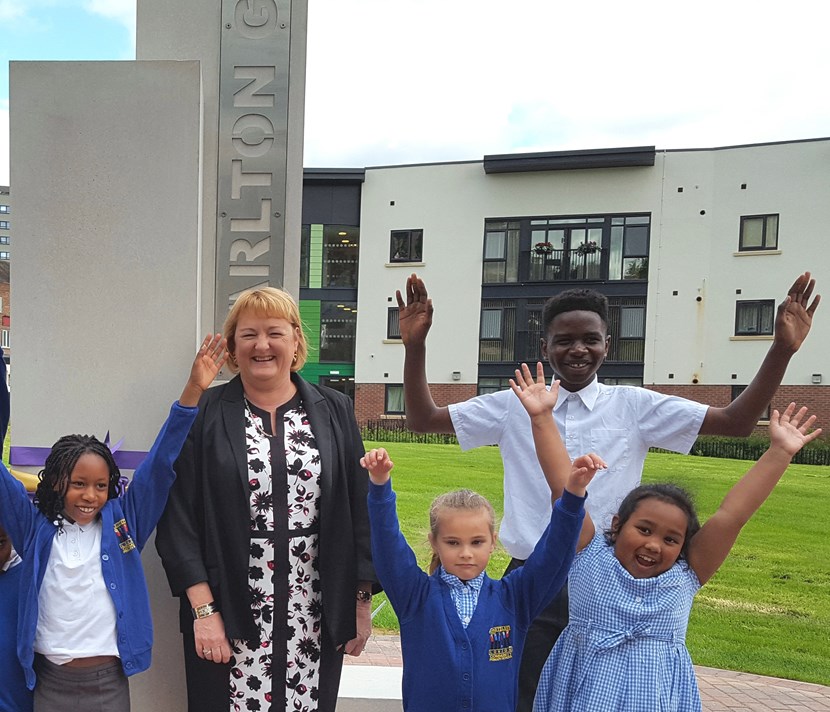 06 Jul 2016
New sculpture celebrates Little London housing project
Local children have been celebrating now that the largest site on the council's housing regeneration project is nearing completion.
The school council from Little London community primary school were joined by councillors, contractors and the project team this week to unveil a sculpture and stone artwork created by pupils.
With 68 new flats and 45 new houses and a range of environmental improvements on track to be finished by the end of the year, the area has been transformed.
The centrepiece of a new circular open, green space is a stone sculpture depicting two L's.
Two stone columns also welcome people to the Carlton Gate area which are surrounded by colourful stones, painted by pupils from Little London community primary school.
As well as the 113 new properties, the council's partners sc4L and Keepmoat have refurbished 848 homes.
The flagship housing regeneration project is on schedule to provide a total of 388 new properties and refurbish 1,245 homes across communities in Beeston Hill, Holbeck and Little London.
Councillor Debra Coupar, executive member for communities, said:
"You can't miss the improvements we've made in Little London; visually the impact is impressive. The addition of the sculptures and columns are just the icing on the cake.
"We don't just want to create eye-catching properties or give buildings a face lift. We've been absolutely clear that we want to create lasting benefits for residents by rejuvenating their communities.
"With such great progress in Little London, the countdown is on to get to the finish line at Beeston Hill and Holbeck."
Jon Hinchliff, sc4L general manager, said:
"We're really pleased that this, the largest site on the housing regeneration project is nearing completion. The team are immensely proud of their contribution in helping to create a new neighbourhood.
"The hard work doesn't stop now though as we'll continue to support tenants and motor on with the remaining building work and refurbishments."
Sean Corcoran, Keepmoat regional director, said:
"With lots of insulation and green technology we know that people are reaping the benefits of their energy efficient homes.
"It's a privilege to be able to help the council deliver its vision for revived communities across Leeds."
Jill Wood, headteacher at Little London community primary school, said:
"We've seen the area change before our very eyes and it's been great to be active participants in the process and be really involved. This has been fundamental in helping our young people understand the part they play in our community."
The housing regeneration project is a key part of the council's ambitious plans to provide 1,000 new council homes by 2018/19.
For media enquiries contact: