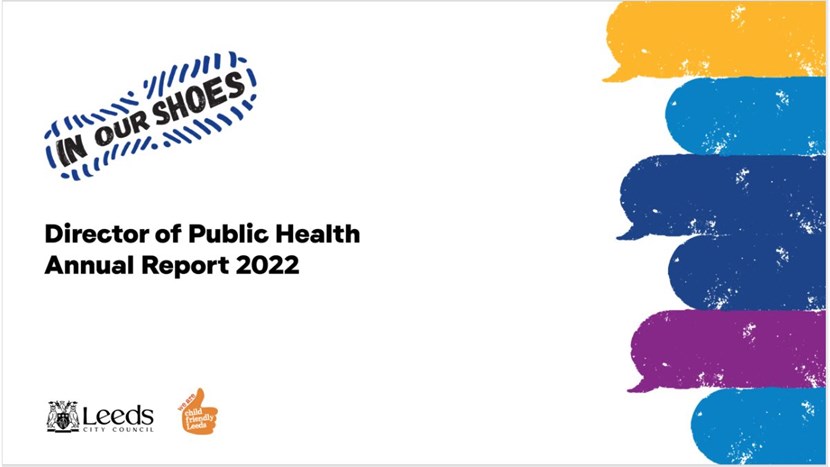 20 Jul 2023
New report highlights work ongoing in Leeds to address the impact of the Covid-19 pandemic on young people's health and wellbeing
'In Our Shoes' report and film published today
A new report published today shows how health partners, families and organisations in Leeds are working together to address the impact of the Covid-19 pandemic on children and young people's health and wellbeing.
The 'In Our Shoes' report by Leeds City Council's director of public health Victoria Eaton looks in detail at the impact of the pandemic and its restrictions including the national lockdowns on the physical and mental health and wellbeing on children, young people and their families in the city.
Through speaking directly to children and families in Leeds the report reveals the scale of the challenges caused by the pandemic, with a particular focus on mental health, child development and educational impacts. It also details how health partners, families and organisations in the city are working to address these challenges.
The report has already received national commendation from the Association of Directors of Public Health (ADPH), particularly for the supporting short film also entitled 'In Our Shoes', which tells the story of the pandemic and its impact through the eyes of the city's children, young people and their families. The film features powerful first-person accounts given by children and young people in Leeds, including groups such as the Brave Words Youth Theatre in Beeston. To see the film go to https://www.youtube.com/watch?v=7DoLbh2lwfE.
Research for the report included an online survey aimed at professionals working with children and young people in Leeds, focus groups carried out across the city with children, and a call for creative submissions, where children and young people were asked to create something which explained how the pandemic impacted them. Together with other available research literature produced on the subject, all of the feedback received was analysed to help shape the key themes of the report.
The key themes that emerged from this research were: children's and parents' mental health, children's physical health, poverty, housing and where people live, children's safety, play and screen use, child development, communication and language, educational attainment, access to services, childhood infections and positive impacts. Each area explains the impact of the pandemic, as well as work being undertaken in Leeds and progress on that topic.
The headline findings of the report include:
Children's mental health worsened between 2020 and 2022
Parental mental health was also affected
Disrupted routines because of the pandemic affected children's health
The impact was unequal and unfair, especially on less affluent families
Lockdown life behind closed doors made some children less safe
Young children's development was affected due to a lack of social mixing
Lost learning was experienced by many but levels of impact were unequal due to different home conditions
Families found it hard to access some services, with knock-on effects still being felt
Action is needed to tackle some childhood infections, with immunisation rates for some serious illnesses such as measles falling since the pandemic
Some things did change for the better, with families spending more time together and more flexible working and support arrangements introduced
Among the projects highlighted in the report as providing effective support are the #SpeakUpLeeds campaign, which encourages black boys to talk about their personal experiences and mental health, and the MindMate website which aims to reduce the stigma around mental health through sharing people's stories and the self-help and support options available.
Other schemes praised in the report include DAZL (Dance Action Zone Leeds), which engages more than 6,500 young people in Leeds using dance to improve physical and mental health, and an Active Leeds programme which has supported over 3,000 free swimming lessons.
The HENRY 5-12 Healthy Families Growing Up Programme, which has already received national recognition, continues to engage with families across Leeds to support healthy lifestyles, while the Baby Steps perinatal programme strengthens relationships between parents and infants and the Family Plus Service supports families dealing with addiction.
All of these services highlight the importance of co-ordinated cross-agency working to maximise resources and improve health and wellbeing for children, young people and their families.
The report makes a series of recommendations for future working in Leeds. These are based around 10 themes:
1) Ensuring the voices of children and young people are central to all work in this area
2) Keeping children safe and supported against all forms of harm
3) Focus on protecting and improving children's mental health
4) Continued development of family hubs to support mental health and wellbeing
5) Continued development of work to protect and improve physical health of children and young people
6) Ensuring children are central to Leeds' commitment to becoming a Marmot City, as highlighted this month at New partnership aims to deliver a fairer and healthier Leeds, to tackle inequality in the city
7) Ensuring all children receive the best start in life, redressing current gaps in speech language and communication development in more deprived areas
8) Continuing work to ensure equitable catch-up in terms of educational attainment
9) Ensuring health care services are accessible to all
10) Focus on increasing coverage rates of childhood immunisations
Director of public health at Leeds City Council Victoria Eaton, said:
"The Covid-19 pandemic was a deeply unsettling time for everyone in Leeds and the wider world, and its true impact is not likely to be fully known for many years. This report shows the immediate impact it had and continues to have on the health of our children and young people.
"I am grateful to everyone who has worked to produce this report, and especially the children and their families who gave up their time to tell us their stories. Their insights are invaluable as we look to learn the lessons and work together across all agencies in Leeds in the coming years to ensure all children in our city have the best possible start in life."
Councillor Salma Arif, executive member for adult social care, public health and active lifestyles said:
"The strength of this important report is a testament to the bravery and honesty of all the young people and their families who took part and told us how the pandemic impacted them and continues to cause challenges. The supporting film reinforces why keeping the voices of our communities at the heart of everything we do in Leeds is vital. The findings and recommendations from this report will guide us in the coming years to focus on what makes most difference to children and young people building healthy lives for the future."
Nicola Close, Chief Executive of the Association of Directors of Public Health (ADPH), has also praised the report, saying:
"The Director of Public Health's (DPH) Annual Report is an opportunity to shine a light on the wide variety of vital work that public health teams do locally. Every year, at our annual general meeting, we share examples of particularly engaging reports amongst all directors of public health as a way to celebrate the success of our members and share good practice.
"This year, we had great pleasure in recommending the Leeds report, which gave a powerful snapshot of the inequity of outcomes for children and young people in the city.
"One thing that really stood out was the section on positive impacts of the pandemic. This isn't something you hear much about but serves as a timely reminder that there is good to be found in every situation, and by exploring what that good is, we can learn valuable lessons for the future."
The 'In Our Shoes' report was produced in line with the statutory requirement for directors of public health to write an annual report on the health of the local population. It will be discussed by Leeds City Council's executive board at its meeting next week (Wednesday 26 July) at Civic Hall.
To see the annual report visit https://www.leeds.gov.uk/public-health/director-of-public-health-annual-report.
Notes to editors:
In addition to the 'In Our Shoes' film at https://www.youtube.com/watch?v=7DoLbh2lwfE, two supporting short stories are also available:
Hazel's story: https://youtu.be/Rmjapcrb9LU and Skye's story: https://youtu.be/w-AAvfsYHyM
ENDS
For media enquiries please contact:
Leeds City Council communications and marketing,
Email: communicationsteam@leeds.gov.uk
Tel: 0113 378 6007
For media enquiries contact: