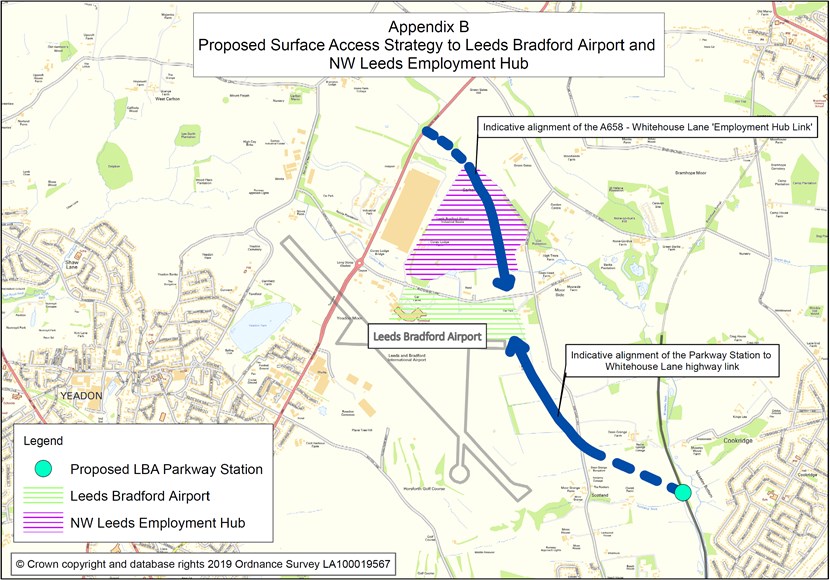 20 Dec 2019
New North West Leeds Employment Hub and airport connectivity plans to be considered by senior councillors
New proposals for investments in sustainable transport infrastructure in north west Leeds including a new parkway rail station and park and ride facilities will be discussed by senior councillors early in January.
At the meeting of the council's executive board to be held at Civic Hall on Tuesday 7 January, a report will be considered on the latest position regarding potential improvements to transport connectivity in the north west of the city, as well as creating an alternative sustainable public transport option for commuting into Leeds from the north of the city, and links from the proposed new rail halt to Leeds Bradford Airport and a new North West Leeds Employment Hub.
Leeds City Council, working with West Yorkshire Combined Authority and partners including the airport, had previously put forward plans for three possible road improvement options, with option A and B proposing to create a new link road from the A65 to the A658 while a third option C would see the existing A65 and A658 enhanced.
Further investment was also proposed to create a new parkway rail station on the Leeds to Harrogate line, with a short connecting spur road to give access to the airport. The station would include new park and ride services to Leeds and Harrogate with 350 parking spaces and a bus interchange.
Public consultation was carried out on three road options in 2015 and the road and rail options earlier this year, together with ongoing dialogue with stakeholders, local residents and partners.
As a result of the feedback received and the views of key stakeholders including local residents, which showed support for the parkway station but no clear backing for any of the road options, Leeds City Council is now proposing a new plan which also factors in climate change considerations and integrates with its declaration of a climate emergency earlier this year.
This new plan would see further engagement and feasibility work carried out on the parkway station and spur road proposal, along with a connecting road from the A658 to access the new North West Leeds Employment Hub on land adjacent to the airport. The previous options for either of the link road options or improving the A65/A658 would not be developed any further.
Integrating with the council's climate emergency strategy and a need to improve air quality in the north west Leeds area due to pollution caused by road transport emissions, the revised proposals have a strong focus on achieving a shift in travel behaviours by investing in sustainable public transport infrastructure to encourage a reduction in car use.
The parkway station proposal, being managed by West Yorkshire Combined Authority, was given support from 50 per cent of the more than 2000 survey responses in the public consultation held this year. It would offer a connection to Leeds Bradford Airport via rail services for the first time, providing a solution to a long-held need for the city with a direct rail link not being taken forward due to the prohibitive cost and the topography of the local area.
The parkway station would also offer the potential for current car users to switch to public transport each day, either by using the train to the area or by using park and ride services at the new parkway station to connect with Leeds, Harrogate and York. Forecasts for the station when operational would see it used by approximately 455,000 people each year, with more than half of those journeys being for non-air travel.
In addition, the new proposals would see the creation of a shorter new road from the A658 to serve the new North West Leeds Employment Hub. This land has been identified as meeting a need for local job creation, with the potential for approximately 5,500 new jobs. Future consultation will guide the development plan for the site, which has been allocated for a range of different employment types from research and development to general industrial use. The new section of road would open up access to the site, and in keeping with the council's approach access by public transport will be a key priority.
The council will continue to press Leeds Bradford Airport and partners to develop a new travel plan with public transport at its core, as well as a carbon reduction and offsetting scheme to address carbon impacts at a local level.
As part of its climate emergency strategy, Leeds City Council and West Yorkshire Combined Authority will participate in national and international discussions on airport growth projections as part of a revised national aviation strategy, with the aim of distributing aviation share across the country in a way which minimises carbon emissions and promotes an economic rebalancing of the regions.
All of the proposed further feasibility work would include cycling and pedestrian infrastructure to further encourage sustainable travel options.
The road elements of the new proposals would potentially cost a third of the previous road options, which were estimated at up to approximately £100million. No budget has been committed to delivering these proposals, with a funding plan to be developed as part of the final business case.
Along with the new proposals, the feasibility work will look at other possible upgrades to the local road network in north west Leeds to further improve air quality by addressing congestion to cut emissions levels. This would address an issue raised by local residents and would aim to make public transport journey times faster and more reliable, resulting in sustainable travel options becoming more attractive as part of the council's Connecting Leeds transport strategy.
Leeds City Council executive board member for climate change, transport and sustainable development, Councillor Lisa Mulherin said:
"The council takes consultation with the public very seriously and we have taken on board the feedback we have received about the previous road proposals, and the support for the rail halt.
"We have asked people including local residents and stakeholders twice about the road proposals and the lack of clear support for any of the options has been consistent so it is only right that we have listened and are responding to what people are telling us they do want. That is why we are taking forward proposals for a parkway station, investing in sustainable public transport infrastructure.
"This will help to take cars off the roads travelling into the city centre from the north of the city and provide public transport links to the existing airport facility and the new North West Leeds Employment Hub to support the demand for new jobs in that part of the city."
Councillor Kim Groves, Chair of the West Yorkshire Combined Authority Transport Committee, said:
"Developing a new railway station on the Leeds-Harrogate line will provide a low carbon alternative for travel to the airport, help reduce congestion and improve air quality while also supporting economic growth by connecting to the North West Leeds Employment Hub.
"We are working to help people across the region to switch from cars to public transport, cycling and walking and this approach is at the centre of our £500m-plus bid to the government's Transforming Cities Fund to help make clean, affordable, sustainable travel available to all.
"We continue to urge the government to set out a national approach to addressing the contribution of aviation to carbon emissions as we pursue our target to be a carbon-zero region by 2038 with significant progress by 2030."
To see the full report to be considered by the executive board on January 7 see agenda item 23 at https://democracy.leeds.gov.uk/ieListDocuments.aspx?MId=9775&x=1&
Notes to editors:
Public consultation on the previous proposal of options A, B or C as well as the parkway rail station took place between February and April 2019. A total of 2069 survey responses were received, with the key themes being:
· The majority of respondents agreed that there is a need for better surface access to Leeds Bradford Airport (76%) and that there are existing traffic congestion issues in the area (72%).
· Half of all respondents (50%) indicated they are supportive of the proposals for the parkway station. Of those likely to use the rail station to access the surrounding area, over half (59%) currently travel by car, representing a potential mode shift.
· Across all three road options, more respondents were unhappy than happy with the plans. Of the three road options, option A was most favoured (40% happy, 48% unhappy).
· Geographically, respondents who were unhappy with Option A, tended to live closest to the proposed new road – in Horsforth and Rawdon.
· Many respondents identified the need to address a different part of the road network first
· As with Option A, those who live nearest to Option B and C, perceive it to be more negative.
· Many respondents who stated they were unhappy with the Option C proposals, stated that they didn't think the proposals would not address traffic congestion.
This followed an initial public consultation carried out on the road options only between November 2015 and February 2016 (the parkway rail station only became a possible option following the approval of £173.5million funding for transport improvements in Leeds from the Department for Transport in May 2016).
In total 2207 responses were received in this first round of consultation, with the themes being:
· Support for a rail link to the airport
· Concerns over congestion and rat-running
· Opposition to all three highways options (55% were opposed to any option, 36% were supportive)
· Issues relating to airport growth and location
· Environmental impacts and greenbelt protection
· Lack of detail
· Minimise impacts / design concerns
ENDS
For media enquiries please contact:
Roger Boyde
Leeds City Council communications and marketing,
Tel: 0113 378 9164
Email: roger.boyde@leeds.gov.uk
For media enquiries contact: