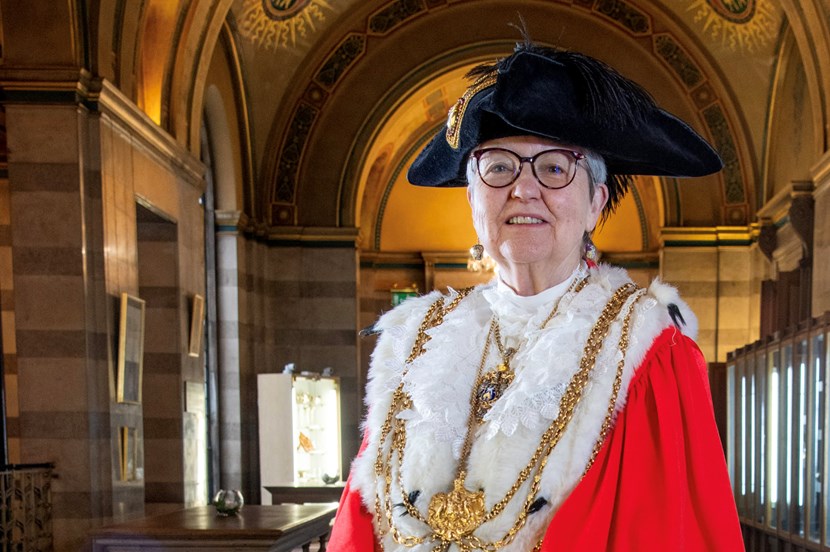 25 May 2023
New Lord Mayor of Leeds officially announced
Councillor Al Garthwaite has been announced as the new Lord Mayor of Leeds for the next year following the council's annual general meeting.
Taking over the role from Councillor Robert W Gettings MBE JP, Councillor Garthwaite becomes the 129th Lord Mayor of Leeds.
Born into a military family that moved frequently, Councillor Garthwaite studied English and psychology at Durham University, where she became involved in international and local campaigns for human rights and social justice. Following work in Oxford as a working holiday organiser and author, Councillor Garthwaite settled in Leeds, her mother's hometown, in 1973.
Councillor Garthwaite quickly became involved in social and community activism in Leeds. Qualifying as a teacher and enthusiastic for lifelong learning, she taught in prisons and pioneered women's health courses in inner-city community centres. She also helped to pioneer the Women's Advice and Referral Service and several other social enterprises, which continue to flourish.
After working as a researcher for a Channel 4 documentary on lesbian mothers, Councillor Garthwaite set up the film production company, Vera Media, which has taught multimedia skills to women and marginalised groups in Leeds, with over 5,000 people progressing into work or further education. In 2007, the University of Leeds awarded Councillor Garthwaite an Honorary Degree for her work.
Wishing to use her varied skills and experience for the benefit of the city, Councillor Garthwaite won a seat on the city council representing Headingley in 2016 (now Headingley and Hyde Park). She is passionate about a range of issues, including the environment, climate change, arts and culture, community safety, planning, licensing, and working to end violence against women and girls.
As is traditional for a new Lord Mayor of Leeds, Councillor Garthwaite has nominated a charity to represent during her term of office and has chosen the Women's Counselling and Therapy Service.
The Women's Counselling and Therapy Service (WCTS) offers free, professional long-term psychological support to women in Leeds to access the help they need.
Throughout her tenure as Lord Mayor, Alderwoman Angela Gabriel, will act as Councillor Garthwaite's consort. In addition, a diverse range of students from Leeds Beckett University will also be given the opportunity to act as consort for the Lord Mayor. This will broaden the student's knowledge and understanding of Leeds and its citizens and offer unique experiences. Bishop Arun Arora, Bishop of Kirkstall, has kindly agreed to act as the Lord Mayor's chaplain during her year of office.
The Lord Mayor of Leeds, Councillor Al Garthwaite, said: "The people of Leeds have been at the heart of my work for 50 years and it will be an honour and a privilege to represent them as their Lord Mayor for the coming year.
"I look forward to getting out into our communities, meeting as many people as possible and raising money to support the work of the Women's Counselling and Therapy Service."
For media enquiries contact: