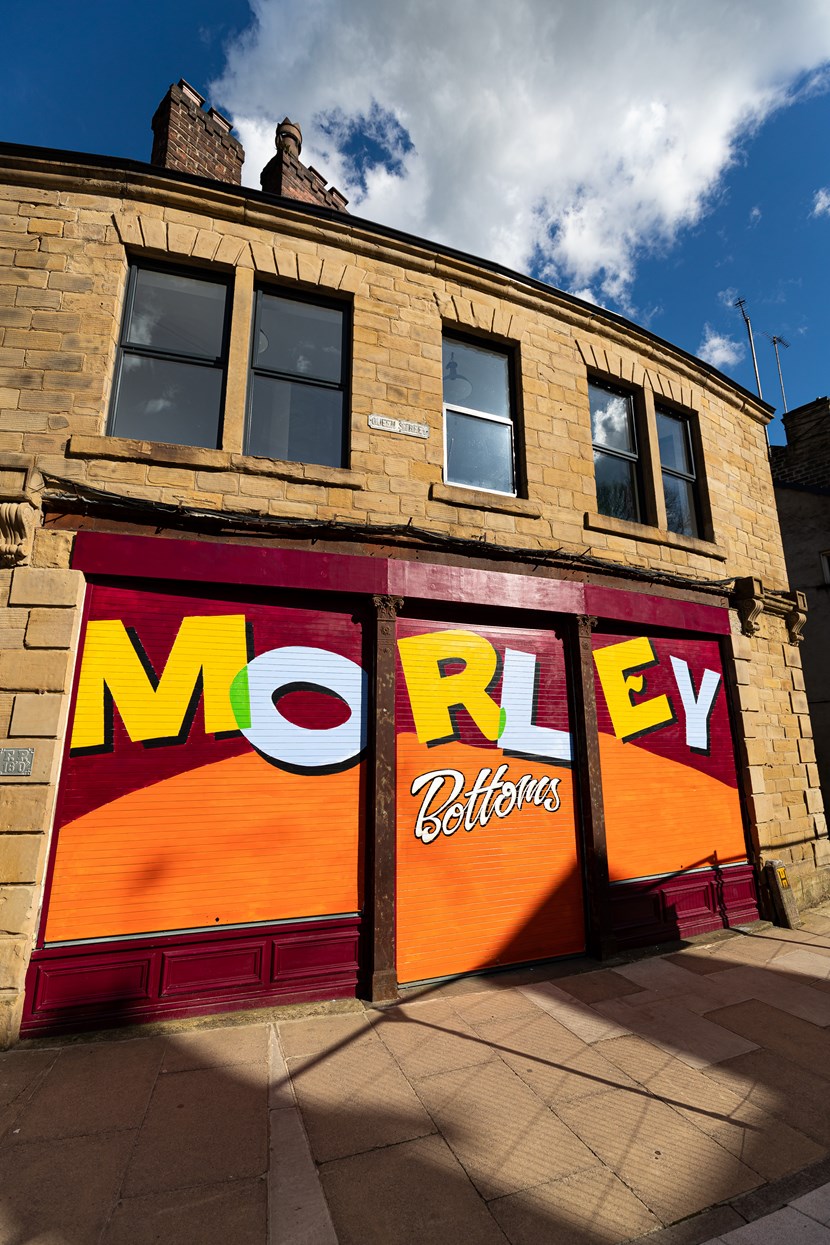 28 Jun 2021
New look Morley Bottoms among projects kickstarting longer-term regeneration plans for the town
Marking the start of transformational work planned for the town as part of the government's Towns Fund, Morley Bottoms now has a new look thanks to the creation of its pedestrianised zone.
During last year's large-scale public consultation on what the future of the town should look like, Morley Bottoms was identified as a priority for changes, with local residents highlighting how a lack of crossing and narrow pavements made the area difficult to navigate.
The newly created pedestrianised zone features wider footpaths, creating space for local businesses to use as lockdown restrictions continue to ease, as well as a one-way bus gate.
Helping to improve local air quality in a previously congested area of Morley, this one-way system allows buses to travel through the area while closing the road to traffic at the bottom of Queen Street.
In the coming weeks, further work will be carried out to make the area safer for pedestrians, with crossings being added on Station Hill and Chapel Road.
This work was made possible by £750,000 of government funding secured last year by Leeds City Council and the Morley Town Deal Board to kickstart longer-term growth plans for the town.
In addition to the work on Morley Bottoms, this investment has seen improvements made to Scatcherd Park and new public art installed across the town, including striking temporary panels on the New Pavilion building, designed by Leeds-based artist Ekaterina Sheath.
These projects will continue in the coming weeks, with a new play area to be installed in Lewisham Park and improvements planned along the pedestrianised area of Queen Street.
A further £24.3 million of government investment was recently secured for a major regeneration plan for Morley.
Informed by residents and developed by the Morley Town Deal Board with support from the council, the funding will deliver on key local priorities including jobs, skills, greenspaces, sustainable travel and bringing cherished buildings back into use.
The Morley Town Investment Plan will invest in:
New and upgraded greenspace.
Improving connections to the train station.
Transforming the New Pavilion.
Making it easier to walk and cycle.
Morley Town Hall refurbishment.
Improving heritage buildings.
The White Rose Innovation Hub.
Full details of the funding can be found on the Morley Town Investment Plan webpage.
Work is currently underway on developing these approved projects in further detail, with opportunities for local residents and businesses to feedback planned for this summer to ensure the proposals meet the needs of the community.
Councillor Helen Hayden, Leeds City Council's executive member for infrastructure and climate, said:
"After what has been a challenging year for many local residents and businesses in Morley, I am delighted to see these accelerated funding projects being delivered across the town. From vibrant public art injecting life into the streets to making Morley Bottoms a safer place to visit, these projects represent an exciting first step towards a thriving future for the area.
"With work ongoing on developing the major transformational plans for Morley further, I encourage people who live, work and visit the area to keep an eye out for opportunities to share their thoughts throughout the summer."
Gerald Jennings, Chair of the Morley Town Deal Board, said:
"At the heart of the role of the Morley Town Deal Board is ensuring this programme of work builds on the town's proud history in a way which delivers for everyone in Morley. Informed by their suggestions, the projects currently delivered will make Morley a greener, safer and more vibrant place to live, work and visit.
"It is great to see our vision starting to be realised as you walk around such an historic town with so much to offer, and I can't wait to see how it will grow and develop in the years to come."
Councillor Robert Finnigan, Morley Town Council, said:
"Last year, our communities came together to tell us how they want to see Morley transformed in the years to come. We were blown away by their ideas and the passion they showed for building on the rich history of the place they call home.
"Through these accelerated funding projects, we have started to build the foundations for the exciting projects to come. Investing in our parks, streets and cultural offering, I hope residents will pay the town centre a visit to check out all the improvements for themselves."
For media enquiries contact: