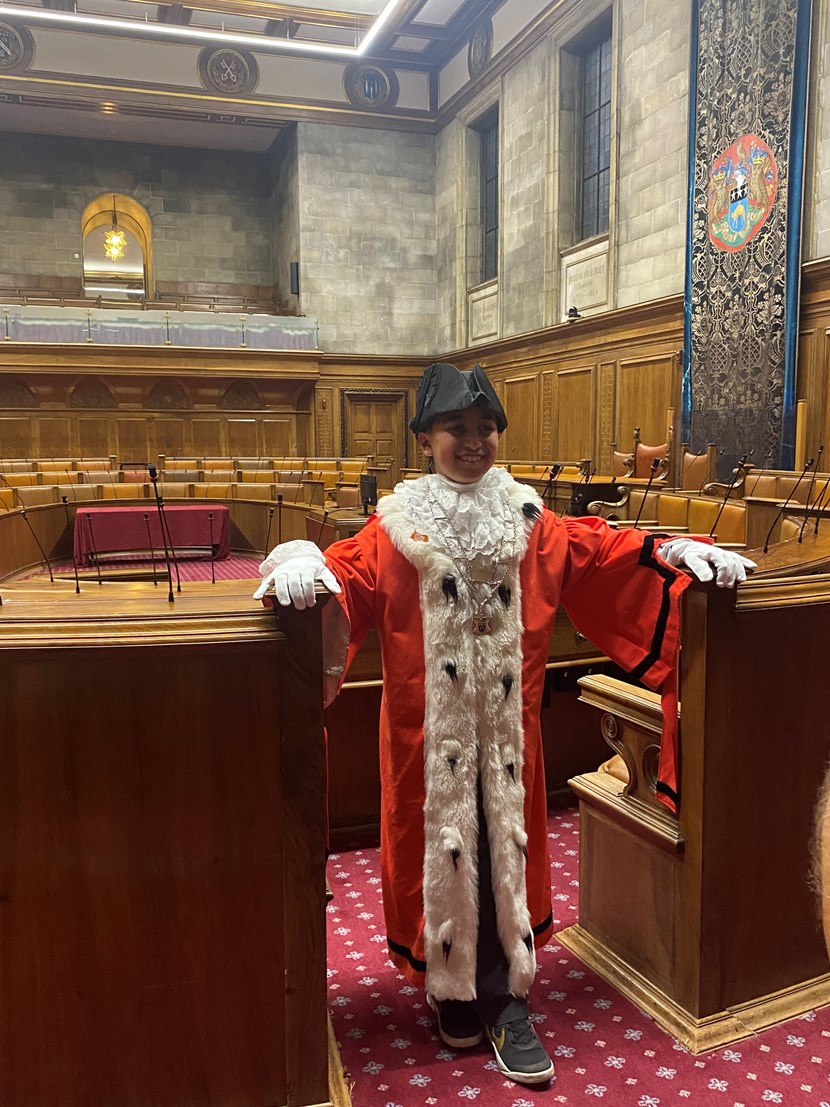 10 Oct 2023
New Children's Mayor of Leeds officially announced, following record turn out
On Friday 6 October, Mohammed Hussein, aged 10, from Ireland Wood Primary School was announced at the new children's mayor of Leeds, by the Lord Mayor Councillor Al Garthwaite at a special event at Leeds Civic Hall.
Mohammed will be the 20th children's mayor, after spending much of the summer campaigning in an election that saw a record eleven thousand local children and young people cast their vote in support of twelve candidates from across Leeds.
Campaigning on a manifesto about tackling climate change, he will now be invited to speak at a forthcoming full council meeting to ask for the council's support in making his manifesto a reality.
The election marks the start of an unforgettable year for Mohammed, with a vast array of upcoming opportunities for him, where he will be representing the children of Leeds. This includes attending the Remembrance Sunday Parade and taking to the stage at the annual Child Friendly Leeds Live event on Millennium Square.
The children's mayor programme, celebrating its 20th year, is designed to help children and young people from across Leeds, develop a greater understanding of democracy and the importance of voting, while also encouraging them to think about the role they could play in improving their communities. The programme fits within the wider vision of creating a Child Friendly Leeds where every child and young person feels they have a voice.
To follow the progress of the children's mayor on X, please see @LSChildrenMayor.
Lord Mayor of Leeds, Councillor Al Garthwaite, said, "I'm overwhelmed and thrilled by the record number of children who have been involved with electing the new children's mayor of Leeds, including those who were nominated and all 12 final candidates.
"They are an inspiration, not only to their peers and other children, but to me, and to anyone working to help make Leeds the best city for children to live in. They should all be extremely proud of their achievement. And, of course, well done and congratulations to Mohammed on his winning manifesto and campaign."
Councillor Fiona Venner, executive member for children's social care and health partnerships, said, "Congratulations to Mohammed on being elected as the new children's mayor of Leeds. His winning manifesto focusing on the theme of tackling climate change and is truly inspiring.
"Giving our children and young people a voice is so important, and the children's mayor programme has continued to do this over the last 20 years, providing fantastic opportunities for them to have their say and help make a difference to their city and communities."
For media enquiries contact: