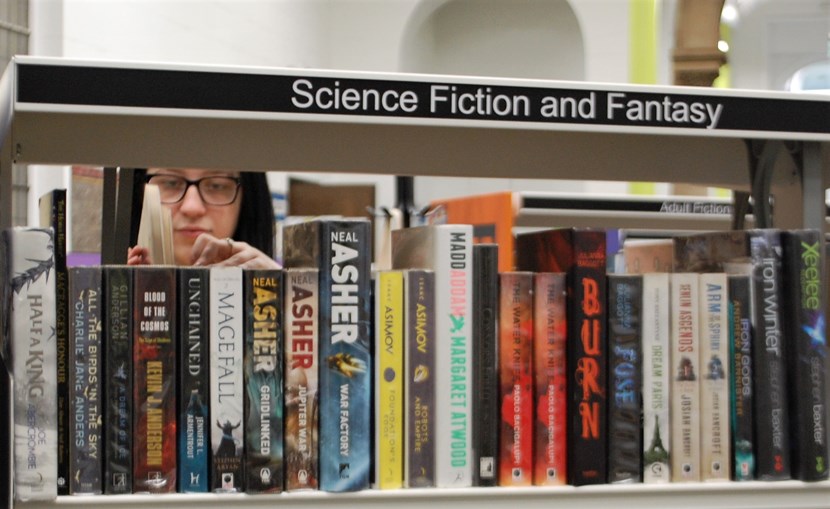 08 Oct 2019
New chapter for fine-free Leeds Libraries
Leeds Libraries is abolishing all fines and ID requirements, making it even easier for local residents to access their services and enjoy everything from free resources to inspiring activities.
From 7 October, as National Libraries Week kicks off, all members returning overdue books will benefit from a 'fines amnesty', with historic fines written off.
This will be followed on 17 October by the end of fines and ID requests for new members. Providing proof of identity or address can be a barrier for many people, so this inclusive approach enables residents of all ages and circumstances to benefit from their local libraries. A fine-free policy has succeeded in public libraries around the world, from Chicago to Blackpool.
As the city celebrates a Year of Reading, it is an ideal time to increase access to library collections, alongside the wealth of events and learning opportunities at Leeds Libraries, including support to get online.
Anyone returning a late loan will find the record for Leeds' most overdue book hard to beat. Builder Rusholme Hutton borrowed The Siege of Troy and the Wanderings of Ulysses from Armley Library around 1883. His grandson returned the weighty tome over a century later.
Andrea Ellison, Chief Librarian: "Library fines may have been designed to encourage people to return books on time, but even relatively small sums can be a real barrier, causing many to miss out on free services. By changing our policy and also making it easier to join, Leeds Libraries will be accessible to more people than ever during the Leeds Year of Reading and beyond."
Councillor James Lewis, Executive Member for Resources: "We want everyone living in Leeds to enjoy the benefits of the library service and promote reading for pleasure. Our communities have access to an amazing range of Leeds Libraries support. We hope more children will join the library and that anyone studying, looking for a job, starting a business or needing help getting online will find it easier to access our service."
For more information about Leeds Libraries visit leeds.gov.uk/leisure/libraries
For media enquiries please contact:
Jen Boyle,
Senior Communications Officer,
Leeds City Council
0113 378 7101 / Jennifer.boyle@leeds.gov.uk
Notes to Editors
Libraries Week, 7-12 October 2019Libraries Week is a celebration of the nation's much-loved libraries. In 2019 we are celebrating the role of libraries in the digital world. Visit http://www.librariesweek.org.uk
Leeds has a packed Libraries Week programme across the city, celebrating and promoting the varied services Leeds Libraries offers. The week culminates in special events and activities at Central Library as part of the Light Night festival on 11 October. Full events programme: www.ticketsource.co.uk/leedslibraryevents
A fine-free approach proved effective at Chicago Public Libraries. During a trial in 2012, over 101,300 overdue items worth $2million were returned. The service completely eliminated fines in September 2019. See https://americanlibrariesmagazine.org/blogs/the-scoop/chicago-public-library-goes-fine-free/
Leeds Year of Reading launched on 12 September and will be running until 2020. The new initiative is a partnership between Leeds City Council and BookTrust, the UK's largest children's reading charity. BookTrust will contribute over £1million in books and resources for children and families in Leeds over the next three years. Visit www.leedsforlearning.co.uk/YearofReading
For media enquiries contact: