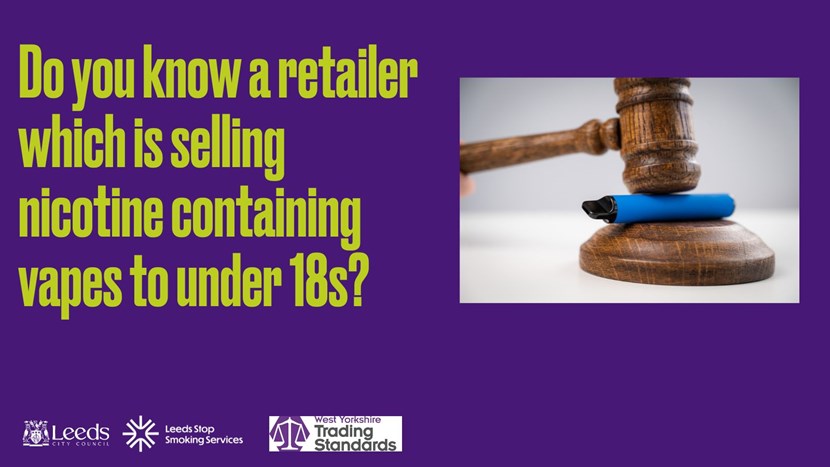 17 Nov 2023
New campaign to reduce the numbers of young people vaping
Retailers are being warned not to sell nicotine vapes to under-18s as part of a major campaign to reduce the numbers of young people vaping in Leeds.
Leeds City Council and West Yorkshire Trading Standards have joined together to warn retailers it is illegal to sell vapes containing nicotine to under 18s and to promote the facts about vaping to parents, carers and children.
Vapes are a helpful tool for quitting smoking but should not be used by children or non-smokers.
Retailers are being told they could face fines of up to £2,500 for selling vapes to underage young people and an unlimited fine for selling illicit tobacco.
Residents are being asked to report retailers selling nicotine containing vapes to under 18s to West Yorkshire Trading Standards via the Citizens Advice Consumer Helpline. The Helpline telephone number is 0808 223 1133.
Parents and carers are also being encouraged to have conversations with children about the facts around vaping, including the risks. Short-term effects can include coughing, headaches, dizziness and sore throats. The long-term effects are unknown.
The message to parents and carers, children and young people is: 'Don't smoke? Don't start to vape!'
The Leeds My Health My School survey 2023 showed 7.1 percent of 11-16-year-old pupils vaped either occasionally or regularly and 16 percent had tried vaping. The local survey also shows that primary age children (9-11 years) are being exposed to vaping, with 5.8% percent admitting to having vaped.
Schools are being provided with leaflets and posters, lesson plans and an animation on the facts about vaping.
Councillor Salma Arif, Leeds City Council executive member for adult social care, public health and active lifestyles, said:
"Vapes can be an effective quit aid for smokers and we know that smoking remains a leading cause of disease, disability, and premature death. But vapes are not risk-free and too many children are taking up vaping, many of whom are being sold vapes by unscrupulous retailers.
"We want to ensure parents and children know the facts about vapes and we're warning retailers they could face severe financial penalties if they sell vapes to anyone under the age of 18.
"People can report anyone they suspect of selling vapes underage to Trading Standards."
Between August 2022 and July 2023 in Leeds 65 per cent of all underage sale complaints to West Yorkshire Trading Standards were about retailers selling vapes to underage children and young people.
In the last nine months in Leeds, 4,637 illegal vapes were seized by Trading Standards and 18,932 were seized across the whole of West Yorkshire.
Fines for selling unregulated vaping devices, either to adults or underage young people can be substantial. One Leeds retailer was recently fined £2,000 for selling an oversize disposable vape to a 14-year-old, with costs of £3,000 and an £800 surcharge.
David Strover, Trading Standards Manager at West Yorkshire Trading Standards, said:
"Many of these vapes are oversized, having illegal quantities of nicotine and we know they are being used regularly by children. We want to send a very strong message to anyone who sells illegal vapes, or any vapes with nicotine to under 18s, they will be investigated with a view to prosecution at Court.
"Anyone selling vapes containing nicotine to someone under 18-years-old is committing an offence. The owner of the business can be held responsible as well as the member of staff who made the sale, and in certain circumstances retailers can also face closure if they persistently flout the law.
"If you know of anyone selling vapes illegally, you can report them to Trading Standards through the Citizens Advice portal: https://bit.ly/LCCreportvaping"
Nationally, people are also invited to take part in the government's Creating a Smoke free Generation and Tackling Youth Vaping consultation which will focus on measures to reduce the appeal, availability and affordability of vapes.
The plans include raising the legal age so that children, who are now aged 14 and under, will never legally be able to buy tobacco.
Smoking is the biggest cause of preventable death and disease. In Leeds: 16.7 per cent of people over the age of 15 currently smoke in the city, which is over 130,000 residents.
The government's plans also include increasing funding for local stop smoking services, increased funding for "quit smoking" campaigns, a focus on reducing youth vaping and tackling illicit tobacco and vaping.
Ends
For media enquiries contact: