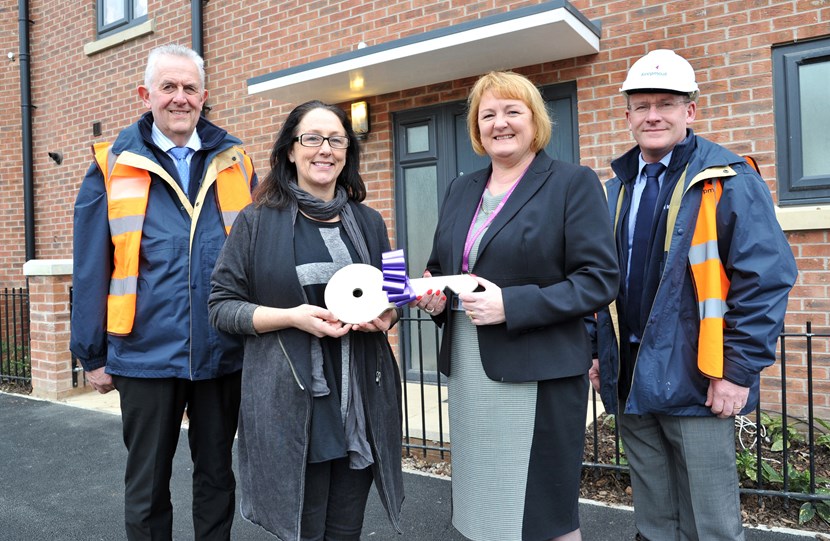 23 Mar 2016
New build site on housing regeneration project completed
Another milestone has been reached on the housing regeneration project with the completion of all 113 new build homes on the Carlton Gate site.
The final property has been handed over to the council with tenants now settling in.
The site, in Little London, is one of the largest on the housing regeneration project with 68 flats and 45 houses.
The flagship housing project is on track to build a total of 388 new properties and refurbish 1,245 homes in Little London, Beeston Hill and Holbeck.
Councillor Debra Coupar, executive member for communities handed over keys to the last tenant to move in, Grace Wheeler.
Councillor Coupar said:
"When construction on the housing regeneration project started, this is what we were looking forward to most; homes being completed and tenants moving in.
"Each milestone we reach on the housing regeneration project is another major achievement as we deliver on our promises, providing affordable, quality council homes, which helps us build sustainable communities."
Jon Hinchliff, sc4L general manager, said:
"The entire team take great pride and sense of achievement that their hard work and effort has resulted in the completion of all the new homes at Carlton Gate."
Sean Corcoran, Keepmoat regional director, said:
"We hope the tenants will really feel at home in their new energy efficient houses. All of the newly constructed homes have been built to Sustainable Homes Code Level 4 and include solar panels, insulation and efficient heating systems offering comfortable and affordable homes to run."
The Carlton Gate site comprises 68 2-bedroom flats, 10 2-bedroom houses, 20 3-bedroom houses and 15 4-bedroom houses.
At the end of January 2016, 723 out of 848 refurbishments on the site have also been completed.
Work to complete roads, paths and landscaping is ongoing and will be completed by summer.
The housing regeneration project is a key part of the council's ambitious plans to provide 1,000 new council homes by 2018/19.
For media enquiries contact: