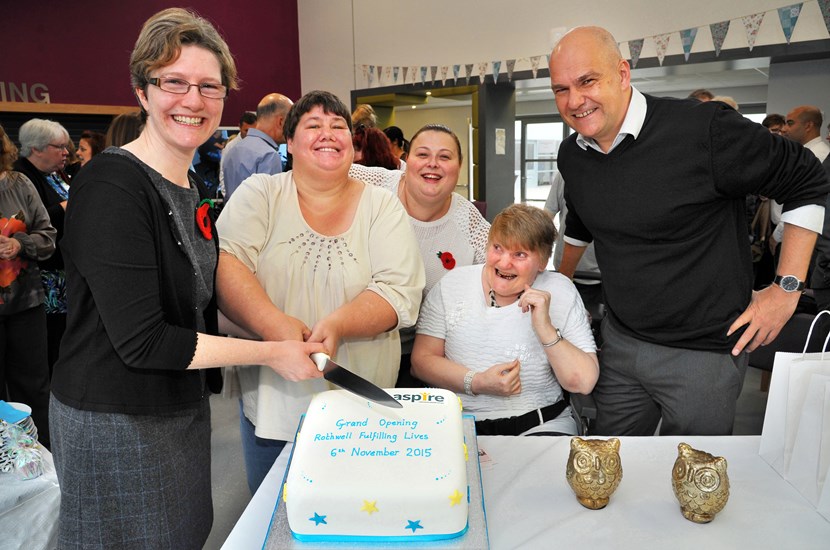 17 Nov 2015
New bespoke base to support people with learning disabilities
A new specially-designed £2.5m support hub for adults with learning disabilities has officially opened its doors.
The grand opening of the new Rothwell Fulfilling Lives building came ahead of a meeting this week, where senior councillors will be updated about the modernisation of the city's learning disability day services.
Members of the council's executive board will hear that the project has so far created 21 new community bases, 22 new changing place toilet facilities and 20 voluntary sector projects, including major refurbishments at the new Rothwell centre and in Bramley.
And three more community bases will also be created in Wetherby, Cross Gates and Richmond Hill as well as Potternewton Fulfilling Lives Centre being refurbished, if approved by the executive board.
The Fulfilling Lives project is part of the council's overall Better Lives strategy, which is aiming to modernise the way council care and support services are delivered.
The new Rothwell centre, the latest step in the project, is designed to cater for customers with the most complex health needs and contains a number of specialist facilities including a rebound therapy room with floor level trampoline, a sensory room and charging stations and areas for electric wheelchairs.
It also features a purpose built physiotherapy and postural management room.
Councillor Lisa Mulherin, Leeds City Council's executive member for health, wellbeing and adults, opened the new base at Rothwell.
She said: "This beautiful new building will provide a bespoke, specialist day service base for adults with learning disabilities living in the south of the city and is one of the flagships of what is an exciting and genuinely transformative project.
"The modernisation of our learning disability services has taken us, those using the service and the staff working in it on a journey together which has seen us make really innovative steps in the way we support some of the city's most vulnerable adults.
"The new Fulfilling Lives bases put that support right at the heart of our communities, enabling those who attend to play an active part in where they live. As we approach the end of this project, I'm confident that what we have put in place is a modern, fit-for-purpose and sustainable model for both now and in the future."
Wednesday's executive board meeting will hear that to date, 430 customers have moved from traditional day service buildings to new community bases.
More than 98 per cent of those surveyed said they would not return to the old model given the opportunity.
The executive board will also be asked to approve a spending of £870,000 to refurbish the Potternewton Fulfilling Lives Centre.
To read a full copy of the report, visit: http://democracy.leeds.gov.uk/documents/s138820/Learning%20Disabilitiy%20Cover%20Report%20061115.pdf
ENDS
For media enquiries, please contact:
Stuart Robinson
Communications Officer
Leeds City Council
Tel: 0113 224 3937
Email: stuart.robinson@leeds.gov.uk
For media enquiries contact: