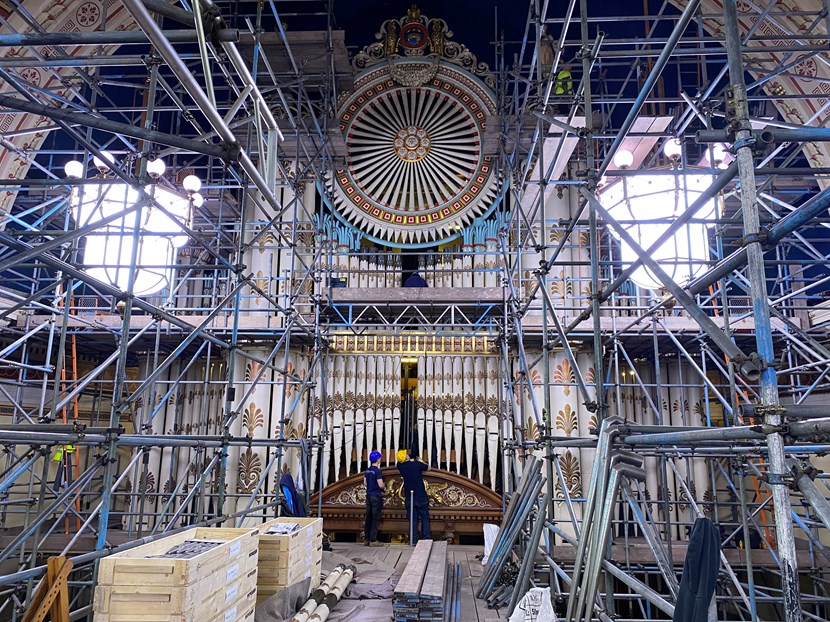 13 Dec 2022
Musical memento is a pipe dream come true this Christmas
It could well be Leeds's quirkiest Christmas gift idea and the perfect present for the music-lover who has everything.
Leeds Town Hall has announced it will be giving people the once-in-a-lifetime chance to become a permanent part of the city's musical history by adopting one of their historic organ's newly-refurbished pipes.
The pipe project is the latest phase of landmark plans to completely revamp the historic, Grade I listed building including its stunning organ and the beautiful Victoria Hall performance space.
Each of the 50ft organ's 6,000 plus pipes will be up for grabs, from the smallest at two feet-long, up to its towering 16ft pipes, which have all been carefully dismantled and removed while they are restored to their former glory.
Anyone who adopts a pipe for themselves or to be dedicated to another will be forever etched in town hall history, with their names added to special book permanently housed inside the instrument when it is completed. Money from the pipe adoption scheme will go to support the cost of the organ refurbishment.
Matthew Sims, Leeds City Council's head of arts and venues, said: "The town hall and the organ play a very special and unique role in the story of Leeds and we wanted to give people the opportunity to become part of that story.
"We've had such a positive response to the town hall project so far and this is also a chance for the people of Leeds to show their support and help us protect and restore this beautiful building for future generations."
One of the largest instruments of its kind in the world, the town hall organ weighs in at 70 tonnes and was played at the opening ceremony of Leeds Town Hall in 1858, which was attended by Queen Victoria.
Specialist engineers from Nicholson and Co. Ltd Pipe organ builders, Nicholson & Co Ltd., with support from Shires Organ Pipes in Bramley, Leeds, are currently hard at work restoring the organ's pipes as well as replacing much of its ageing mechanism. This will give the organ a fuller and more integrated sound during future performances.
The organ refurbishment is just one part of a major ongoing project to refurbish and restore Leeds Town Hall, ensuring the building can host large-scale events and concerts, generating significant income for the council and the city and engaging with wider audiences.
Councillor Jonathan Pryor, Leeds City Council's executive member for economy, culture and education, said: "It's been fascinating to watch the town hall project progress and to see this magnificent building being protected and modernised in what is a hugely ambitious and innovative development scheme.
"Leeds Town Hall is such an important part of the city and more importantly, it belongs to the people of Leeds. It's incredible that they will have the chance to play a part in its redevelopment and to help make the vision for the future of this historic building a reality."
More information on the adopt an organ pipe project, including how you can support, can be found at https://www.leedstownhall.co.uk/support-us/adopt-an-organ-pipe
ENDS
For media enquiries contact: