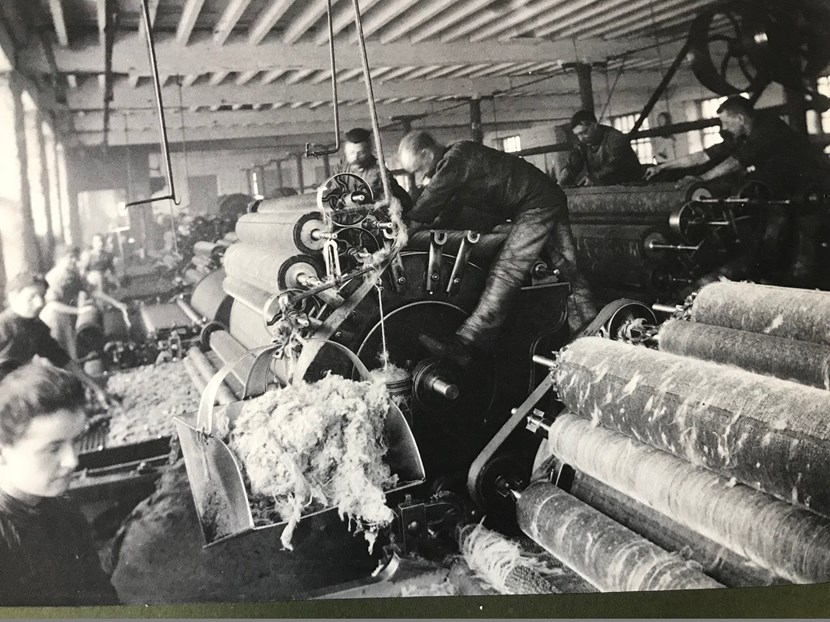 27 Jun 2019
Museum's industrial engines become artist's mechanical muse
The mechanical giants which powered Leeds's historic dominance of the global textile trade may not be the most obvious artist's muse.
But a new exhibition in what was once the world's largest woollen mill will reimagine those impressive industrial engines as striking works of modern art as the city celebrates its unique sculptural heritage.
Artist Helen Riddle has created a series of stylish sculptures inspired by the imposing machinery at Leeds Industrial Museum, which will go on display at the site later this week in an exhibition entitled the Doffer and the Fancy: Reimagining the Machine.
Part of Index, a fringe festival during Yorkshire Sculpture International, the pieces aim to offer a new insight into the museum's impressive collection.
The machines include vintage Singer sewing machines, carding machines once used to sort wool fibres during production and the museum's traditional looms, which are more than a century old.
Speaking ahead of the exhibition which opens this Saturday, July 29, Helen, who has a studio space at the Art House in Wakefield said: "I like walking around the machines, seeing the forms and shapes change as I move, light and dark, hard and soft and also, like with a sculpture, looking through the forms to catch sight of what lies beyond.
"Drawing underpins it all because drawing involves looking deeply. Seeing the lines, the angles, the shapes the forms. Starting from a point and moving outwards until it all fits together. Once I've seen something, I can't unsee it and with that comes a form of understanding and intimacy. Next time I walk past that machine I feel a closer connection."
Helen's sculptures use specialist techniques including wet-felting and needle-felting as well as dyeing, hand stitch, free-motion embroidery, and print.
In 2018, she took part in a group exhibition at Leeds Industrial Museum with fellow members of the International Feltmakers Association which inspired her to return for this latest show.
Once a global leader in textile production, Leeds Industrial Museum was built in 1805 by noted industrialist Benjamin Gott.
Although production there ended in 1969, the site reopened as Leeds Industrial Museum in 1982 and is home to traditional looms and a spectacular array of vintage textile equipment, some of which is still operational.
For more details about the exhibition and event, please visit: https://www.leeds.gov.uk/museumsandgalleries/armleymills
ENDS
For media enquiries, please contact:
Stuart Robinson
Communications Officer
Leeds City Council
Tel: 0113 378 9182 (please note my new number)
Email: stuart.robinson@leeds.gov.uk
Notes to editors:
Leeds Industrial Museum is housed within Armley Mills, a Grade II listed building which was once the worlds largest woollen mill. The galleries and collections tell the stories behind the industries which have shaped Leeds into the successful city it is today from weaving to steam engines and more. The textile galleries contain spinning wheels and working looms, offering insight into the wool and cloth industries which once made Leeds world famous.
Tailoring galleries tell the tales behind how Leeds helped to launch high street fashion and Media in The Mill celebrates the historical importance of the creative industries, from film to photography and print making. Further museum spaces have been recreated and restored to their former glory including the Victorian school room and Mill Managers Cottage. The museum is also home to the Palace Picture House, a twenty-four seat 1920s cinema which screens family films and vintage classics throughout the year.
About Yorkshire Sculpture International
Yorkshire Sculpture International – a free, 100-day festival taking place across Yorkshire from 22 June until 29 September 2019 – features major new public commissions in Leeds and Wakefield, a programme of events and exhibitions across the four world-renowned galleries that form Yorkshire Sculpture Triangle – Henry Moore Institute, Leeds Art Gallery, The Hepworth Wakefield and Yorkshire Sculpture Park. The inaugural edition is the UK's largest dedicated sculpture festival and builds upon Yorkshire's rich history as the birthplace of pioneering sculptors, including Barbara Hepworth and Henry Moore, and as the home of this unique consortium of galleries and celebrated sculpture collections.
Reflecting the provocation chosen by British artist Phyllida Barlow that 'sculpture is the most anthropological of the artforms' the festival responds to the idea that there is a basic human impulse to make and connect with objects. The programme explores what it means to create sculpture today, around the globe and in Yorkshire. Showcasing the breadth and diversity of contemporary sculpture practice, the artists participating in YSI challenge what we understand as sculpture, making sense of the world and its political, environmental and social dimensions. The partner programme features 18 artists from 13 different countries.
Yorkshire Sculpture International 2019 is curated by Andrew Bonacina (Chief Curator, The Hepworth Wakefield), Emily Riddle (Assistant Curator, The Hepworth Wakefield), Sarah Brown (Principal Keeper, Leeds Art Gallery), Clare Lilley (Director of Programme, Yorkshire Sculpture Park), Laurence Sillars (Head of Henry Moore Institute), Jane Bhoyroo (Producer, Yorkshire Sculpture International) and Meghan Goodeve (Engagement Curator, Yorkshire Sculpture International).
Yorkshire Sculpture International has raised more than £1.5 million, including a National Lottery funded Ambition for Excellence grant from Arts Council England and regional investment from Leeds 2023, Wakefield Council, Leeds Beckett University and the University of Leeds.
yorkshire-sculpture.org
For media enquiries contact: