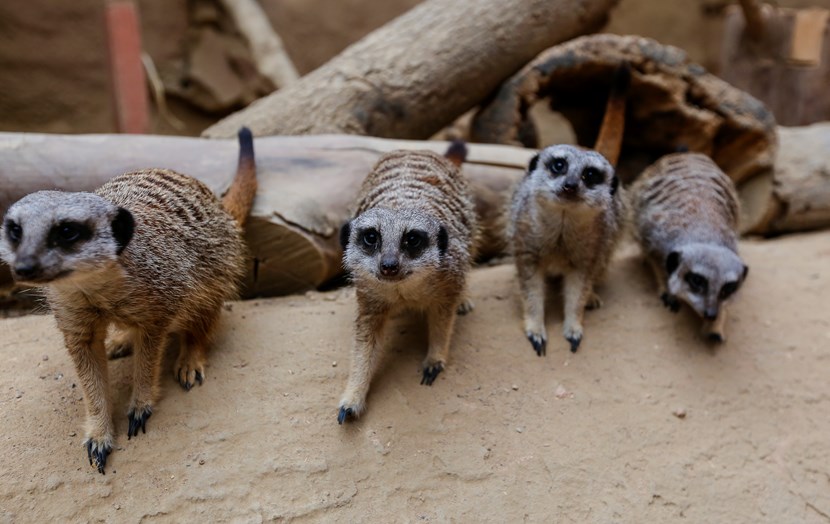 14 Aug 2020
Meerkats ready to welcome back visitors to Tropical World
A cheeky colony of adorable meerkats will welcome back visitors to Tropical World when the attraction reopens to the public next week.
The famously curious creatures will once again get to meet their fans when the site reopens on Monday (17 August), with the public also getting the chance to safely enjoy the site's spectacular collection of animals, insects and plants from across the globe.
As a result of the coronavirus pandemic, the Leeds-based zoo has been closed since 18 March and has since been putting in a range of additional safety measures including:
Hand sanitising stations throughout the attraction
Allocated time slots for arrival for online bookings
A reduction in capacity, allowing for social distancing between groups
Additional floor markings and signage, including a one-way system and capacity limits for each zone
A mandatory requirement to wear a face covering at all times, unless exempt due to age, disability or health reasons
Heightened cleaning schedules throughout the day
Visitors will be able to explore all parts of the zoo including the desert house, butterfly house and aquarium where they will be able to see meerkats, crocodiles, monkeys, exotic birds, insects and much more.
With a reduced capacity limit being introduced to help with social distancing, visitors are encouraged to pre-book their tickets online at https://tickets.tygit.com/tickets/buy-now/attractionId/180/l/1 to guarantee a place and select a timeslot for arrival.
Families visiting on Mondays, Tuesdays or Wednesdays in August will also receive a 50% discount (up to a maximum of £10 per head) on all eat-in refreshments purchased in the café as part of the government's Eat Out to Help Out Scheme. Full details here: https://www.gov.uk/guidance/get-a-discount-with-the-eat-out-to-help-out-scheme.
Councillor Mohammed Rafique, Leeds City Council's Executive Member for Environment and Active Lifestyles, said:
"I'm thrilled that Tropical World is finally able to reopen after what has been an extremely tough few months for our visitor attractions and city as a whole.
"A range of additional safety measures have been put into place to make sure visits are as safe as possible and social distancing can be adhered to. With the summer holidays in full swing, I hope families will be encouraged to give Tropical World a visit."
For full details on Tropical World, please visit: https://tropicalworld.leeds.gov.uk/.
ENDS
Notes to editors:
Tropical World will be open daily from 10am to 4pm with last entry at 3.30pm.
The café will be open daily from 10am to 3.30pm with indoor and outdoor seating available.
For media enquiries please contact:
Leeds City Council communications and marketing
Tel: 0113 378 6007
For media enquiries contact: