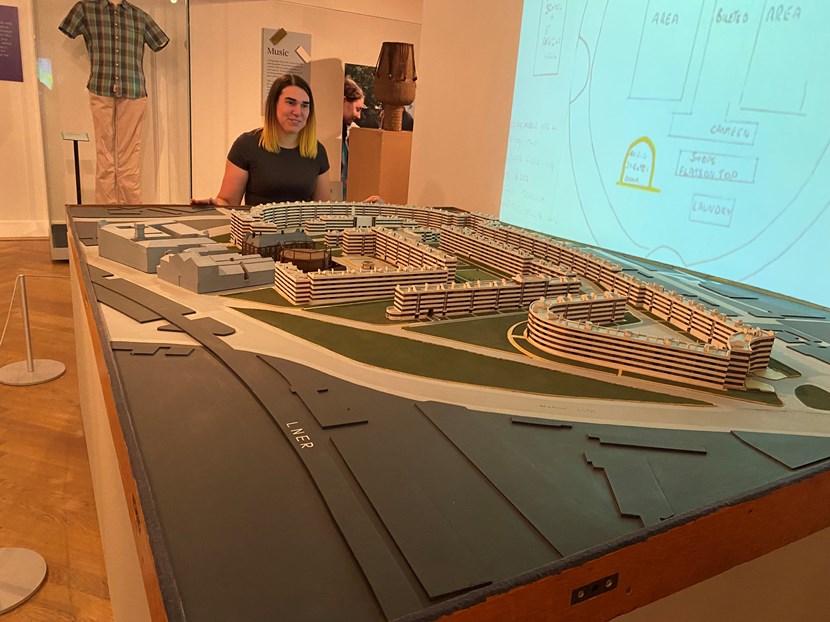 03 Sep 2021
Making history as museum celebrates huge bicentenary milestone
Two centuries of captivating stories about the many people, places and objects that helped shape the city of Leeds have been brought together for an historic new exhibition.
Leeds City Museum is celebrating two hundred years of the Leeds Museums and Galleries collection, from its origins with the Leeds Philosophical and Literary Society to being bombed during the Second World War and becoming part of the country's biggest local authority museums service today.
Through a fascinating array of objects taken from across the service's vast collection and co-produced with volunteers and partners from across the city, the exhibition examines how Leeds has evolved over the centuries while exploring the role modern museums play in preserving and interpreting history.
Highlights include an incredibly detailed model of the famous Quarry Hill flats development. Once the largest social housing complex in the United Kingdom, Quarry Hill was built in the 1930s and was lauded for its radical modern features like electric lighting, a state-of-the-art refuse disposal system and even a swimming pool.
The development was demolished in 1978, making way for the Quarry House project which today is home to leading cultural and educational institutions such as Leeds Playhouse and Leeds Conservatoire as well as BBC Leeds.
Also on display is a heavy duty Featherlight spring for lorry suspensions, made by ThyssenKrupp Woodhead on Kirkstall Road. The firm made parts for the motor industry on the site since 1850, but their factory was irreparably damaged by the Boxing Day floods in 2015 meaning it had to close.
Visitors will also be able to see objects related to several notable health and wellbeing issues which have been part of the city's history, including a map of the Leeds water supply from the 1830s, a smallpox vaccination certificate from 1862, and a COVID-19 facemask, which became part of the collection last year.
Lucy Moore, Leeds Museums and Galleries' projects curator, said: "For the past 200 years, Leeds Museums and Galleries has been working to collect and preserve the story of Leeds, its people and communities.
"Over many decades, our collection has grown and evolved in a myriad of ways, just like the city itself and so too has the way we've interpreted those changes through our exhibitions, displays and our work with communities.
"What we've looked to capture in this exhibition is exactly how our collection has mirrored the city's ever changing face because above all else, this collection belongs to the people of Leeds and it should always reflect them. Of course, we have more work to do to achieve that, and we hope the exhibition also makes people think about what they want to see from their museums in the future too."
As well as looking at the city's past, the exhibition also looks at critical modern-day issues including the climate crisis, and how they may affect Leeds in the coming years. Every effort has been made to ensure the exhibition is one of the most environmentally-friendly the museum has ever hosted.
It also includes a timeline of Leeds Museums and Galleries in the museum's Brodrick Hall as well as a programme of events, activities and talks in autumn and winter.
Councillor Jonathan Pryor, Leeds City Council's executive member for economy, culture, and education, said: "Our museums service is a jewel in the city's cultural crown and plays an integral role in telling the story of Leeds to young people, families and hundreds of thousands of visitors each year.
"To see more than two centuries of that story captured in this exhibition will be a humbling and inspiring experience which I'm sure will give a fascinating perspective on the city's past, present and future."
Leeds Museums & Galleries' 200th Birthday runs from September 3 until January 9, 2022. For more details, please visit: https://museumsandgalleries.leeds.gov.uk/events/leeds-city-museum/leeds-museums-galleries-200th-birthday/
ENDS
For media enquiries contact: