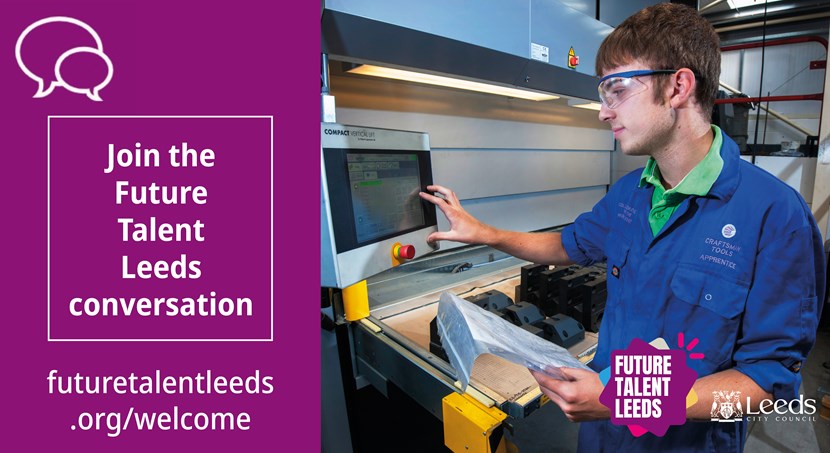 07 Sep 2021
Major citywide future skills conversation for Leeds begins
A major citywide conversation to help identify skills needed now and for the future of the Leeds economy begins today.
Starting today (Tuesday 7 September), the 'Future Talent Leeds' conversation is open for anyone over 16 to give their views along with all businesses, organisations, sectors and industries in the city.
Organised by Leeds City Council, the online discussion at https://futuretalentleeds.org aims to hear the thoughts of as many people as possible on an initial set of questions to help shape the Future Talent Plan for Leeds.
The council is moving to update the plan in response to dramatic changes to the jobs, skills and business landscape in the city following changes to national government policy, extra devolved powers plus the impacts of Brexit and Covid-19 in recent years.
As a result the council recognises the need for a skills and talent plan that is agile and works to support people and businesses across Leeds to thrive in the face of change.
The new plan aims to be influenced, created, and owned by the city and be adaptable and resilient. Through consistent dialogue and working together with all sectors, the council's focus is on successfully and collaboratively addressing issues such as unemployment, inclusion and diversity, digital skills and climate change whilst also ensuring support and skills are in place to allow the city to thrive as it emerges from Covid-19.
The conversation will encourage views from individuals and from all industries and organisations including education and skills providers, public sector employees and the third sector.
The Future Talent Leeds conversation will take place in two phases, with the first phase running until Tuesday 28 September. All the responses will then be analysed to shape a second phase of dialogue starting in November, with the final findings and recommendations to be presented to Leeds City Council's executive board in a report published early in the new year.
Deputy Leader and executive member for economy, culture and education of Leeds City Council Councillor Jonathan Pryor said:
"We all know the Leeds economy has been through an incredibly challenging and uncertain time and many people and businesses have suffered as a result, but it has also been remarkably resilient and we want to do everything we can to help people and organisations recover, develop and thrive as a strong economy benefits everyone.
"In order to provide as much support as we can we need to hear from as many people as possible from all sectors and backgrounds to ensure we have the skills we need both now and for the future to respond to an ever-changing economic landscape. So I would call on as many people as possible to get involved with this conversation and help shape the future."
For more information and to take part in the conversation, visit https://futuretalentleeds.org.
ENDS
For media enquiries please contact:
Roger Boyde
Leeds City Council communications and marketing,
Email: roger.boyde@leeds.gov.uk
Tel: 0113 378 9164
For media enquiries contact: