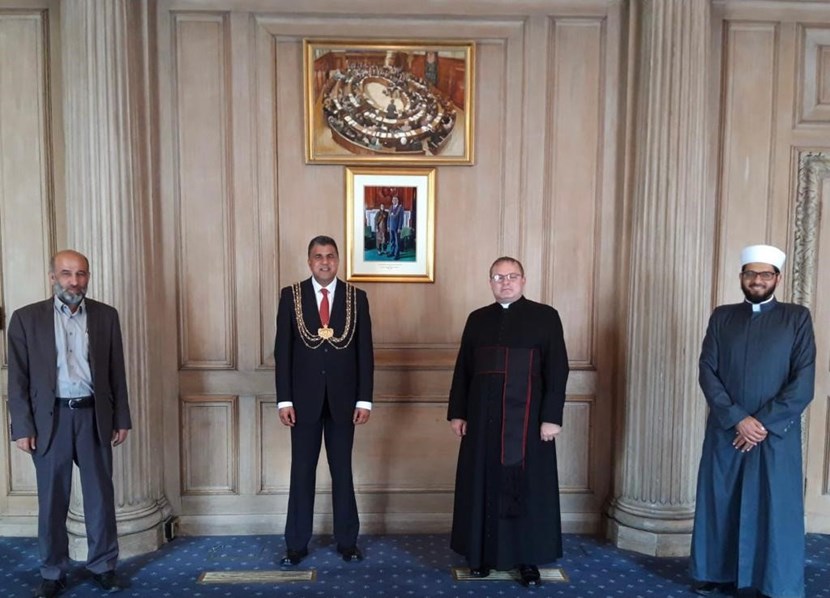 21 Jul 2021
Lord Mayor of Leeds selects multiple chaplains for first time to receive multifaith support and advice
For the first time in the history of the role, the Lord Mayor of Leeds, Councillor Asghar Khan, has elected two chaplains for his year in office, enabling him to be advised by respected figures of different faiths.
Appointed earlier this summer, Councillor Asghar Khan has selected Father Darren Percival as his Church of England Chaplain and Imam Omar Sheekh as his Muslim Chaplain.
Hand selected by the Lord Mayor of the time, the Lord Mayor's Chaplain has a long history of supporting those in office to represent and act in the best interests of all citizens in the city.
They act as a focal point for religious groups in Leeds and as a bridge to the city's many diverse communities. Traditionally, the role of the chaplain has extended to playing an important role in advising on religious matters and helping to organise civic services.
As the 127th Lord Mayor of Leeds, Councillor Asghar Khan has selected respected religious figures local to the Burmantofts and Richmond Hill area he has represented since 2011.
Father Darren Percival is the Parish Priest of Saint Hilda's in Cross Green and Saint Saviour's in Richmond Hill. He also acts as chaplain for a number of local RAF Air Cadets squadrons, including as Deputy Wing Chaplain for the South and West Yorkshire Cadets.
Omar Sheekh is the Imam for Lincoln Green Mosque and will be supported during his time as chaplain by Imam Qari Asim MBE from Leeds Makkah Mosque.
The Lord Mayor of Leeds, Councillor Asghar Khan, said:
"The role of the Lord Mayor's Chaplain has a long and storied history in the city, helping to ensure we as first citizens of Leeds represent and speak up for all our diverse communities.
"I am delighted to be working with both Father Darren and Imam Omar Sheekh during my time as Lord Mayor. Much loved figures in their communities, I am confident they will help me make the most of my time as the Lord Mayor."
Imam Omar Sheekh and Father Darren Percival, the Lord Mayor's Chaplains, said:
"We are truly honoured to have been selected as the Lord Mayor's Chaplains. After working closely with Councillor Asghar Khan in the communities we call home, we have seen first hand his desire to make things better for local people.
"Together, we are confident we can do great work for all our city's diverse communities and for the Leeds Hospitals Charity, the Lord Mayor's chosen charity."
For media enquiries contact: