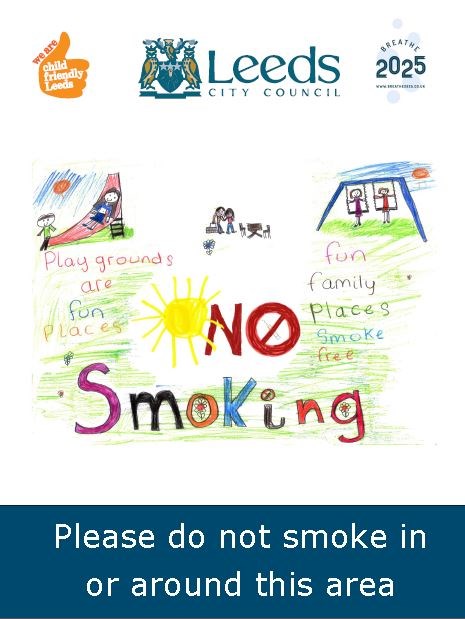 17 Dec 2015
Looking forward to smokefree play areas for Leeds
New signs will be appearing in Leeds from January urging people not to smoke near areas where children play. The signs will feature artwork provided by local children following a competition run in conjunction with the Yorkshire Evening Post.
The competition also drew attention from health professionals beyond Leeds, with the Chartered Institute of Environmental Health (CIEH) asking to use examples of the artwork for their guidance on changes in smoking legislation.
Councillor Lisa Mulherin, Chair of Leeds Health and Wellbeing Board, said:
"The public health impact of smoking is enormous and tobacco use remains one of the biggest preventable causes of early death and ill health in Leeds. If we can help both reduce smoking in front of children and support families with smokers to cut their smoking, then we can make a big step in improving health in the city. Smokefree playgrounds are part of the support we are pledging for the Breathe 2025 campaign to have a generation of children where smoking is a thing of the past."
Councillor Lucinda Yeadon, Leeds City Council executive member for children and families, said:
"Smokefree play areas are a great example of the city's commitment to inspiring a smokefree generation and I thank all the children who put time and effort into submitting designs and ideas, as the winners and all the entrants inspired the work we are doing."
"We had a wonderful response to the competition, with lots of inventive and colourful designs. Making a selection was really hard, but we managed it and I look forward to seeing the signs based on the children's artwork appearing around playgrounds in the new year."
The children with winning designs are being presented with certificates and a range of prizes, including shopping vouchers provided by CIEH and Public Health, match tickets provided by Leeds Rhinos Foundation and family passes to Tropical World.
Ian Gray, Principal Policy Officer for the Chartered Institute of Environmental Health said:
"CIEH members have been very impressed by the work being done in Leeds to promote smokefree environments, and when we saw this competition and the great artwork that had been entered I asked if we could share some of it.
"It was fantastic to see children from Leeds and surrounding areas had produced so many positive messages in their designs. They were ideal for illustrating our national guidance on smokefree motor vehicles carrying children and we thank the children whose art work we used."
Photo has Cllr Mulherin, Ian Gray and Cllr Yeadon, with winners Dubem Osme, Adaeze Ulebor and Batrimi Onwudili, with the new signs and a copy of the CIEH guidance
Notes for editors:
Prize winners for the Leeds City Council competition were:
Overall winner:
Adaeze Ulebor – Yr 4 – St Bartholomew's C of E Primary
Runners up:
Jack Eastwood – Class 2 – Aberford Primary
Batrimi Onwudili – Yr 4 - St Bartholomew's C of E Primary
Commended:
Dubem Osme – Year 4 – St Bartholomew's C of E Primary
Caitlin Ferguson Walsh - Year 8 - Temple Moor High School
Alicia Smith – Year 7 - Roedillian Academy
CIEH provided vouchers for the following children, who had their designs used in their national guidance to protect children from secondhand smoke in motor vehicles
Poppy Dalton, Year 3, Kippax Ash Tree Primary School, Kippax, Leeds
Tia Hollifield, Year 2, Beechwood Primary School, Seacroft, Leeds
Libby Atuy, Year 4, Kippax Ash Tree Primary School, Kippax, Leeds
Cali Evans, Year 4, Tockwith Church of England Primary School, York
Charlie Thom, Year 5, Green Lane Primary Academy, Garforth, Leeds
For media enquiries contact: