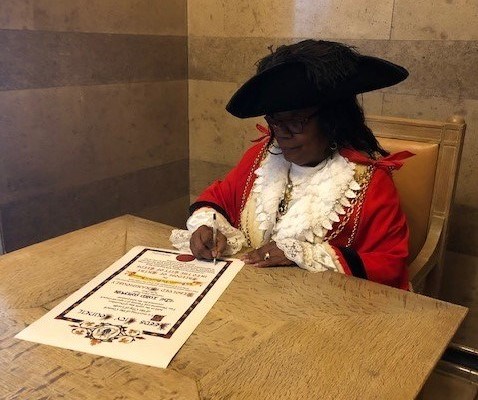 10 Dec 2020
Long-serving Leeds parachute regiment become first military unit in over 40 years to be recognised with city's highest civic honour
The 4th Battalion, The Parachute Regiment (4PARA) has been awarded the city's highest civic honour in recognition of their many years of devoted service and historic association with Leeds.
Established in 1942, 4PARA are the first military service unit to be bestowed with Honorary Freedom of Leeds since HMS Ark Royal received the honour over 40 years ago in 1973.
Calling Thornbury Barracks in Pudsey their home, the battalion play a key part in honouring the heroic efforts, achievements and sacrifices made by our Armed Forces in Leeds.
4PARA has supported the Lord Mayor's Civic Remembrance Sunday commemorations as the key military lead for the Parade, as well as being involved with the city's popular Armed Forces Day celebrations.
The battalion are also a key signatory to the city's Armed Forces Community Covenant, which offers a range of tailored assistance, advice and support to existing and former members of the Armed Forces in Leeds.
4PARA were recognised yesterday evening at a special virtual ceremony, attended by HM Lord-Lieutenant for West Yorkshire, Mr. Ed Anderson, with the Commanding Officer for 4PARA, Lieutenant Colonel Rick Lewin, and Honorary Colonel, Colonel John Handford OBE, receiving the award on behalf of the Army Reserve unit.
In addition to the virtual event, which can be viewed here, the Honorary Freedom status will be recognised with a permanent inscription in Leeds Civic Hall and, once it is safe to do so, 4PARA will be invited to the city to celebrate with a Freedom Parade.
Freedom of Entry is the highest honour a city can bestow, granting military units the freedom to parade through the streets with bayonets fixed, drums beating and colours flying.
4PARA being recognised in this way places them in esteemed company, with Honorary Freedom of Leeds being granted only to a select few service units in honour of their many years of loyal service.
These units are: The Yorkshire Regiment; The Rifles; 269 (West Riding Field Regiment); 466 (Leeds Rifles) Light Anti-Aircraft Regiment; Royal Artillery (Territorial Army); 49th (Yorkshire) Signal Regiment; Royal Signals (Territorial Army); Royal Air Force Church Fenton; and HMS Ark Royal.
Councillor Judith Blake, leader of Leeds City Council, said:
"Over the years, the council has had the distinct pleasure of bestowing Freedom status to a select few who have achieved something very special in their respective fields.
"Given the long and distinguished military history of Leeds, it is our great honour to recognise 4PARA with Honorary Freedom of the City, allowing their efforts to be remembered and celebrated for many years to come. In a year where we haven't been able to come together in our usual ways to honour the heroic service of our Armed Forces, we hope that bestowing this status on the battalion helps underline our tremendous respect for all they do to keep us safe.
"We look forward to welcoming 4PARA to Leeds and being able to pass on our thanks and congratulations from the city in person, hopefully next year."
Councillor Andrew Carter, leader of Leeds Conservative group, said:
"While we have not been able to mark the occasion as we usually would, granting Honorary Freedom of the City is always a special and unique occasion, and we are delighted to support the nomination of 4PARA for their many years of devoted service. I hope we are able to welcome the battalion to the city next year to celebrate with the parade they deserve."
Councillor Stewart Golton, leader of Leeds Liberal Democrats group, said:
"Granting Freedom of Entry is a tremendous way to recognise and honour our Armed Forces in Leeds, which is why we are proud to support the nomination of 4PARA.
"Even if just virtually for now, it has been great to come together to celebrate both the important role the battalion play in their local community and their deserved place in the city's military history."
Lieutenant Colonel Rick Lewin, the Commanding Officer of 4PARA, said:
"As a battalion, we relish the chance to work alongside Leeds City Council to celebrate and remember the work of our Armed Forces. Over our many years at Thornbury Barracks, Leeds has always been so welcoming and supportive, so to be recognised with the city's highest civic honour, Freedom of Entry, fills us all with extreme pride.
"During the pandemic, it has been our great honour to support the city we call home, working in our local community to help deliver vital mobile testing sites. We have seen first-hand the heart and resilience of the people of Leeds - and we cannot wait to be able to enjoy this achievement with them when it is safe to do so."
The Lord Mayor of Leeds, Councillor Eileen Taylor, said:
"As a city, we are extremely proud of our military personnel, both past and present, with many residents across Leeds coming together for the annual Armed Forces Day celebrations and Remembrance Sunday commemorations.
"As dedicated supporters of the council's work to honour our Armed Forces, I am delighted to see 4PARA being awarded Honorary Freedom of the City and hope to see them parading through Leeds as soon as it is safe to do so."
For media enquiries contact: