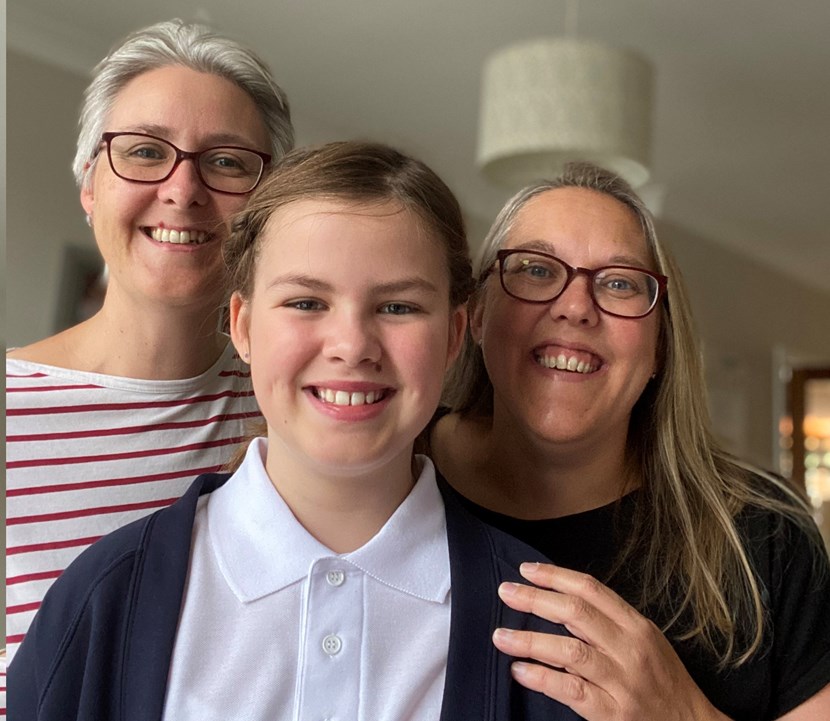 22 Sep 2021
Local nurses transform lives of triplets and their baby sister through Foster4Leeds
Emma and Nicky Bleasdale from Leeds always knew they'd become foster carers one day. Family had always been their priority and they knew they had enough love and patience to foster, as well as a fantastic network of family and friends to support both them and any foster children that came into their lives.
The timing felt right in 2017 when their birth daughter, Freya, was seven. Nicky continued working as a learning disability nurse and Emma left her nursing post to become a full-time foster carer.
After making a call to Foster4Leeds, the couple had their first meeting with a social worker to discuss next steps and ask questions. The social worker also spent time alone with the couple's birth daughter Freya to make sure that she was completely comfortable with the idea of becoming a foster sibling.
The process of becoming a foster carer takes several months, with weekly meetings to discuss various aspects of fostering.
Emma said: "Some people find the assessment process very invasive, but we didn't at all and were really comfortable with everything being asked. We understood the need to make sure that prospective foster families are fully committed and prepared to care for a child, especially given the traumatic lives that many of the children have experienced."
The family was thrilled when, in May 2018, they became an approved foster family. They met their Foster4Leeds social worker who would support them throughout their fostering journey and they hit it off straight away. Nicky said: "We couldn't have wished for a more supportive, understanding and hardworking social worker to be alongside us as we tentatively stepped into the world of fostering."
Soon after, Foster4Leeds got in touch with the couple to ask if they were able to foster a sibling group of six-month old triplets.
Emma said: "We never expected to have such a large sibling set for our first foster experience, but when we got the call we were overjoyed. Having worked within the neonatal services as a nurse I knew how rare and special their bond would be. I have a twin brother myself and I can't imagine growing up without him."
When the triplets were 17 months old, their baby sister was born and she came to live with Emma and Nicky.
Nicky said: "We were always open to the idea of fostering a sibling group but we didn't think we would be fortunate enough to have four wonderful little ones in our lives that share such a special bond. We both value our relationships with our own siblings and appreciate how important these connections really are. Seeing them develop and grow individually and with each other is amazing. It's incredible to hear them all saying goodnight to each other after a day full of fun."
The likelihood of all four siblings being adopted together was very small, so in 2019, Emma and Nicky decided to do what they could to ensure the children could stay together.
Emma said: "We were enjoying seeing the little ones grow and develop, and Freya was also loving being a foster sister. We always knew she would be amazing with any children we fostered but nothing prepared us for just how wonderful she really is with them all. Because of the special bond we had formed, we decided to ask to become the siblings' special guardians."
Special guardianship is a way of providing a permanent home for a child or children when they can't live at home with their birth parents. It is a court order that gives a child permanent legal security with carers who have an existing relationship with them. Special guardians can make all the important decisions about the child they are caring for until they reach 18 years old.
In December 2020, Emma and Nicky were granted special guardianship of all four children, making their family of three a permanent family of seven.
Emma said: "Our days can be loud, busy and chaotic but we wouldn't change it for anything. Our house is full of fun and laughter and we're never without someone on our lap for kisses and cuddles. I'd really encourage anyone who is considering fostering a group of siblings to just do it. They have a unique bond with each other which brings with it many challenges, but the rewards are incredible.
Nicky added: "Fostering for Leeds is the single most rewarding thing we've ever done. We've had so much support and met some amazing people along the way and at the same time have given four little ones a safe and loving home to call their own. Our special guardianship now means we have many years ahead of us to continue our family story and we couldn't be happier."
Councillor Fiona Venner, Leeds City Council's executive member for Adult and Children's Social Care and Health Partnerships said:
"It is amazing to hear about this family that has been brought together by Foster4Leeds and I'd like to thank both Emma and Nicky for changing the lives of the four siblings they initially fostered. If you live in Leeds or nearby, please consider making a difference to the life of a young person by fostering with Foster4Leeds. We would welcome prospective carers that could foster sibling groups in particular, as being able to keep brothers and sisters together is invaluable.
"Fostering can be an incredibly rewarding experience and I would like to reassure anyone who is thinking of becoming a foster carer, that on each of your journeys, we will be here to offer you meaningful and specialist support."
Foster4Leeds is a 100% not-for-profit organisation and offers a fantastic range of benefits for foster carers. This includes free gym membership to all Active Leeds gyms, of which over 900 foster carers and children have used, free day trips and residential breaks, free access to a luxury holiday lodge, free access and discounts to local attractions and many more benefits. The council also offers a comprehensive training package and support, including free counselling services. Financial support is given to all foster carers made up of a weekly allowance and a weekly fee.
If you are interested in finding out more about becoming a foster carer, please call 0113 378 3538 or visit Foster 4 Leeds.
For media enquiries contact: