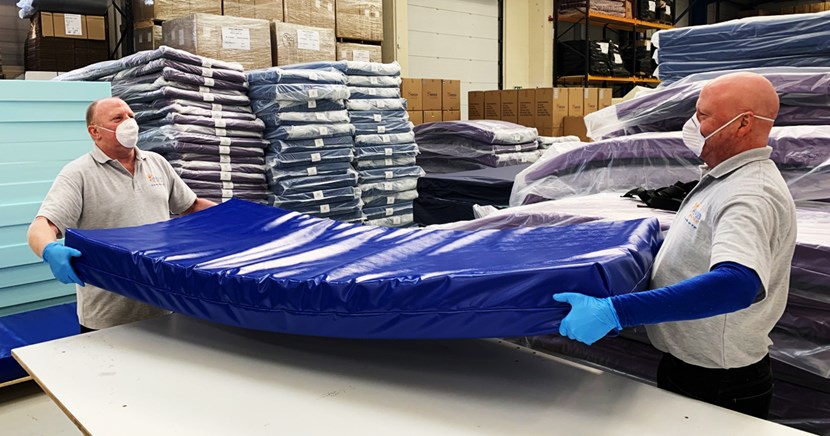 15 Apr 2020
Local Leeds businesses brought together to supply much-needed equipment to Nightingale hospitals
Leeds City Council has helped bring two local businesses together to carry out vital work in helping supply the emergency NHS Nightingale hospitals.
The council's economic development team brought together Leeds-based Herida Healthcare and Perry Uniform who have combined their resources to manufacture and supply specialist mattresses and mattress covers to the new emergency hospitals being created around the country in the fight against coronavirus.
After supplying the new London Nightingale hospital with specialist air-pump mattresses, orders for more were coming in to healthcare manufacturer Herida Healthcare to also supply the additional emergency hospitals. In order to meet the demand and extra resources required to manufacturer the mattress covers, Leeds City Council put them in touch with Perry Uniform.
Normally a manufacturer of school uniforms, Perry Uniform instead switched to making the mattress covers, with 500 being produced in just three days. Together the businesses are now working round the clock to deliver the orders as quickly as possible, including over the Easter weekend, with all staff wearing personal protective equipment (PPE) and maintaining social distancing rules.
Morale at both businesses is said to be high with both sets of staff feeling extremely proud to be able to help the NHS at such a challenging time.
Leader of Leeds City Council, Councillor Judith Blake, said:
"The collaboration of Herida Healthcare and Perry Uniform is a perfect example of how well Leeds comes together as a city in hard times, and how adaptable our businesses are, large and small.
"UK manufacturing will be a crucial part of tackling this crisis, and I am sure there are others playing their part to that we are yet to hear about. I am extremely proud to see local businesses doing their bit to help the national effort and I'd like to say a massive thank you to the staff at both of these businesses, and all our essential workers across the city, who are working tirelessly to help in the fight against coronavirus."
Neil Smith, company founder of Herida Healthcare, said:
"We all acknowledge the incredible hard work of our NHS in these testing times and it's great to see the team at Perry Uniform playing a vital part in scaling up to mass production in order to meet the national requirement for pressure care (anti bed sore type) mattresses across the country.
"Their skilled sewing and cutting facilities, usually in application for school uniforms, have been adapted to fully support Herida Healthcare with its ever-increasing list of orders. Their assistance during such tight time frames has enabled us to meet the increased demand for both beds and mattresses as a result of coronavirus.
"I'd like to thank Leeds City Council's economic development team who facilitated the contact between both parties and skill matched during this immensely pressured time. Well done to you all. The Leeds region, its businesses and support networks have showed total unity when it was needed most."
Bernard Bunting, managing director of Perry Uniform, said:
"In this national emergency, when approached by Herida having been put in touch by Leeds City Council, we immediately saw a good opportunity to collaborate in supporting the amazing NHS. The Perry team were hugely proud to be able to play a small part in this national effort. This was such a productive three way collaboration facilitated by the council."
For advice and support in relation to coronavirus, please visit www.leeds.gov.uk/coronavirus.
ENDS
Notes to editors:
To find out more about Herida Healthcare supplying the NHS Nightingale Hospital in London, please visit www.ad-venture.org.uk/leeds-manufacturer-to-supply-emergency-excel-hospital/.
For media enquiries please contact:
Leeds City Council communications and marketing
Tel: 0113 378 6007
For media enquiries contact: