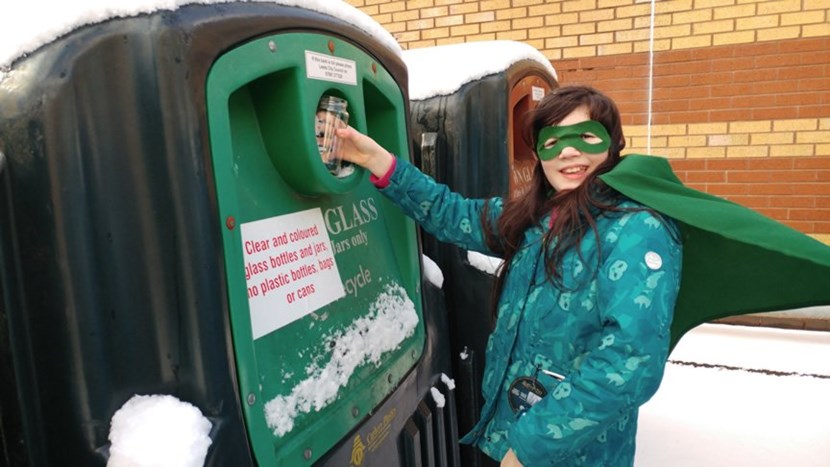 06 Jun 2018
Local girl turns superhero to scoop top glass recycling prize
Local schoolgirl 11-year-old Beth Ashley (pictured) from Bramley, Leeds has scooped top prize of an Apple iPad Mini in a glass recycling competition. The competition was organised by Leeds City Council, Lidl and Friends of Glass.
The competition was held to celebrate the arrival of new decorated glass recycling banks at Lidl's Halton store earlier this year. The banks join over 700 other bottle banks in the Leeds area, making it easier than ever for the people of Leeds to recycle their glass bottle and jars. In just seven weeks since the new banks were installed, an impressive 5 tonnes of glass were captured, indicating they are already a hit with shoppers.
To enter the competition, residents were asked to take creative pictures of themselves or friends and family recycling glass at any glass bank in the city and post them onto social media with the hashtag #RecyclingHero. The judges were delighted with the response from the people of Leeds, but it was Beth's glass recycling superhero costume that was thought to be the most inspired.
Beth's mum, Sarah explains; "We both really liked the idea of a superhero and as Beth is involved in recycling at school as a food ambassador to cut down on food waste, I thought the theme was really appropriate for her. She is most definitely one of the many recycling heroes in our great city of Leeds".
"As well as being great fun, the competition was brilliant because recycling glass bottles and jars in our house has always fallen to either my husband or me, but now the kids are into recycling glass too."
Brook Hayes of Friends of Glass said:
"Glass is one of the most environmentally-friendly types of packaging there is. It's 100% recyclable, completely non-toxic and can be used to make new bottles and jars over and over again. By recycling every single glass bottle and jar we use, we can ensure there is a good supply of glass being put back into the system. What's more, recycling glass helps save energy and cut C02 emissions".
Cllr Rafique, Leeds City Council executive member for environment and active lifestyles said:
"Congratulations to Beth for being crowned our glass recycling hero! With over 700 banks in the city now it is far easier for people to recycle their glass bottles and jars.
"Since the competition was launched and the new glass banks installed at the local Lidl store, we have seen a real increase in the amount of glass being recycled in the local Halton area. This is hugely positive and something we want to build on across the city".
More than 15,000 tonnes of glass bottles and jars are thrown away in Leeds' household landfill bins each year - that's the same weight as 108 blue whales. Disposing of this waste costs Leeds City Council over £1.5 million in charges that could be avoided if the glass had been recycled, thereby saving money for other uses across the city.
The good news is that the interest sparked by the competition has seen more glass recycled in the wider Halton area too with a total increase of nearly *6 tonnes since the launch of the competition, compared with a similar period for the area in 2017.
Beth's winning competition picture and a selection of other entries can be viewed at the Friends of Glass Twitter page using the #RecyclingHero hashtag. Three Love to Shop vouchers totalling £300 and a super Lidl hamper of goodies were awarded to the runners up in the competition.
To find the nearest glass recycling bank to you, simply download the Leeds Bin App.
/ends.
For further information please contact:
Amanda Barry-Hirst, Third Rock Communications, amanda@thirdrockcomms.co.uk
07860 313576
or
Catherine Lindley, Senior Communications Officer, Catherine.lindley@leeds.gov.uk
0113 3789178
Notes to Editors
* Across the one mile radius target area surrounding the store, the amount of glass recycled in March 2018 increased by up to 6 tonnes with a total of 24.1t. This compares with March 2016 and 2017, when 17.9t and 17t were captured respectively.
2. British Glass www.britglass.org.uk
3. About Friends of Glass
Friends of Glass is a pan-European community dedicated to promoting the right for consumers to be able to choose the food and drink products they love in glass packaging. Friends of Glass unites all those who believe glass is the clear choice for themselves, their families and for the environment. Friends of Glass UK is managed by British Glass Manufacturers' Confederation.
For media enquiries contact: