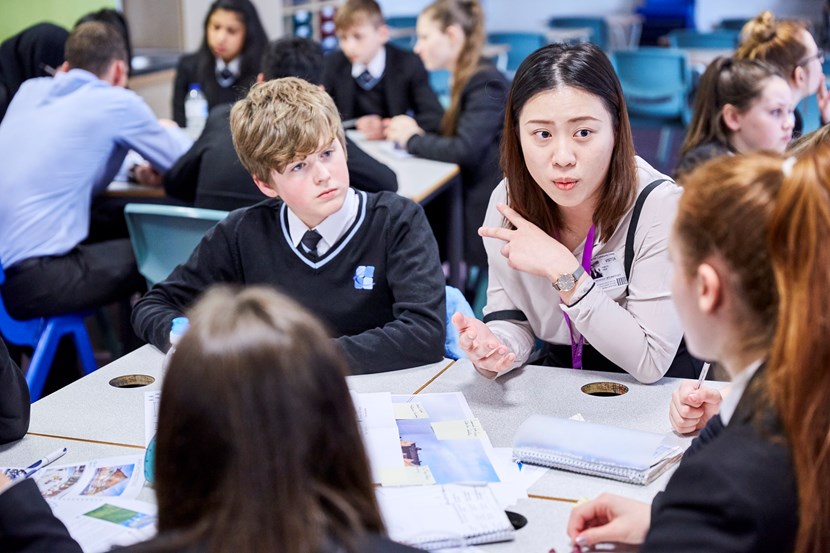 18 Jul 2018
Let the training take the strain
Over 300 students from Leeds schools have been getting a glimpse of the future with an award winning scheme offering the chance to develop skills for high speed rail and transport infrastructure-related careers.
With HS2 due to provide major employment opportunities in the coming decades, Leeds City Council commissioned Ahead Partnership, supported by volunteers from Arup, Pinsent Masons and Ramboll as well as the three schools - Swallow Hill Community College, Brigshaw High School and The Co-operative Academy of Leeds, to deliver an innovative programme of career guidance relating to the scheme.
With 320 students involved, each school delivered projects supported by Ahead Partnership staff, with support from industry volunteers. Using specially developed careers education materials focused around the new terminal site for HS2 in central Leeds , the year 8 and 9 students and their teachers were able to find out more about opportunities offered through careers associated with the development of HS2 and the wider transport infrastructure industry.
Cllr Judith Blake, Leader of Leeds City Council, said:
"We were really keen to help girls, who traditionally don't work in this sector, start to consider it as a future career and we want to build on what has been a very successful pilot project.
"Our aspiration is for apprenticeship opportunities to flow from this ensuring young people in Leeds can access good quality employment and employers can benefit from the great young talent in Leeds schools in years to come.
"However, what is increasingly clear is that we will need to see proper investment from central government to allow Leeds and other councils to follow up on this successful scheme. Ensuring we have a diverse mix of young people working in this sector, meeting the need from HS2 and other northern transport improvements, will help us meet the ambitions of our Leeds City Region HS2 Growth Strategy and make Leeds a city where economic growth benefits all."
One Year 9 student from Swallow Hill Community College in Armley said:
"I liked that we got to design our own station and doing the research on how to make the station work with the world around it. It also helped me learn how difficult but fun it would be to work in this kind of career."
Stephanie Burras CBE, CEO of Ahead Partnership said:
"Our activity specifically prioritises areas of labour market demand and this is a great example of how to create a programme of events to address sector skills gaps within the rail industry whilst helping businesses address issues such as diversity and inclusion; talent attraction and retention. We hope this is just the first step in building a strong and exciting programme of careers and skills activities linked to the employment opportunities that transport infrastructure investment will deliver in future years."
Notes for editors:
The suite of materials created included a set of three workshops on distinct but relevant themes (Iconic Design, Constraints in Construction and Sustainability), as well as a careers presentation and printouts to hand out or display in the school environment. Each workshop appeals to different skills such as creativity, problem-solving and strategic thinking, and seeks a range of activities to inspire young people about the sector;
The materials were piloted in a one day enterprise challenge in three Leeds schools, with 320 students in Years 8 and 9;
48% of the participating students across the three activities, and 11 of the 17 volunteers (65%) involved were female;
Leeds City Council contact details:
Matt Wilton, Head of Employment Access and Growth
Leeds City Council
matthew.wilton@leeds.gov.uk
07891 279677
Ahead Partnership is a social enterprise headquartered in Leeds that connects businesses and communities to create social and economic change. Our award-winning Make the Grade programme helps young people all over the UK develop their skills and understand their career options through real-life, hands-on activities with employers. Since its launch in 2011 over 150,000 young people have been supported by Make the Grade, with over 2,500 business volunteers taking part every year. Please visit aheadpartnership.org.uk for more information.
Ahead Partnership contact details:
Megan Taylor, Head of Business Development
Megan.taylor@aheadpartnership.org.uk
0113 246 7877
For media enquiries contact: