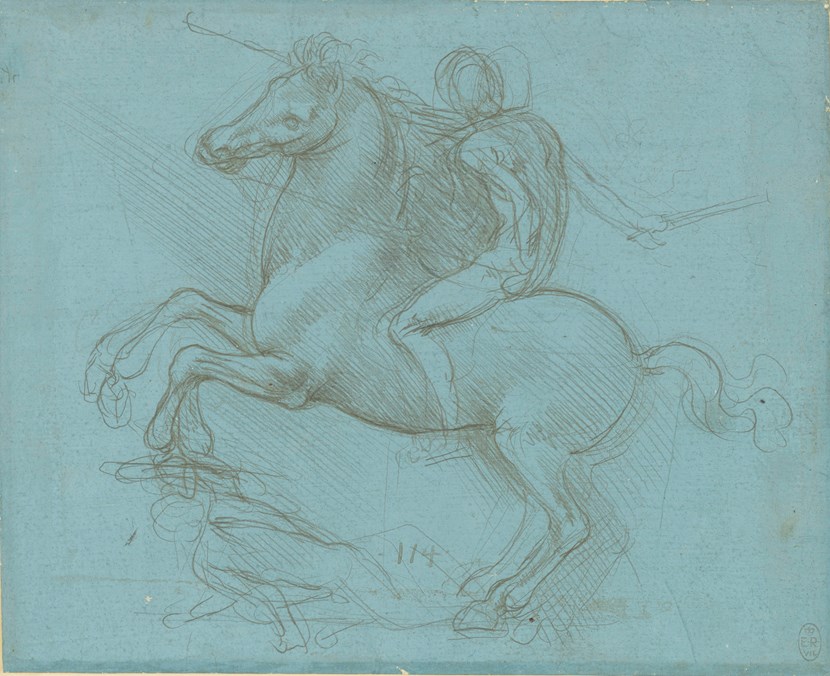 17 Jan 2019
Leonardo da Vinci: A Life in Drawing arrives at Leeds Art Gallery this February
Photo call, 11am-1pm, January 30, Leeds Art Gallery
On February 1, 2019, to mark the 500th anniversary of the death of Leonardo da Vinci, 144 of the Renaissance master's greatest drawings in the Royal Collection will go on display in exhibitions across the UK, including Leeds Art Gallery.
Twelve drawings, selected to reflect the full range of Leonardo's interests including painting, sculpture, architecture and anatomy will go on show at Leeds Art Gallery from February 1 to May 6 2019. The gallery will focus specifically on Leonardo da Vinci's activity as a pioneering sculptor with masterful drawings which accentuate the journey of his sculptural thinking.
The collection includes A design for an equestrian monument, c.1485-8 which conveys Leonardo's plans for ground-breaking sculptural design and place him at the leading edge of art in his day. Although no actual sculptures survive, these works highlight his ability to think through his drawings and bring to bear his scientific and engineering knowledge on the making of sculpture.
Leonardo firmly believed that visual evidence was more persuasive than academic argument, for an image conveyed knowledge more accurately and concisely than any words. Few of his surviving drawings were intended for others to see: drawing served as his laboratory, allowing him to work out his ideas on paper and search for the universal laws that he believed underpinned all of creation. As so much of his life's work was unrealised or destroyed, Leonardo's greatest achievements are to be found on sheets of paper.
Councillor Judith Blake, leader of Leeds City Council, said: "We're absolutely thrilled to be welcoming this exhibition to Leeds Art Gallery and for visitors to have the incredibly rare opportunity to see the work of one of history's most gifted artistic and scientific minds.
"Hosting such a prestigious exhibition is also a huge statement about the gallery's growing status as one of the country's leading galleries at what is a very exciting and ground-breaking time for culture and the arts in our city."
The Leeds showing of Leonardo da Vinci: A Life in Drawing, held in partnership with Royal Collection Trust, will be a fitting prelude to Yorkshire Sculpture International which launches at Leeds Art Gallery in June 2019. The gallery is one of four organisations along with the Henry Moore Institute, the Yorkshire Sculpture Park, and The Hepworth Wakefield which will host this region-wide exhibition of pioneering local and international sculpture. With a history rooted in sculpture and links to artists including Henry Moore and Barbara Hepworth, this is a unique opportunity to view rarely seen works in the city of Leeds.
Following the exhibitions at Royal Collection Trust's partner venues, in May 2019 the drawings will be brought together to form part of an exhibition of over 200 sheets at The Queen's Gallery, Buckingham Palace, the largest exhibition of Leonardo's work in over 65 years. A selection of 80 drawings will then travel to The Queen's Gallery, Palace of Holyroodhouse in November 2019.
Martin Clayton, Head of Prints and Drawings, Royal Collection Trust, said, "We are delighted to work with Leeds Art Gallery, as one of Royal Collection Trust's 12 partner venues in the Leonardo da Vinci: A Life in Drawing nationwide event. In 2019, in collaboration with our partners we will be giving the widest-ever audience across the UK the opportunity to see the work of this extraordinary artist.
The exhibition at Leeds Art Gallery demonstrates the extraordinarily wide range of Leonardo's work throughout his lifetime, and is a thrilling opportunity for audiences to engage directly with one of the greatest minds in history. His drawings were central to his work in every field, both his artistic projects and his scientific investigations: they allowed Leonardo to work out his ideas on paper, and can be viewed as his private laboratory."
ENDS
Leonardo da Vinci: A Life in Drawing (1 February – 6 May)
Exhibitions of 12 drawings at the following locations
Ulster Museum, Belfast
Birmingham Museum & Art Gallery
Bristol Museum & Art Gallery
National Museum Cardiff
Derby Museum and Art Gallery
Kelvingrove Art Gallery and Museum, Glasgow
Leeds Art Gallery
Walker Art Gallery, Liverpool
Manchester Art Gallery
Millennium Gallery, Sheffield
Southampton City Art Gallery
Sunderland Museums & Winter Gardens
Leonardo da Vinci: A Life in Drawing (24 May – 13 October 2019)
Exhibition of over 200 drawings
The Queen's Gallery, Buckingham Palace, London
Leonardo da Vinci: A Life in Drawing (22 November 2019 – 15 March 2020)
Exhibition of 80 drawings
The Queen's Gallery, Palace of Holyroodhouse, Edinburgh
For more information please visit www.rct.uk/leonardo500
For further information and photographs, please contact Leeds Art Gallery on 0113 378 5350 or by emailing art.gallery@leeds.gov.uk
Notes to Editors
About Leeds Art Gallery:
Founded in 1888 Leeds Art Gallery has Designated Collections of 19th and 20th century British painting and sculpture, widely considered to be one of the best outside national collections.
With half a million visitors every year, the gallery is one of the city's most visited attractions and all the exhibitions are free.
Alongside the extensive painting and sculpture collection, the gallery presents a dynamic temporary exhibition programme that has showcased exhibitions such as British Art Show 8 and shows of celebrated artists such as Damien Hirst and Gary Hume. The gallery continues to acquire artworks for the permanent collection; recent acquisitions include works by Simon Fujiwara, Becky Beasley, Fiona Rae and Bob & Roberta Smith.
The gallery has always been committed to the development of living artists. Early gifts included Lady Butler's Scotland For Ever! (1881) and paintings by the popular Leeds-based artist, Atkinson Grimshaw. The 20th century is represented by artists such as Henry Moore, Barbara Hepworth, Ben Nicholson, Paul Nash and Jacob Epstein, as well as artists of our time such as Frank Auerbach, Bridget Riley, Tony Cragg and Mark Wallinger. The extensive sculpture collection, the most comprehensive of any regional collection, includes a vast and unique archive; both are managed in partnership with the Henry Moore Institute.
Royal Collection Trust, a department of the Royal Household, is responsible for the care of the Royal Collection and manages the public opening of the official residences of The Queen. Income generated from admissions and from associated commercial activities contributes directly to The Royal Collection Trust, a registered charity. The aims of The Trust are the care and conservation of the Royal Collection, and the promotion of access and enjoyment through exhibitions, publications, loans and educational programmes. Royal Collection Trust's work is undertaken without public funding of any kind.
The Royal Collection is among the largest and most important art collections in the world, and one of the last great European royal collections to remain intact. It comprises almost all aspects of the fine and decorative arts, and is spread among some 15 royal residences and former residences across the UK, most of which are regularly open to the public. The Royal Collection is held in trust by the Sovereign for her successors and the nation, and is not owned by The Queen as a private individual.
The Royal Collection contains by far the greatest collection of drawings by Leonardo da Vinci. The group of more than 550 sheets has remained together since Leonardo's death in 1519. Because of the potential for damage from exposure to light, these very delicate works on paper can never be on permanent display and are kept in carefully controlled conditions in the Print Room at Windsor Castle. All the drawings can be viewed online on the Royal Collection Trust website at www.rct.uk/collection.
For media enquiries contact: